Tom Hanks and tattooed camels: in age of sportswashing, N'Golo Kante's Saudi exit will sting more than most
Reports suggest that Kante is moving in on a lucrative transfer to Saudi Pro League side Al Ittihad
Watch more of our videos on Shots!
and live on Freeview channel 276
Visit Shots! now
To be fair, if you're going to try your hand at sportswashing, you might as well go and get the nicest man in football on side early doors. It's like Tom Hanks' cameo in The Simpsons Movie, when the US government loses its credibility so borrows some of his to flog the notion of a New Grand Canyon. I suppose in this analogy N'Golo Kante is the yellow Forrest Gump. Lord knows he runs enough.
Straight off the back of buying the entire sport of golf - turns out the PGA's principles, much like their champions, are well below par - the Saudi Arabian Public Investment Fund has made headlines again by bankrolling an extortionate deal that looks set to take the affable French midfielder from Chelsea to Al Ittihad on a proposed annual salary of £86 million. Earlier in the week, Karim Benzema left Real Madrid for Jeddah on a contract worth £172 million a year - equivalent to around £331 per minute. In the time it took me to write that sentence he has earned more than I do in a month.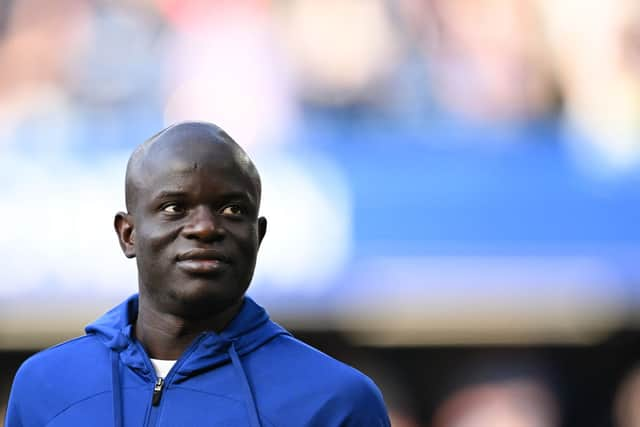 Such incalculable sums of money are part of a broader effort from Saudi authorities to turbocharge their domestic league towards a state of relevancy. Already they own the rights to the world's most vainglorious sentient billboard, Cristiano Ronaldo, and earlier this week it was announced that the PIF - the same ones who are currently seducing the hearts and minds of the Geordie nation with Newcastle United - have taken over Ittihad, as well as fellow Pro League clubs Al Nassr, Al Hilal, and Al Ahli. Nothing to see here, just a government openly owning four of the biggest teams in its own country and using its vast, vast reserves of oil to cosplay as Swackhammer from Space Jam.
There were further whispers of a potential mega-deal to lure Lionel Messi to the Middle East this summer, before he opted to join Inter Miami, and yet more talk of Wilf Zaha abandoning Crystal Palace for more arid climes - which admittedly feels a little like that scene in Mike Bassett: England Manager where a boffin in a lab coat unveils a training simulation based on the motions of Pele, Maradona, and Mark Lawrenson, but that still would have been wholly unimaginable even this time a year ago.
The Saudis are trampling the global footballing economy like a drunken elephant in a model village, but somehow, for some reason, Kante's imminent transfer feels worse than most. Perhaps it is because, at the age of 32 and with his indefatigable lungs of iron, he still has so much more to give. Unlike Ronaldo or Benzema or, even to an extent, Messi, Kante still has a little way to go before he begins his slow descent towards the scrapheap. Certainly, you look at Chelsea's midfield - consisting of papier mache and wads of bubblegum, as it does - and you wonder how on earth he is being allowed to leave.
The answer, of course, is money; the only solution that the Saudi government ever seems to proffer. And perhaps that too is why Kante's move feels so galling, so frightening. If even he - the most humble, unassuming character to flit about the upper echelons of the professional game - can be swayed and corrupted, then is anybody truly exempt from this sad, spindling grab at influence?
I don't blame Kante for having his head turned; after all, for a little over £7 million a month I'd be tempted to become the personal assistant of Beelzebub himself. I like to think I wouldn't actually fold, but I'd sure as hell give it a good mulling over. And who knows, maybe I'd cave like a chocolate kettle.
We also don't know the personal reasoning that has affected the Frenchman's thinking on the matter. Maybe he feels as if his time at Chelsea has naturally reached its conclusion and he needs an exciting new challenge in a Crown Prince's private sandpit. Maybe the Saudis have promised to tattoo the Mini Cooper logo on a camel's forehead so that he can still traverse the dunes with his trademark brand of meek humility. That, at the end of the day, is for the fat cats and his gleeful agent to determine between themselves.
But this growing trend of Middle Eastern powerhouses throwing their financial heft behind glitzy sporting ventures as a means of distraction continues to concern and infuriate in equal measure. Because let's not forget that this is what it is all about; filthy rich people hiding filthy poor things behind the smokescreens created from burning piles of filthy money. Human rights are still being violated, people are still suffering, and accountability is still being suppressed to the benefit of the few over the many. Not even N'Golo Kante, this omnipresent ball of pure amiable energy, can intercept that particular blunt reality. Do not forget it.