Ten Hag fired and Rashford to Everton - Man Utd's extraordinary next decade according to Football Manager 2024
Watch more of our videos on Shots! 
and live on Freeview channel 276
Visit Shots! now
The year is 2032, and it's a watershed moment for Manchester United fans – for the first time in nine years, they have finished as high as fourth in the Premier League. Champions League football is back at Old Trafford at long last, as 31-year-old club captain Khephren Thuram basks in the adulation of a weary crowd. Perhaps the good times are finally back?
This, dear reader, is the dystopian future of England's most successful side, according to Football Manager 2024. We've spun the game a decade into the future to see how realistic Sports Interactive's new edition of its eternal management sim is, and also just for the hell of it, of course. And hell is the operative word for millions of fictitious United fans.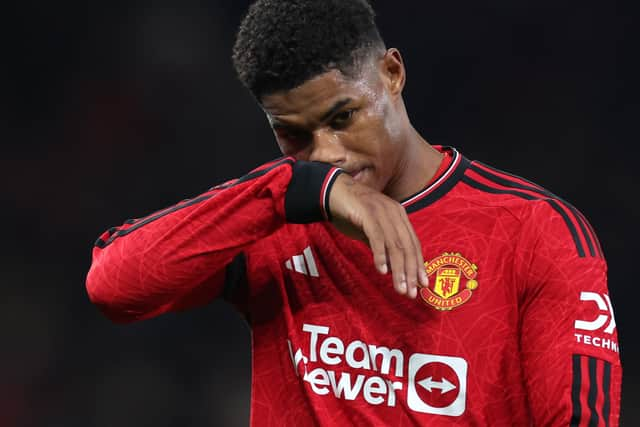 In the year 2033, United have just finished fifth in the Premier League. Manchester City, rather improbably still managed by Pep Guardiola, have just lifted the title for the fifth time in six years. The new Champions League qualification rules mean that United will still make it into Europe's top competition – to be honest, in ten years' time we'll almost certainly have stopped talking about 'the top four' – but they've not won that since that famous night in Moscow, either.
They haven't gone entirely without silverware, admittedly – a replica of the 2027 Europa League sits gleaming in the club's trophy cabinet, as does the 2028 EFL Cup alongside whatever the 2027 European/South American Club Challenge trophy is. They've made the FA Cup final twice, losing to City on both occasions. That's your lot, I'm afraid... This is not a happy virtual future for United.
Granted, it could be worse. They finished ninth in the table in 2029, but that's as bad as it got. One thing Football Manager has never been very good at is anticipating the gradual but permanent changes of fortunes that happen in the real world - no once-strong teams permanently depreciating or smaller sides gradually establishing themselves further up the table. The Premier League in 2033 looks much like the real-life league in 2023. There are no surprise European football contenders, no big teams relegated to the Championship. United, now, are floundering in the upper reaches of mid-table. So it remains for much of their near future, apparently.
Apart from a bit of a gap in Football Manager's ability to produce realistic futures for football, it's also worth noting another reason this rather undistinguished decade comes to pass – the Glazers are still there. Seriously. Avram stepped down as chairman in 2029, apparently, but the club was never sold and the Glazer name is still on the board, while John Murtough is still director of football, ably assisted by his second-in-command, Darren Fletcher.
Is that realistic? Based on the way the Glazers' alleged attempts to sell the club earlier this year went, maybe it's not that disconnected from reality. And it's certainly reasonable to think that, if they're still there in ten years' time, United will never get back to being the all-conquering side they once were.
Looking over the playing staff, there are still a couple of familiar faces, even this far into the future. A 33-year-old Antony, who for some inexplicable reason is an absolutely world-class player in the game, hasn't gone anywhere. He's scored over a hundred goals for the club, but still hasn't earned even the 'favoured personnel' level of appreciation, which just goes to show that long service and success don't always make you very popular.
Rasmus Højlund is still there, too – having been United's first-choice number nine for ten long years. He only hit double figures three times in all those many seasons, mind you. Exactly the same facts apply to Alejandro Garnacho, too, now 28 and 53 caps into his Argentina career. Marcus Rashford left last summer, it seems, and his now 35-year-old frame is creaking around the turf at Goodison Park after he signed for Everton on a free. He's past it by now, so that's hardly implausible.
But it's probably a little less realistic that, say, Højlund would never have been displaced by another forward after several seasons of mediocrity. It's even less realistic that the Glazers would only have changed manager once through all this gloom, too – Erik ten Hag gets the chop in 2026, which is about three years longer than he'll last in real life at this rate, then current RB Leipzig head coach Marco Rose is appointed, and that's it. An uninterrupted seven-year reign at Old Trafford with only one top four finish to show for it? Football Manager still doesn't do the best job of capturing the cruelty and churn of modern football.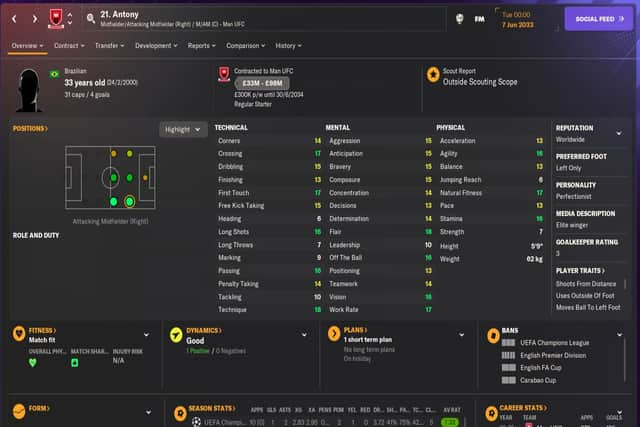 Not that there haven't been a lot of transfers, including some endearingly mad ones. Our favourite is probably the £69m signing of Crystal Palace's Cheick Doucouré in 2026. He became a first-team regular for the next six years, was largely rubbish, and then left for Arsenal, for some reason. And we wouldn't get too excited when you hear the game predicting the signing of Randal Kolo Muani in five years' time, either – he only manages nine league goals. He's not very good in FM24, for some reason.
It may also amuse some people to find out how long Jadon Sancho lasts – he doesn't leave for 1.FC Köln, of all places, until 2029. It does, at least, accurately predict Sancho barely playing under Ten Hag – but why he never leaves is a mystery only the game's code can explain. In case you're wondering whether Mason Mount works out, by the way, I'm afraid not. He's rubbish until he leaves for Barcelona, at which point his performances explode and he re-establishes his reputation. A player regressing horribly at United and rejuvenating as soon as they leave? Honestly, Sancho hanging around may stretch credulity, but that bit seems on point.
So how does Football Manager stack up as a sim of near-future football? Well, like past editions, it just doesn't generate enough change. There are slightly too few transfers, too few major clubs in crisis, even temporarily, and no Brentford or Brighton-style stories of teams climbing the league ladder to the stars. There's still just that bit too much inertia in the game engine. Still, looking around Old Trafford right now, a decade of drab mediocrity doesn't seem that inconceivable, does it?