Some things are meant to be. It was written in the stars for Argentina to win the World Cup and the dramatic fashion of their win sums up the winter of 2022 in Qatar. Kylian Mbappe did all he could to almost single-handedly steal it for France but fate was in Lionel Messi's hands.
This year will forever be known as the year Messi, the greatest footballer of all time, won the trophy in after what was the most entertaining and ridiculous final in the history of the tournament as well. The brilliant Mbappe will bounce back and will play no doubt in big matches like that again over the next 10/15 years, but this was the last chance saloon as far as his PSG teammate was concerned and he simply had to win it in his final international outing.
There are similarities between the two players at this moment in time as both go through quiet spells in matches and then suddenly flick a switch and do something special. Look at Mbappe, France were dead and buried at 2-0 but his confident penalty and subsequent thunderous volley shows what a top class talent he is. Messi seems to casually walk around for 90 minutes to preserve his energy but then produces magic out of nowhere when he gets the ball.
Whether Didier Deschamps is in charge of France for their next competition remains to be seen, but his side showed glimpses of the future with their performance and it is worth noting how impressive Randal Kolo Muani and Marcus Thuram were when they came on. Both play in the Bundesliga for Eintracht Frankfurt and Borussia Monchengladbach right now but showed what they can do on the greatest stage of all and it wouldn't be a surprise to see them get moves.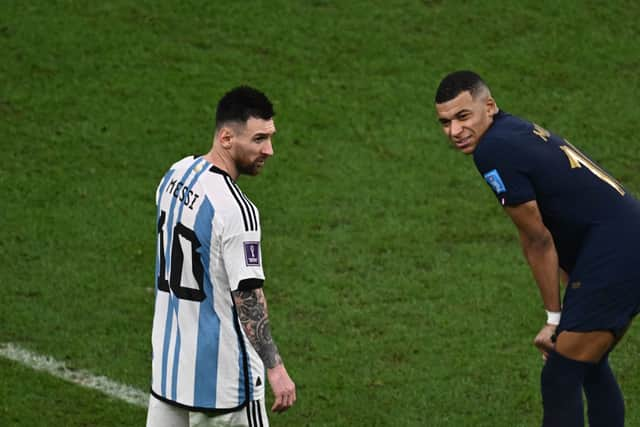 There is something godlike about Messi. The way he weaves in and out of defenders and makes difficult moments look so easy. He's not only worshipped by those of an Argentina, Barcelona or PSG persuasion, but people across the globe. He needed to win the World Cup, like the great Diego Maradona did before him, and he has earned himself the pinnacle of his glorious career now and can rest easy, if he wanted to that is, knowing he has achieved what he set out to when playing as a youngster back in Rosario. The image of him holding up the Jules Rimet alongside his teammates at the Lusail Stadium will become one of football's most iconic pictures down the line.
As for Mbappe, he has already won it and will most likely do so again in the future. Remember he is only 23 and has the potential to go reach massive heights again. His story is only just starting, this year was all about Messi.