Gianni Infantino's Qatar World Cup comments show the detached privilege of a fairytale villain
The FIFA president has sparked outrage with a slew of ill-advised comments.
Watch more of our videos on Shots! 
and live on Freeview channel 276
Visit Shots! now
In a week where Cristiano Ronaldo and Piers Morgan whispered sweet nothings at each other from across the room for 90 excruciating minutes, and Matt Le Tissier told Nigel Farage that Gareth Southgate hasn't hired him as a penalty coach because of the woke agenda (is this 'woke agenda' in the room with us now, Matthew?), Gianni Infantino has still somehow come out on top with the most ill-advised comments of the past seven days.
The FIFA president, ever the catastrophic showman, delivered a stunningly misjudged speech over the weekend in defence of the federation's Qatari festival of human rights abuses. Seriously, this thing would have made both David Brent and Alan Partridge cringe. In a meandering pontification in which he seemingly looked at the deluge of tripe brought forth by Ronaldo, Morgan, Le Tiss, et al. and said 'Hold my Budweiser', the Italian embarked on the kind of nonsensical rant usually reserved for delusional doomsday cult leaders and LBC Radio callers.
In truth, you've probably read the worst of it already; this article is being written a couple of days after the fact. (I've been on annual leave, but even if I hadn't I might have had to take a little while to properly digest and absorb the absurd stupidity of it all). On the off-chance that you do have the luxury of living under a rock, however, here's the most deranged excerpt:
"Today I have very strong feelings. Today I feel Qatari. Today I feel Arab. Today I feel African. Today I feel gay. Today I feel disabled. Today I feel a migrant worker. I feel like them because I know what it feels like to be discriminated, to be bullied as a foreigner in a country. At school I was bullied because I had red hair and freckles. I was bullied, plus I was Italian, so imagine. I didn't speak good German. What do you do then? You lock yourself down in your room, you cry and then you try to make some friends. You try to engage… You don't start accusing or fighting, you start engaging. This is what we should be doing."
'I feel, I feel, I feel'. Y'know what I feel? Like taking a long walk off a short pier whenever I hear you speak, Gianni.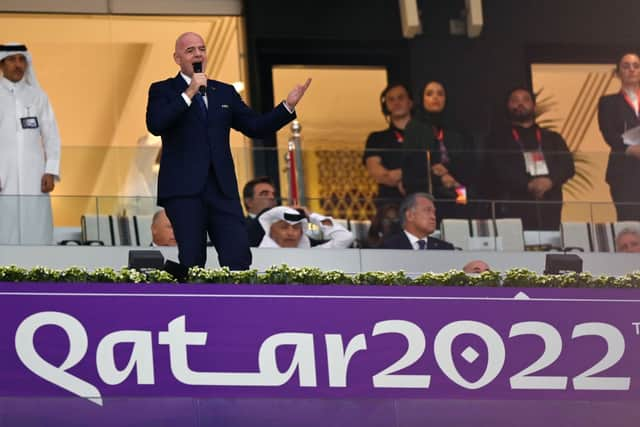 It is estimated that some 6,500 migrant workers have died during preparations for the Qatari World Cup. As recently as September of this year, Human Rights Watch reported that members of the LGBTQ community were being arbitrarily arrested and subjected to ill-treatment in detention by authorities. How dare Infantino trivialise the pain and grief of these people by uttering such flippantly vacuity in the name of making excuses for a tournament that should never have been green lit in the first place?
Let me tell you something. I was ginger. I say 'was' because one of the inescapable by-products of these fine Jones genes is a head of hair that thins out quicker than the home crowd in Qatar's 2-0 defeat to Ecuador on Sunday. My mam always said I was strawberry blonde, but in retrospect, I think she was just trying to spare my feelings. Now, if I had a pound for every time I was called 'Ron Weasley' on a Sunday league pitch or in some schoolyard slanging match or other, I'd probably have just about enough money to spend an entirely miserable weekend in one of the Qatari government's Fyre Festival reenactment camps.
Hell, I might even be able to afford an air-conditioned Portakabin. At no point would I even begin to suggest those digs and snide remarks caused anything anywhere near the dread and terror felt by a gay person denied the right to exist as their true selves, or of the enveloping anguish felt by a wife whose husband travelled to a foreign land to eke out a pittance building stadiums and never came home.
The arrogance, detachedness, and privilege are galling. Infantino can say that he feels like a migrant worker, but the simple reality is that he is not, and he never will be. You see, words are cheap. I should know, I make a living from them. Realistically, you can bluster your way through any threadbare platitude or hollow promise if you have absolutely no intention of ever actually following through on it.
Observe: tomorrow I will walk into a tattoo parlour and ask for the most dunderheaded and distasteful inking I can conjure up. Perhaps it will read: 'Today I feel disabled'. Now, I know I'm not going to do anything to make that statement a reality. You know I'm not going to either. And no matter how vehemently I protest otherwise, the power of speech alone will not force the act into existence. Infantino can flap his gums about inclusivity and acceptance, or worker rights and conscientiousness, all he wants - it doesn't change a damn thing. His rhetoric is a facade, cracked and peeling, for a debacle that has, from day dot, prioritised money and greed over humanity and decency.
And if you want to see just how vapid Infantino's assertions are, look no further than FIFA's handling of armband-gate. Several nations, including England, had committed to wearing paraphenalia sporting the 'One Love' logo in support of LGBTQ rights. The relevant governing bodies, beaming down their condemnation from the bridge of the Death Star, threatened them with cautionary bookings for their respective captains as punishment for violating acceptable kit protocols. Disappointingly, the involved countries took the decision to back down. It would appear that Infantino isn't feeling particularly gay today.
A little while ago, the aformentioned Morgan took a moment away from pressing his puckered lips against the poster of CR7 hanging on his bedroom wall to point out that eight countries in the final 32 of the World Cup still consider homosexuality to be illegal. Correct as he may be, it doesn't excuse the Qataris from scrutiny or accountability. Eight wrongs don't make a right, after all. How about, instead of shrugging our collective shoulders, keeping schtum, and politely bemoaning the status quo, we use this World Cup as a catalyst to question, probe, and confront these pervasive prejudices, wherever they occur?
Prior to kick-off in Sunday's tournament opener between Qatar and Ecuador, Infantino, completely unprompted and seemingly unexpected, took to the mic to welcome the world to his three-ring circus. His rampant ego and the blind insulation with which he delivered his banalities were almost reminisce of a fairytale villan. Lord FIFArquaad, if you will. He stopped short of proclaiming 'Some of you may die, but that is a sacrifice I am willing to make', but his previous bilges spoke volumes.
At a time when football faces more moral and ethical quandaries than ever, it is a genuine and concerning shame that the most powerful man in the sport can openly espouse such mindless drivel to the detriment of so many. Thankfully, the rest of us don't have to follow his precedent.