For once in the aftermath of an England major tournament defeat there was no talk of technical shortcomings, players panicking in possession or lacking an identity. There were no hints of a lack of togetherness or the presence of cliques within the squad caused by differences at club level.
Nobody has speculated about players being inflicted with an oppressive environment or of the squad failing to find common ground with a manager that has seized the limelight ahead of them with controversy in the media or a hard-nosed approach to the tournament.
Indeed, it is quite the opposite. Gareth Southgate had gained the respect of his squad by supporting their development at international level, guiding them from promising youngsters to a genuine threat at tournament level. He has stood by their side when abuse came their way and backed them during their admirable stance on a number of social issues that have blighted the last few years.
But, looking at on-pitch matters, how do we assess the defeat against France when England more than matched a side rightly regarded as one of the best sides in the world? Maybe that is where the confusion lies. We simply don't know how to react. Some have criticised Southgate, accused him of shackling the players, making poor tactical decisions and poorly-timed substitutes. There are questions being asked of what comes next and there seem as many willing the England manager to have one last dance at Euro 2024 as there are wanting him to bring an end to him time at the helm.
The elder statesmen in the squad have proven their worth during the World Cup, with Kyle Walker and Jordan Henderson both impressing and Kieran Trippier - a Southgate favourite - also playing a role in getting the tournament underway on a positive note. Should Southgate continue in his role, he will work with what seems to be the same squad, no doubt aided by the return of the likes of Reece James and Ben Chilwell.
One constant criticism of Southgate is that he is not making the most of a remarkably talented group of players, but between them, they have achieved more than the 'golden generation' did under Sven Goran Eriksson or during the post-Euro 96 hard luck story of Glenn Hoddle and France 98.
Even with a star-studded lineup that included Manchester United treble winners, Arsenal invincibles and world-renowned players like Wayne Rooney and Michael Owen, England's golden generation fell short when they were outplayed by a ten-man Brazil in a World Cup quarter-final in 2002 and suffered penalty shoot-out heartache against Portugal in the two major tournaments that followed after awkward performances over 120 minutes.
Perhaps in assessing England's performance in defeat against France on Saturday night, it is best to refer to the judgement of a man that witnessed underwhelming performances in major tournaments during over a decade of service wearing the Three Lions on his chest.
In his excellent analysis on ITV Sport's coverage, former England star Gary Neville said: "I played in three quarter-finals and one semi-final, but played as well as that, as equal as that, against a team as good as that. I have to really make that point. We were equal of France tonight. We played better football than France. I thought in the second-half we were superior. I always felt like we were hanging on, we were defending for our lives. We might have won on penalties.
"These lads, in that game in the second-half, did really well tonight and it's a fifty-fifty game, and we've ended up on the wrong side of it. I don't think we were ever 50-50 in a game that I played in all those years ago."
This England squad is doing things that supposed superior England sides of the past have not. Prior to Southgate's appointment, England's 'performances' at the previous four major tournaments consisted of one failure to qualify for a finals, two second round exits and a failure to escape the group stages. Taking that back to the turn of the millennium would add two World Cup quarter-finals exits and a similar disappointment at Euro 2004.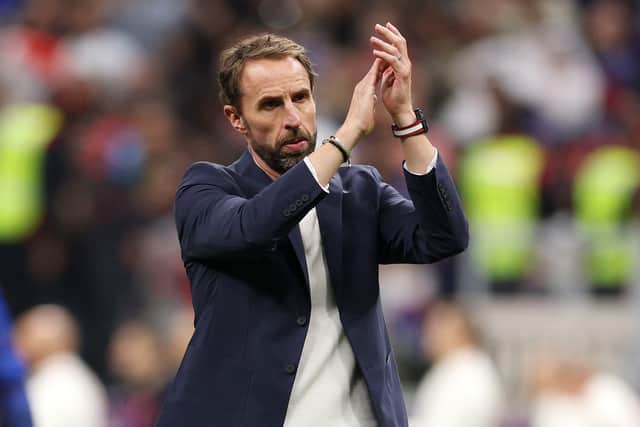 Southgate has lifted hope and expectation from the floor and has built a culture that has allowed promising players to flourish and develop on the biggest stage. He has fostered a spirit of togetherness and has led England a World Cup semi-final, a European Championship Final and to third place in the Nations League, all achievements that felt a world away as the likes of Steve McClaren, Roy Hodgson and Fabio Capello toiled.
His post-match analysis on Saturday was full of respect and honesty as he gave a measured and thoughtful response to the loss. He has continued to lead with dignity and class and if this is to be his last act as England manager, we should thank him for putting in place strong foundations that initially seemed to be built on crumbling ground given the lack of progress under his predecessors.
The future remains bright with the likes of Jude Bellingham, Bukayo Saka, Declan Rice and Phil Foden yet to reach their 25th birthdays and what occurred in Saturday night's defeat against France can be seen as another step in their development as much as it can viewed as a missed opportunity. The next step, when it is taken, will be the biggest and most satisfying one yet. How we all feel about that when and if it does happen will be very obvious.