At the time of writing, it is two degrees in my native Gateshead, although a spiteful south-easterly wind means that the actual temperature probably feels somewhere closer to minus two. Snow is forecast later, as is a thick frost tonight, and the predicted high for the next week-and-a-half is a balmy three degrees. The Costa del Sol, it ain't. And due to the Costa del Living Crisis, I am nestled under a duvet in the middle of the afternoon wearing a pair of fingerless gloves indoors like a scrupulous bookkeeper in a Dickensian novel.
A chill this baltic saps the enjoyment from everything, including - it would appear - the World Cup. Much was made of FIFA's decision to host the tournament in a nation and at a time of year that required a fundamental disregard for an entire global schedule, but at one stage, I do think there was at least some semblance of curiosity, morbid or otherwise. Perhaps we would all be huddled up like emperor penguins in tinsel-adorned fan parks, chucking pints of mulled wine in performative celebration, and enjoying/enduring medleys of Neil Diamond and Mariah Carey.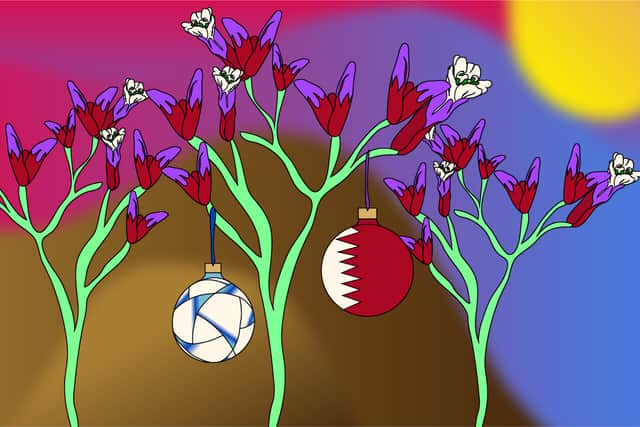 Instead, we have been left shivering in our crude burrows like put upon badgers, only venturing out to gather supplies, or at the very most, scurry to some inconvenient pub or other with a slightly disconcerting vibe and too much condensation on the windows. And that's to say nothing of the muted enthusiasm feebly sputtering its way across the nation.
Last Sunday I walked across the Tyne Bridge to a friend's flat to watch England play Senegal, although in truth, I would have been drier had I waded into the river itself and swam for it. There are downpours, and then there is whatever it was that the heavens unleased on the Toon that night. And yet, as I squelched past half empty bars on eerily-deserted streets, it became apparent that the only thing damper than my jeans was the atmosphere. Once every four years, this country is rendered delirious, and in turn bedridden, by an acute case of World Cup fever. The closest I've come this time around has been the mild case of pneumonia I'm pretty sure I caught at the weekend.
Maybe things will improve. Certainly, should England beat France on Saturday night, you would imagine that it will compromise the dam that typically restrains a reservoir of optimistic delusion twice the size of the Caspian Sea. But to be so deep into a tournament and to still feel as if so many people are so unbothered is a genuine shame. Perhaps it comes down to one universal truth that we as a species are only just recognising: there's just something absurdly depressing about sitting under an electric blanket to watch a football match take place on an air-conditioned pitch.