Football Manager 2024 wonderkids: the best young players available including Brighton and Porto talents
Watch more of our videos on Shots! 
and live on Freeview channel 276
Visit Shots! now
Monday 6 November is a pretty big day for football fans and people with large amounts of free time alike – it's the release date for Football Manager 2024, and countless thousands of gamers will be getting stuck into their brand new saves in the coming weeks.
There's always a lot to take in with a new edition of gaming's greatest management sim, and as usual there are a fair few new features to get to grips with – we even get Japanese football in the game at long last – but one thing that will never change no matter how long the franchise lasts is that every single manager will immediately start scouring the game for wonderkids.
To help you with your own search, we've spent some time in the beta spinning forward all the way to the year 2030 to see who some of the best players in the world are. Not much seems to have changed in the grand scheme of things – Manchester City are still dominating the Premier League, Manchester United haven't been in the top four once, and Harry Maguire is still in the England squad. We're kidding about that last bit, he retired in 2029 after making only 17 more league appearances across spells at Tottenham Hotspur and Crystal Palace. Sorry, Harry.
But quite a few players have emerged from their teenage years to become global superstars, and while we aren't going to bother telling you about some of the more obvious ones – yes, Jamal Musiala and Jude Bellingham are insane in their late twenties – we've dug up a mixture of players who are heavily hyped in real life and a few who are rather more obscure, but all of whom wind up as world-class players in the game. Get these lads on your shortlists…
Afonso Moreira (Sporting Lisbon)
In real life, Moreira is an 18-year-old who has made just one appearance in Portugal – but in Football Manager 24 he grows up to be a devastating winger with bags of speed and plenty of skill who's just banged in 20 goals for Inter in Serie A while putting up amazing numbers across the board.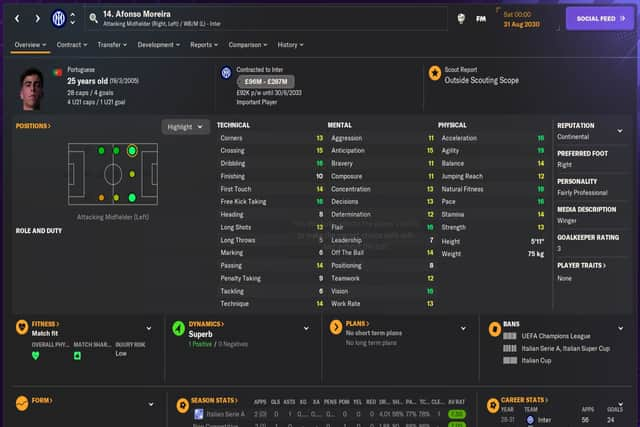 The mental attributes could stand to be a little better, but they clearly haven't held him back too much given that he cost £74m in 2028. Somehow only has 28 caps for his country – who have a few superstars in their national squad, to be fair. Current Paris Saint-German players Vitinha and Gonçalo Ramos also both turn out to be pretty useful, unsurprisingly, but we imagine they'd be a bit on the pricey side in the early stages of the game – we'd guess Moreira wouldn't break the bank if you brought him in early.
Martin Baturina (Dinamo Zagreb)
The Croatian Under-21 international turns out to be a more than useful midfielder in the game, with excellent passing, dribbling, technique and vision meaning he ends up being one of the world's premier playmakers. Given that he's able to play in a bunch of different positions, a more than handy squad man, too.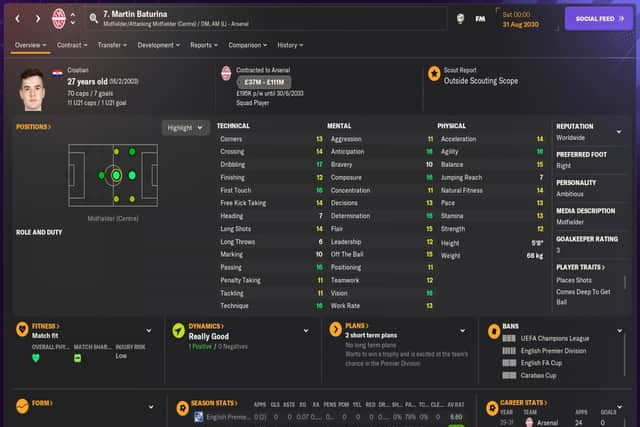 In the game, he spent a couple more years at Dinamo before moving to Barcelona for £27m, so he isn't one for the more budget-conscious teams, but he ended up moving to Arsenal for nearly £60m a few years later, so at least you can turn a profit. Remember that the AI isn't usually great at developing players, so a savvy player should be able to make him even better – and that sought-after 16 determination score should help too.
Roony Bardghji (FC København)
Well-known to talent-spotters around the world, the Swedish 17-year-old is considered one of the brightest prospects in Scandinavian football and is already making a name for himself with his goalscoring exploits in Denmark – and he lives up to every inch of that promise in FM24.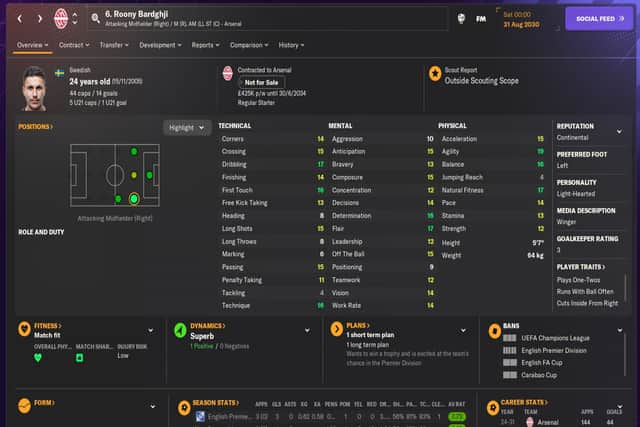 Arsenal signed him for just £9.25m in 2024, meaning that there's a colossal bargain to be had here – he's got everything you could possibly want in a winger from ball skills to mental fortitude to a decent dash of pace. Averages ten goals a season in the Premier League and could probably be even more dangerous in the hands of a good player. One of the biggest stars in the game.
Nico (Porto)
The bad news is that, because Porto have only just signed Nico from Barcelona in real life, they won't be in a rush to sell him. The good news is that if you can persuade the Portuguese club to part with him, you get a high-class midfielder who was worth £57m to PSG.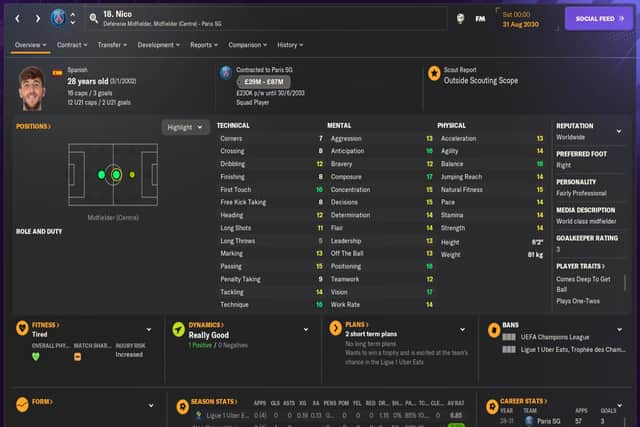 An all-rounder with no real weaknesses, his excellent passing and control stats combined with high natural fitness, decent tackling and excellent mental attributes will make Nico a world-class ball-winning midfielder if that's what you need. He's had nice average ratings across the board for years, as well. Really nothing much to sniff at here.
Joris Chotard (Montpellier)
The real Chotard, who has just turned 22, is already a regular in Ligue 1 with over a hundred appearances to his name – and he clearly continues his upward trajectory a very long way in the world of Football Manager.
Bought by Barcelona for the better part of £50m in 2026, Chotard is established as one of the very best defensive midfielders in the game and frankly makes even Nico look a little average. Weirdly, though, his average ratings haven't been especially stellar – so maybe he has some undesirable hidden attributes in there as well. Or the AI just hasn't done a very good job at Barça, of course.
Evan Ferguson (Brighton & Hove Albion)
Mentioning Ferguson borders on being too obvious, but given that he ended up going to Real Madrid for over £100m on his way to becoming one of the very best strikers in the global game, we thought he was worth a nod. That stat block is basically perfect for any forward. Probably not easy to buy early doors, but clearly worth it at almost any cost.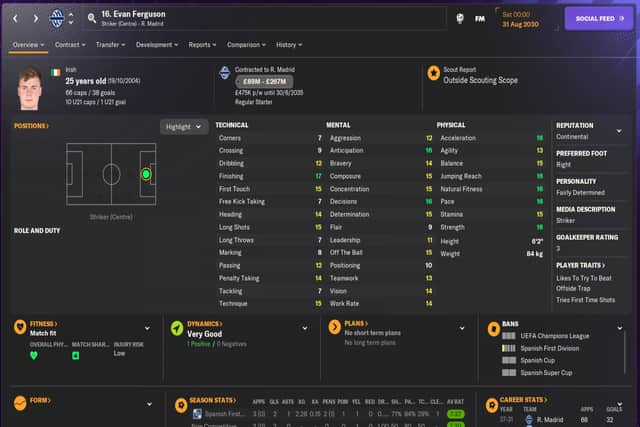 Brighton have quite a few quality players in the game and most of their current crop of talented youngsters turned out well, but a special mention should go to goalkeeper Bart Verbruggen. He never gets the number one job ahead of Jason Steele, ends up moving to Saudi Arabia in a huff, but in 2030 he's Manchester City's first choice and one of the very best goalkeepers in the world. Another 'keeper we spotted that could be worth a buy is VfB Stuttgart's Dennis Seimen. The more you know…
Leny Yoro (Lille)
We recently wrote up a full scouting report on gangling centre-half Yoro, so we're not especially surprised to see that he winds up as one of the best defenders in the game and a starting centre-back for Real Madrid.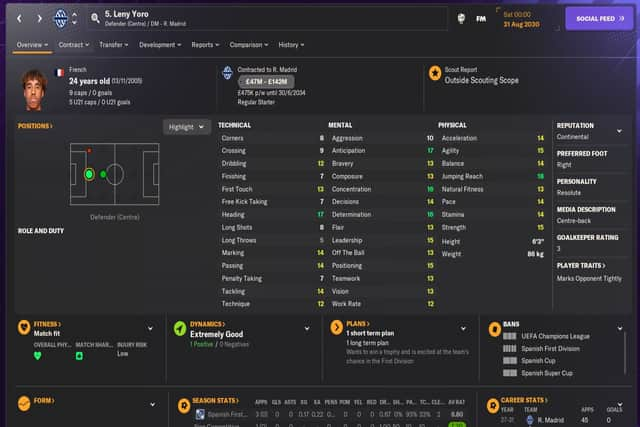 The Frenchman is amazing in the air and more than useful on the ground, too, although he may be another player you can't get on the cheap - £68m is what Real splashed out to prise him away from Lille in 2027. It won't surprise regular FM players to know that Benfica's António Silva is once again one of the best centre-backs in the world, either.
Oscar Gloukh (Red Bull Salzburg)
Yet another attacking midfielder with great dribbling, passing and technique, so there clearly isn't a paucity of players who match that description. The genuine Gloukh moved to Austria from Israel this summer, so you might not be able to buy him straight away, but he clearly lives up to his hype.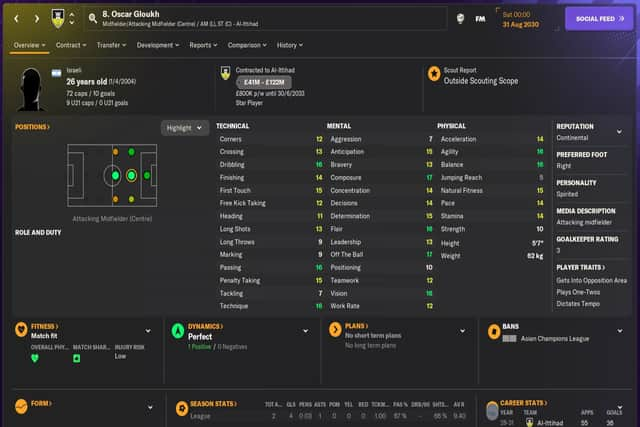 In the game, the greatest Israeli player in history somewhat bafflingly stayed at Salzburg all the way until 2028, when Al-Ittihad spent a fortune on him after Mohamed Salah retired. Yeah, sorry, Liverpool fans, I have some bad news for you on that front.
Stanis Idumbo Muzambo (Ajax)
While Ajax continue to crumble into one of European football's biggest crises in real life, they can take some solace from knowing that one of their young players turns out to be a proper little superstar. The Belgian can play wide left or through the middle, has pace to burn, excellent mental attributes and some pretty startling technical scores too. Just about the only problem is that he's pretty tiny. Don't bother sending him up for corners, anyway.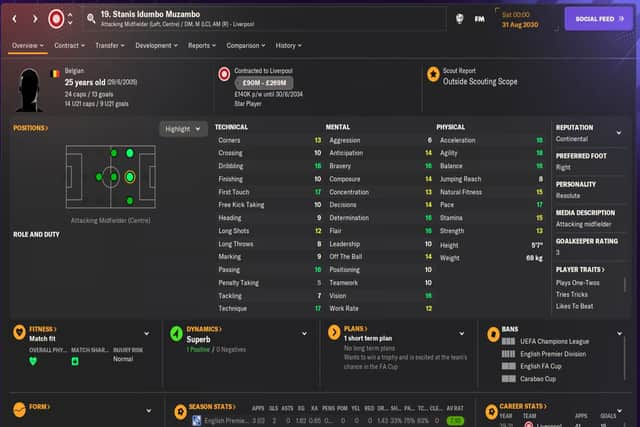 The game version spent a little time on loan at Coventry City, oddly enough, and never really broke into the Ajax first team properly before Porto swept him away for a cool £33m in 2026 – where he did more than well enough to persuade Liverpool to buy him for about £60m a few years later, scoring 13 goals in his first Premier League season.
Tommaso Baldanzi (Empoli)
The real Bandanzi is an attacking midfielder with Empoli and the Italian Under-21 side – but if FM24 is right, they need to start playing him up front immediately, because those are some absolutely astonishing stats.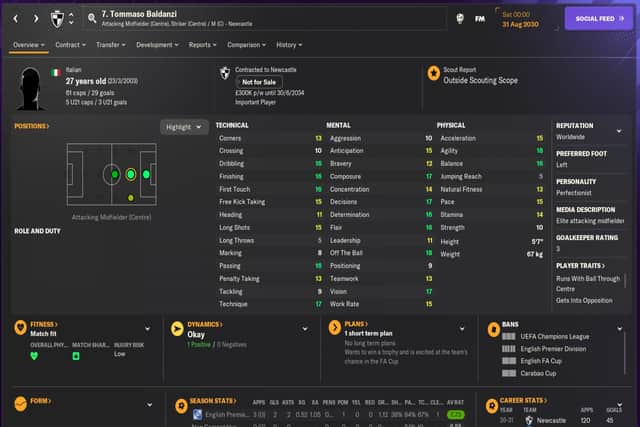 The combination of 16 finishing, 16 first touch, 18 off the ball and 15 pace and acceleration is basically a recipe for an unstoppable striker, not that there's anything he's bad at based on this screenshot. Well, except long throws, but we can forgive that. He stuck with Empoli until 2026 in the game so we can't say what he'd cost out of the gate, but Newcastle paid £47.5m to acquire his services, all of which led to them finally breaking their long trophy drought by winning the 2030 EFL Cup. Suspect their real-life owners want a bit more out of them than that.