Why Man Utd's Harry Maguire isn't the most problematic selection in the latest England squad
England are picking injured players, while clubs force players to play through the pain - Harry Maguire's call-ups isn't an issue in comparison.
Watch more of our videos on Shots! 
and live on Freeview channel 276
Visit Shots! now
Well, what did you expect? That Gareth Southgate would drop Harry Maguire, after all this time? Or Kalvin Phillips or Jordan Henderson, come to that? Come on, now.
Southgate is many things, including the best England manager in generations, but he is not experimental by nature. His natural conservatism and pragmatism has served England exceptionally well, and having brewed what is, more often than not, a winning formula has sensibly decided against shaking the bottle. His selections for the Euro 2024 qualifier against Italy and the friendly against Australia are entirely unsurprising and will most likely prove effective.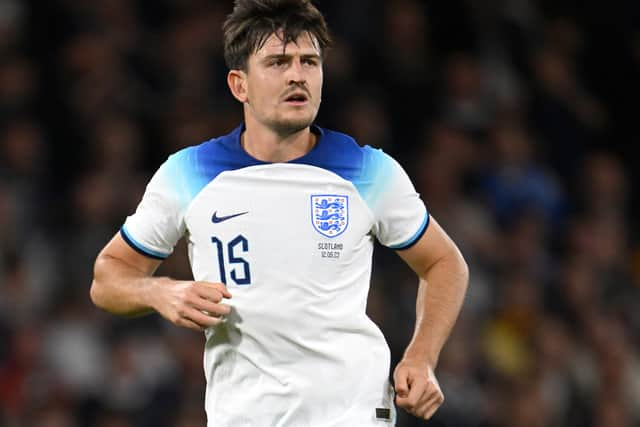 And no, Maguire probably shouldn't be there. His performances for England have remained better than those he puts in for Manchester United, but they have slid among what is now years of regression on the field and unconscionable abuse off it. The argument against Phillips is thinner, given the absence of alternatives in his role as deputy to Declan Rice, and while Henderson will have his detractors given his advancing years and transfer to a footballing retirement community, he is hardly so far removed from an exceptional and undervalued prime.
Nor can anyone say that young players are being denied their due opportunities by the presence of other players. Sure, Maguire regularly takes the starting role, but Fikayo Tomori, Marc Guéhi and Levi Colwill are all present and correct, will have the chance to catch Southgate's eye in training and will likely get minutes against Australia at the very least – Colwill may even find himself starting against Italy with the left-back role vacated by the injured Luke Shaw and Ben Chilwell.
As for midfield… well, James Ward-Prowse not making it is perhaps a mild surprise given his form, but Southgate has handed him caps and clearly he hasn't blown the England manager away. He's a fine player doing very nicely for West Ham United, but he's hardly prime Andrea Pirlo. If his absence is one of the larger gripes, then we should be thrilled, because many of us remember all too well the days when England were hampered by managers who couldn't conceive of formations which didn't include a left winger or when teenagers who'd barely played at the top level were brought into World Cup squads on a whim. We should take this dull functionality any day.
Anyway, while Maguire's persistent selections may be perplexing, it's otherwise impossible to suggest that Southgate ignores form entirely. Raheem Sterling, for so long one of the first names on the teamsheet, remains in exile. Jarrod Bowen and Ollie Watkins, outstanding of late, return after losing their places following leaner spells. Both selections seem completely fair in terms of both merit and timing.
Not that the squad doesn't have a problem – but it's not to do with the players being called up. It's to do with the state they're likely to be in. Bukayo Saka has been called up despite the very real chance that the hamstring injury he was carrying and which he aggravated against RC Lens on Tuesday could keep him out of Arsenal's game against Manchester City. John Stones, back in training and available on Sunday but who hasn't played at all since the Community Shield game, is also in the squad.
You can't blame Southgate for calling up players whose fitness is very much in question. A win over Italy would all but ensure qualification for the European Championships, and from the perspective of the international team these matches are at least as important as any that, say, Arsenal have played so far.
Then again, nobody can blame Mikel Arteta for trying to play Saka through an injury either – those games are just as important to him and his team. Presumably Saka will be rested against Australia, assuming he even plays for England at all, but there are so few truly low-stakes fixtures these days.
And so players are routinely being asked to play through packed fixture lists while nursing niggling like knocks and strains, often using painkillers to get through when their body isn't right – but the time for the rest and recuperation they need never comes. An international player rarely gets anything like a full summer off, and all the while FIFA will is planning its expansion of the World Cup. UEFA has already added eight teams and a whole additional round to the Euros. The best teams play frankly farcical volumes of fixtures, and the trend is only going upwards. Jürgen Klopp even wants us to start replaying games affected by refereeing foul-ups. God knows where he thinks the time could even be found to give the game against Spurs a go-over.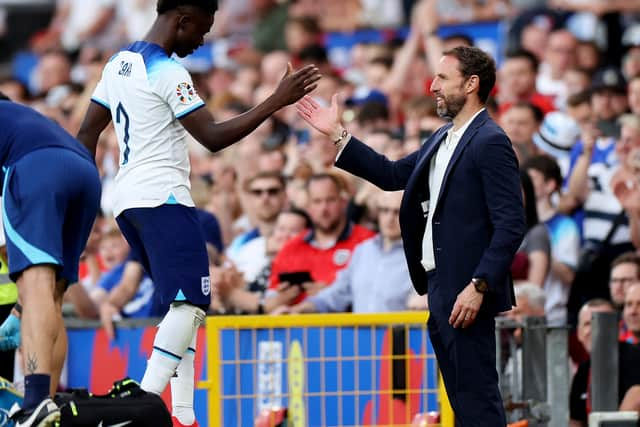 Saka, who has only just turned 22, played 59 competitive matches last year. No wonder his body is suffering. In Spain, Pedri played 35 matches in 2022/23 despite being unavailable for 25 because of injury. He is now recovering from the third or fourth serious muscle injury of his young career, depending on how you quantify severity. When so many bad injuries pile up at such a young age, there are serious concerns about how a body will cope going forward. Pedri's team-mate Gavi, meanwhile, has avoided injury issues but was burned out into some decidedly poor form in the second half of last season after playing enormous numbers of matches over two seasons. Happily, he has since returned to his peak after a quieter summer.
How many players will be exhausted or injured by the insistence that they play so many matches? England squads outside of major tournaments are typically hit by a slew of withdrawals precisely because so many players are either playing through pain that needs management or are just plain shattered – and plenty of these cases are not reported to the public, although the players themselves are increasingly trying to make their voices heard. They are being drowned out, however, by the sounds of cash registers as extra sponsorship and broadcaster money flows into the various federations' coffers thanks to the glut of extra games being played.
It's pretty clear that FIFA and UEFA won't do anything to lighten the load, so perhaps domestic FAs need to be more understanding, protect the most precious parts of their product, and cut some games. What's more important, players' health and capacity to play for a long time at the highest level, or the EFL Cup? And god knows who truly cares about the EFL Trophy, but lower league players have it even worse than the top professionals – we could likely take that out of the equation without causing too many tears to be shed. One way or the other, something has to give – and in an ideal world, it wouldn't be Bukayo Saka's hamstring.