England's Euro 2024 qualification was pretty boring - is it the format, or are they just too good to be fun?
England have made it to Euro 2024, but the crowd couldn't be bothered to stay and celebrate - has the format sucked the fun out of it or is that just England?
Watch more of our videos on Shots! 
and live on Freeview channel 276
Visit Shots! now
"It has been a tough journey," said England captain Harry Kane after he helped his team to a 3-1 victory over Italy which assures them of qualification for Euro 2024 in Germany – England's eighth major tournament in succession. But had it really been so very tough?
As the camera panned to the stands after the full-time whistle blew, it revealed row upon row of empty seats as fans made for the exit. Few seemed to feel the need to soak in the achievement. 'Sweet Caroline' was played out to the accompaniment of plastic seats clattering back into their resting places. It wasn't always so.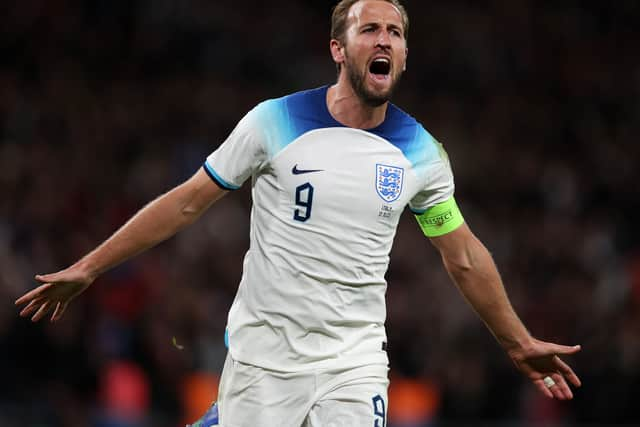 This was a world away from some of the tense conclusions to qualifying campaigns past, and bore little resemblance to, for instance, the delirious scenes at Old Trafford sparked by David Beckham's last-gasp free-kick sailing into the top corner of the Greek goal that sent England to the 2002 World Cup – and even less resemblance to the images of Steve McLaren stood dolefully in the rain beneath his infamous umbrella. It used to be a tough journey, and one that England didn't always see through to the end. These days, it's a piece of cake.
Much of the lack of drama and the reduced potential for hysteria is down to the qualifying format. The European Championship now sees 24 teams make it through compared to 16 as once was – and there are only 55 nations in UEFA. Once you take the San Marinos and Liechtensteins of the continent out of the equation, about half of the teams who have some hope of qualification make it. For the slightly smaller nations whose fans desperately want to see their sides playing in major tournaments, this is of course a godsend. For larger teams, it makes qualification significantly less of an issue.
Take Italy, for example – their defeat at Wembley, coupled with losing to England in Naples at the start of qualifying, means that they now sit third in the group, behind Ukraine. But they only need to beat Ukraine in Poland to go through thanks to their superior head-to-head record, and even if they fail at that task there is a very good chance that they will get another go in the play-offs. The odds remain firmly in their favour, where once they would have been desperately scraping to make it through by any means necessary.
All the same issues apply for England as well. Had they lost to Italy, they were still all but assured of qualification unless they lost to Malta - not a prospect that has looked likely even under the most ineffective England managers of years gone by. This may have been 'the moment, but it was already entirely inevitable. The background to the game meant that few backsides at home would have been perched on the very edge of the sofa.
The same is happening to the World Cup, too, of course – the 2026 edition in North America will see an additional 16 teams make it through, fifty percent more than has been the case for decades. 16 teams will make it through from UEFA – and the odds of the biggest sides missing out (as Italy of course did just last year) has become slimmer. Fewer high stakes games means fewer reasons to tune in, and less enjoyment.
Of course, it arguably means there will be more high-stakes matches for the teams one step down from the Italys and Englands – teams in the next rung which have more chances to qualify and that will mean more exciting games between countries who would previously have made it to the Euros only once every few tournaments. It also means more chances for plotlines like Iceland's extraordinary run to the quarter-finals in 2016. That's a good thing, of course – but perhaps the balance has shifted a bit too far in the other direction. There are swings and roundabouts, but they're meant to be fun to ride. Otherwise – what's the point?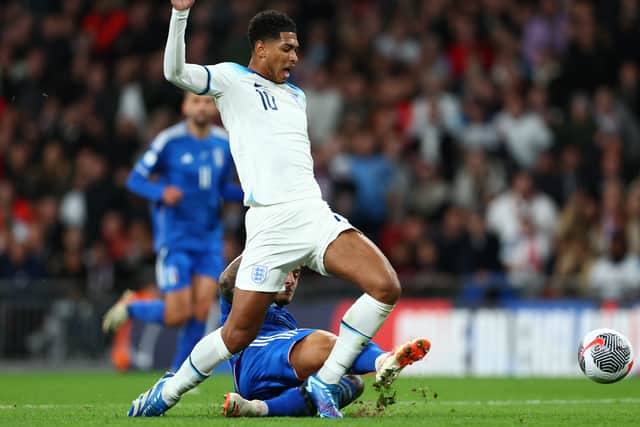 Of course, the other reason for all of those empty chairs in Wembley was simply that this England side are so damned good. They are a wholly different beast from Sven-Göran Eriksson's tactically inflexible teams of the 2000s, or the stuttering squads ineffectually marshalled by Roy Hodgson or Steve McLaren.
They strangled Italy for about 70 minutes of the match at Wembley, offering them nothing after Gianluca Scamacca's opening goal and gradually wearing their opponents further and further down, dominating possession, controlling the midfield and eventually showing enough bursts of brilliance from Jude Bellingham and the forward line to win the game at a canter. Even at 2-1, there was little drama in it. Once England got a grip, it never looked like loosening.
So maybe it's just England that are boring these days? If they are indeed so good that it's dull, then it's a welcome change from all those years of mediocrity, if nothing else. Perhaps it will take another wally-with-a-brolly moment to make future campaigns interesting – maybe England will miss out on the 2026 World Cup as Gareth Southgate stands in the pounding London rain with a sodden waistcoat clinging to his torso. Probably not, on current evidence – but at least if England get run closer in the future, Neil Diamond might be singing to a more appreciative audience.