Scotland's domestic football might be in the doldrums but England have plenty to fear at Hampden Park
The Three Lions will travel to Glasgow on Tuesday evening, facing Scotland for the first time since their Euro 2020 0-0 draw at Wembley.
Watch more of our videos on Shots! 
and live on Freeview channel 276
Visit Shots! now
Where Gareth Southgate is concerned, there can often be a gossamer-thin line between advocacy and apologism. To openly speak in favour of the England manager these days is to do so from behind a weighty veil of caveats, and with your clammy palms submissively raised as if to reassure onlookers that you are not a lunatic, a dullard, or both.
The measured conservatism and obstinate loyalty on which the Waistcoated One has hung his tenure as Three Lions boss continues to shed charm by the day, and after a pedestrian 1-1 draw against Ukraine on Saturday afternoon, Southgate has been left with questions to answer. Questions like why he persists in selecting both Harry Maguire and Jordan Henderson, when the former does little more than tootle around at the back like an arthritic Dalek, and the latter has willingly embraced a Saudi heel turn that further blackens his credibility and reputation like an oil spill dousing a seal cub with each passing lunkheaded attempt at a justification.
Southgate currently possesses the most gifted cohort of English footballers since the infamously doomed 'Golden Generation' of the noughties, and after falling short in three successive tournaments now, there is a simmering sense of unease that he might never be the man to deliver the silverware for which an entire nation pines and itches. As such, and increasingly, every hiccup is treated like an aneurysm, every setback is portrayed in cataclysmic hues.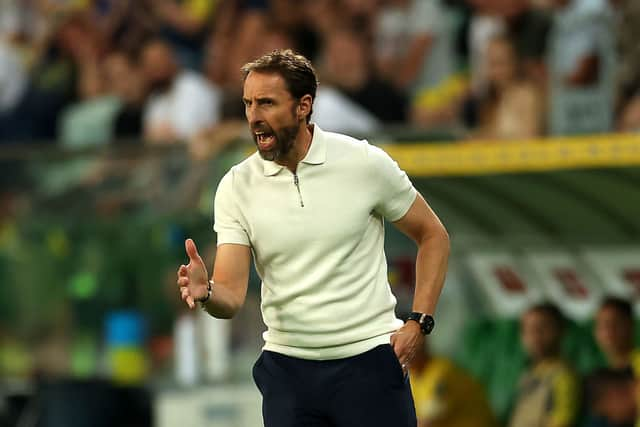 Ordinarily, a friendly - regardless of how it is billed - matters for little. But suggesting that any meeting between the Scots and the English could ever truly be 'friendly' is somewhat disingenuous. The two may be playing for a few scraps of pride, but where the Auld Enemies are concerned, there is nothing more important.
In years gone by, England would approach this contest with an air of bullish detachedness. Perhaps they will this time too. After all, why shouldn't they? On paper, at least, they have the vastly stronger squad, and their hosts are likely to field a side cobbled together from Premier League cast-offs, players of ambiguous international allegiances, and the occasional name who still plies their trade north of the border. There are obvious exceptions, of course, but you suspect that the vast majority of Steve Clarke's party would struggle to force their way into Southgate's plans.
And the disparity between the two teams is only emphasised by the chasm in quality between the nations at a domestic level. Ever since the foundation of the Premier League as a commercial entity, and the subsequent funnelling of funds into the English game, the crevice has widened astronomically - and if definitive proof of the current state of things is required, you need only look at the recent two-legged meeting between Hibernian (the fifth-best side in Scotland last term) and Aston Villa (the seventh-best in England). Villa ran out 8-0 aggregate winners in a pestling that was so severe it ultimately contributed to the sacking of up-and-coming David Brent impersonator Lee Johnson.
But - and in football there is nearly always a 'but' - the Three Lions must still be incredibly wary. For one thing, while the domestic game has faltered, the Scottish national team are starting to gather something akin to a noteworthy momentum. Since their relatively abortive Euro 2020 campaign, they have recorded a win ratio of 79%, and currently boast a goal difference of +21 from the 19 matches in that time. They already stand on the cusp of qualification for next summer's European Championships, and this buoyancy in fortunes is reflected in an increased optimism on the terraces; the average home gate at Hampden has soared by nearly 21,000 in the past two years.
And then there are the recent encounters with England themselves. Who could forget, for instance, Scotland's famous 0-0 win at Wembley back in 2021, or the renowned 2-2 win in Glasgow back during the 2018 World Cup qualification campaign? I'm being facetious, of course, but the point stands that in each of their past two meetings, the Scots have bloodied their neighbours' noses - and they are arguably a much trickier prospect to deal with at the time of writing.
England, then, need to be careful. One wrong move and they could quite easily come unstuck at Hampden. And while that might not be too significant in any tangible sense, the clanging from the panicked fallout in the aftermath would deafen for days on end. What's more, it could also signify a death knell for any lingering convictions that Southgate really, truly is the one.