Only one player can stop juggernaut Jude Bellingham winning Ballon d'Or award in 2024
Jude Bellingham's imperious form at Real Madrid has put him alongside the very best in the world - at just 20, is he already a Ballon d'Or winner in waiting?
Watch more of our videos on Shots! 
and live on Freeview channel 276
Visit Shots! now
Another quite brilliant goal, another stellar display of precise passing, snapping tackles and dazzling dribbling, and just another day at the office for Jude Bellingham. His status as the best young player in the world is beyond any reasonable doubt – but is he, at 20 years of age, already the best playing in the game, full stop?
Perhaps it's a shade too early to get completely carried away, but since scoring on his Real Madrid debut he has racked up eight goals and three assists in nine games playing in a more advanced role that sees him stepping up from the left of midfield to split the forward line and get into all manner of space in and around the box from which to work his magic. And there has been plenty of magic. There are few players in the world who can be described as being entirely without weaknesses, but heaven knows what Bellingham's are. He does everything, and does it brilliantly.
He won't win the Ballon d'Or this year, although he is nominated. Narrative means too much in the voting process for it to be handed to anyone other than Lionel Messi, whose World Cup win will surely see him take the crown for a record-breaking eighth and likely final time at the end of October.
But next year? Well, why not? Who, exactly, is better at this point in time? Granted he'll have to keep it up for most of the next 12 months to win the biggest individual award in the game, but he hasn't shown the faintest sign of slowing down, and he looks likely to be unfurling that trademark arms-aloft celebration on a weekly basis for the foreseeable future. Few players in Europe are scoring as often as he is, and few have anything like the all-round game that the young England international has.
You could make an argument for Erling Haaland, if he scores as many again this season as he did last year when Manchester City won the treble. Perhaps Bellingham's own team-mate, Vinícius Junior, could make a case, although his excellent goal against Napoli (assisted, of course, by Bellingham) was just his second of a season in which he has missed a few games with a bicep injury.
But if Bellingham keeps up his frankly absurd form for most of the year, then there are only two reasons why he wouldn't be crowned the king of the footballing world at an obscenely youthful age. One is that another player presents a better story, as Luka Modrić did when he won in 2018 off the back of Croatia's run to the World Cup final. The other is a certain Kylian Mbappé.
Like Bellingham, Mbappé has already hit the back of the net eight times – but he's done it in just seven matches. The Frenchman has, for what feels like an age now, been the heir apparent to the title of greatest in the game that has been more or less jointly shared – or at least equally argued over – between Messi and Cristiano Ronaldo. With both now safely ensconced in the footballing equivalent of retirement homes in the United States and Saudi Arabia respectively, Mbappé probably expected that his time had come to finally be recognised as the best there is. Bellingham breathing down his neck before he's old enough to buy a drink in America is probably something of an annoyance for the Paris Saint-Germain forward.
Maybe Bellingham versus Mbappé will become the new Messi versus Ronaldo, a pointless argument that seems to keep plenty of people entertained. Maybe we'll end up with entrenched fanbases praising their favoured player while decrying the achievement of the other with every breath they take. Maybe we'll end up with a thousand tedious Twitter accounts called things like Bellingham Facts, Kylian Number One or Pude Pellingham. But to pre-empt all such nonsense, let's ask the question now – is Bellingham really better than Mbappé? And can he really win the Ballon d'Or at the age of 21?
Let's start with the goals. It's highly unlikely that Bellingham can match Mbappé step for step when it comes to rattling the onion bag over the course of an entire year. Mbappé is a preternaturally brilliant goalscorer whose sharp running and sheer speed allow him to get into all sorts of scoring areas that aren't accessible to the normal player. He has racked up a total of 5.5xG in his seven games, more than Bellingham's 4.8 in nine. He makes more chances for himself and scores more of them. Bellingham may have proven himself to be far more of a goal threat than most has expected, but he will never match Mbappé.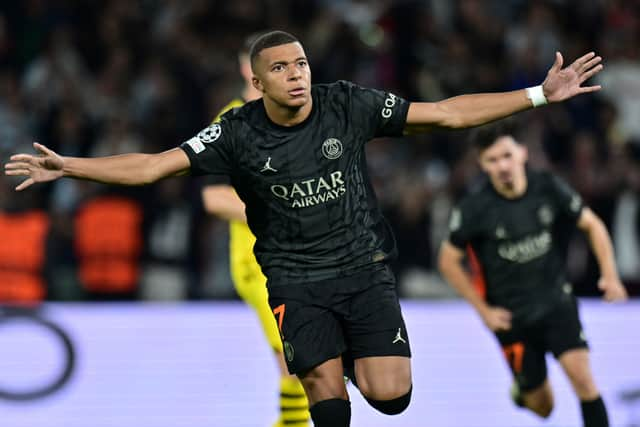 And Mbappé is faster, of course, by a fair margin, but once you get past those attributes it's hard to find any part of the game at which Bellingham isn't ahead. His passing is better, he's stronger in the air, his dribbling is better (statistically, at least – Mbappé inevitably holds the upper hand when it comes to forward runs but in terms of taking a man on and beating them, Bellingham is ahead) and he's so far ahead of Mbappé from a defensive standpoint that the comparison is pointless. Mbappé almost never turns the ball over, and Bellingham does it with regularity.
So why not 20-year-old Bellingham? Why shouldn't he be the best in the world already? Maybe the Ballon d'Or voters in a year's time will feel that it is Mbappé's "time", and if France happen to win Euro 2024 with anything more than a nominal contribution from him then he will likely get the nod, because that's the way it all works these days. By the same token, if England happen to actually win a major tournament in Germany – it could happen, come on now – then Bellingham would be a shoo-in. But all things being even, is it really so inconceivable that a young man from Stourbridge, barely out of his teens but with a retired shirt number under his belt already, can be the very best there is?