Have you ever been so excited about something that you expressed yourself in a childlike way? I hope you have.
Argentina and Aston Villa goalkeeper Emiliano Martinez certainly has, and he is now being hounded over it. While many of us laughed at his giddy celebration of winning the World Cup's best goalkeeper award - just after winning the World Cup itself - others frowned and turned their noses up at the larger-than-life goalkeeper.
It was quite a World Cup for Martinez, who proved instrumental in two penalty shootouts for Argentina, including one in the World Cup final. He also provided a heroic save to prevent France from winning the final deep into stoppage time, and for all that, he was handed the individual award given to the best goalkeeper of the World Cup.
He was awared it straight after the World Cup final, stepping onto the podium moments before stepping off and re-entering the stage to life the FIFA World Cup with his teammates. It was only the third time Argentina have won a World Cup. With that, Argentina and his teammates were written into history as heroes of an already successful footballing nation.
Martinez is already a funky character, so you can imagine his smie as he walked onto the stage to collect his individual award. After receiving it, he proceeded to perform a singular hump of the trophy - with his clothes on, mercifully.
Many of us at home, young and old, laughed at the moment, well aware of the joy Martinez was experiencing in that moment. And let's be honest, it was a big middle finger to the seriousness corporate heads of FIFA who decided to host the World Cup in a country where such public displays of sexuality are frowned upon, where LGBTQ+ rights are few and far between, to say the least.
Anyone over a certain age was well aware of the context of the action, while those too young will have found the silliness funny, even without understanding what the action it really was.
Then again, not all of us adults found it funny. A certain Graeme Souness decided to rip into Martinez after seeing the footage. He said: "What we should be talking about more is the crude gesture he made after collecting his goalkeeper of the tournament trophy. Do some people really find that sort of thing funny? Martinez embarrassed himself and he embarrassed his country. He looked like a vulgar clown. If that is what he wants to be remembered for, then God help us all."
Firstly, yes. Many people do find 'that sort of thing funny'. Thankfully, we have come a long way since the 20th century, and these days, we can both laugh and talk openly about sexuality, and indeed references to it. And in a modern world where sex is explained and discussed, rather than being kept as some kind of of taboo secret, public expressions like this one are not a bad thing. They can serve as an ice-breaker to start conversations between right-aged children and their parents.
Secondly, 'vulgar', really? Is there a word more set aside for the upper-class eye-rolling crowd than that one? It is defined as 'lacking sophistication or good taste' or 'making explicit and offensive reference to sex or bodily functions'.
By the book, perhaps it was vulgar, but we should all strive for a world where that word doesn't need to be used. We should strive for a fun world where people are free to express themselves how they like - within reason - and without people like Souness casting judgement. Thankfully, Martinez won't care. You're not going to change his expressive personality, and we should be thankful for disruptors like him.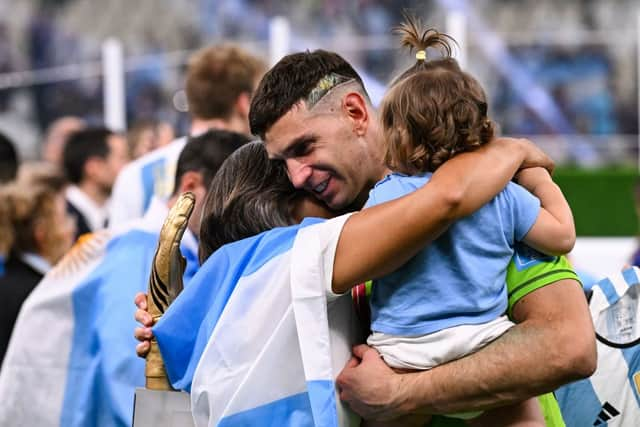 Aston Villa boss Unai Emery has recently said he will try to calm his goalkeeper down, saying: "I am going to speak with him because I want to talk to him about controlling his emotions. When I knew him at Arsenal he was telling me in that moment 'I want to be the first goalkeeper of Argentina.' He achieved it.
"The last time I met with him here I was talking about his ambition and he told me he wanted to be the best goalkeeper in the world. I want players like that. His mind is so strong. Maybe his celebration, the reason, is coming from that. Players like Emiliano, when we can control him, with a good balance between winning and losing with big emotions, he is the best Emiliano we can have."
Emiliano, Unai in HR wants a word with you.
That's what all this comes down to. So many with a stake in the game want to remove the fun and the expressiveness from the sport, but in contrast, that's what makes it so great. Whether it's the Brazilians dancing, the players wearing armbands to promote love for all or Martinez humping a trophy on stage, we seldom get to see these things without complaints from someone.
This sport would be an easier one to govern if fans and players stayed in their lanes, if players played the sport like elite athletes and acted like robots along the way. But fans and players must fight against that notion at all costs. This sport is nothing without its expressions of joy and culture, its disruptors and rule-breakers.
So, spare us the pearl-clutching of pundits and the outrage from overstepping governing bodies. Give us more Emilian Martinezs, and give football spacce to live and breathe as it was intended.