All rise for the real hero of Argentina's World Cup triumph
Argentina secured their third World Cup title against France on Sunday in one of the tournament's all-time great finals.
Watch more of our videos on Shots! 
and live on Freeview channel 276
Visit Shots! now
The Lemsip must have kicked in around the 80th minute. Up until that point, the only thing ropier than France's wheezing squad, seemingly still recovering from the mystery illness that reportedly swept through Didier Deschamps' ranks during their preparations for the World Cup final, was the patchwork six-yard box at the Lusail Stadium. Sluggish and jaded, Les Bleus looked more of a seasick vert, like a queasy accounting team drowning in spreadsheets after indulging in one too many at the office Christmas party the night before.
Not to labour the point, but there are plates of escargot that have shown more vim and impetus than the defending champions did for the vast majority of Sunday's contest, and they, quite literally, are snails. Dead snails, at that.
Of course, as woefully dulled as the French were, Argentina were magnificent. There has been a lot said about Lionel Messi's glorious fate being 'written in the stars', but the reality is that it's a damn sight easier to inscribe your own celestial destiny when you seize both the pen and paper by sheer force of will. The South Americans cracked their knuckles with an arrogant mulishness, and proceeded to pummel away at their limp opponents with all the grunting abandon of Rocky Balboa in a meat locker. Or at least, they did for 80 minutes.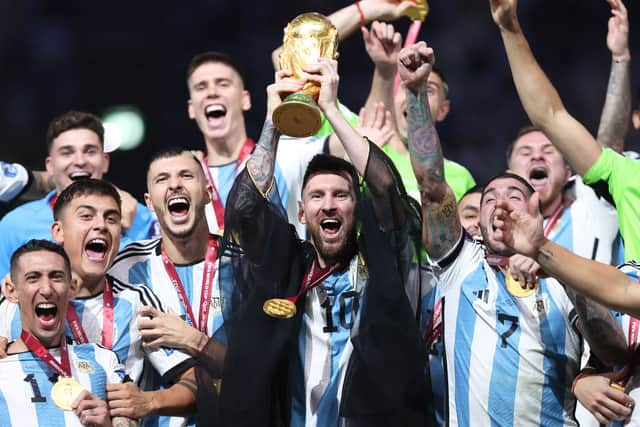 Momentum is one of football's great intangibles. The manner in which it ebbs and flows, shifts and wriggles, will likely remain an elusive puzzle until the inevitable heat death of the universe. While the CIA and NASA were having a whale of a time investigating parapsychology and feeding LSD to dolphins back in the '60s, they should really have been allocating their monstrous resources towards asking how it is that a team who had largely resembled a Madame Tussauds exhibition for an hour and twenty minutes can ignite so incandescently to score two goals in 95 seconds and halt the very crashing of the tide itself. Perhaps if the nameless lab rats of the military industrial complex - observing their gigantic, primitive computers and sifting through mounting reams of ticker tape - had indeed dedicated themselves to such an intellectual venture, they would eventually have been left clutching a single, well-worn lump of chalk before a blackboard that read simply: Kylian Mbappe.
Rarely has one man given so much and received so little. Elon Musk's purchase of Twitter comes to mind, but at least Mbappe had the good grace to make a positive impact. In one, or rather two, fell swoops, the 23-year-old restored the most unthinkable of parities. And then, later on, he would do it for a third time. The French have a history when it comes to disposing of aristocracy, and for an uncanny quarter of an hour, there they stood with the most noble of necks on the chopping block; Messi's immortality splintering, Mbappe looming over the guillotine. In a final that had been so imbalanced for so long, this was very much a case of the tortoise and the GOAT.
What ensued next, as you well know, was exquisite carnage. Sometimes you witness a spectacle that makes you realise the insignificance of the written word. How can such meagre tools do justice to the sparkling, oscillating swell of ecstasy and agony - two faces of the same flipping coin - that floods through fluttering stomachs and rib cages the world over like... well... like nothing else? Tsunamis, hurricances, rollercoasters - none of the cliches come even remotely close.
When Messi scrambled a ragged stab of an effort over the line deep into the entrails of extra time, there were tears. When Mbappe, clutching at Argentine ankles like the imperishable red-eyed cyborg antagonist of some blockbuster sci-fi romp or other, nestled his second penalty of the match callously beyond Emi Martinez, there were tears. When the mountainous keeper flung himself, big and brave and selfless, at the rifled last gasp jab of Randal Kolo Muani, like some secret service veteran hurling his body before a hurtling bullet for king and country, there were almost certainly more tears still. To watch a match in which you have no actual emotional attachment with your head in your hands is quite the trip, it turns out.
In retrospect, Kolo Muani's squandered glimpse was the fulcrum on which everything pivoted. From that moment onwards, Martinez, like a cruelly difficult end of level boss emerging from a heap of smouldering debris, looked entirely insurmountable. The story of Sunday's final may have been ferociously scribbled by Messi and Mbappe, but it would be the crowing stopper who would scrawl his name all over the decisive epilogue. He jolted Argentina back to consciousness as they threatened to flatline, he bullied and brayed his way into the heads of France's spent penalty-takers, and then to top it all off, he took his hurriedly-bestowed FIFA Golden Glove award and inexplicably thrust about with it on his crotch for a bit in a display of stunning lunacy.
And in some respects, as Messi finally, finally got to embrace the one accolade that has evaded his inexorable tractor beam for so long, as he held aloft the World Cup sporting an ill-fitting gown that fell somewhere on the spectrum between Hogwarts cloak and Halloween-themed negligee, it was hard not to think of the man who may actually have won it for Argentina; not the diminutive wizard, not the slightly unhinged Martinez, not even unassuming manager Lionel Scaloni, but a man who was not even in Qatar at all. A man of Argentine heritage, born in France. A man who inadvertantly gave Martinez his big break by injuring Arsenal's Bernd Leno to topple the first brick in a domino train that started in relative obscurity and ended beneath a crescendo of fireworks in the Lusail night sky. All rise, please, for Argentina's true hero, Neal Maupay.