Football is for everyone - but 2022 World Cup shows it's also a tool to mask oppression
The 2022 World Cup in Qatar produced some many compelling moments and created fantastic memories all with a tinge of bittersweetness.
Watch more of our videos on Shots! 
and live on Freeview channel 276
Visit Shots! now
Of the many fantastic images to come out of the 2022 World Cup, perhaps the most symbolic was that of Sheikh Tamim bin Hamad Al Thani covering Lionel Messi in the traditional Qatari robe before the Argentinian superstar lifted the trophy.
That gesture was far more poetic than the Emir of Qatar could have ever meant it to be as he covered Messi's beautiful blue and white top with the thin, see -through garment. That has been the running theme of this particular competition after all, a thinly-veiled cover up of the worst aspects of what football has become on the global stage.
Nobody was taking that richly deserved moment away from Messi, who quickly ditched the robe after lifting the trophy, but the Emir still achieved his goal of having Qatar's presence front and centre for the most iconic image of the tournament. However, the ultimate end goal of this tournament will be far from what the regime will have hoped for as their host status has done more to highlight the issues still apparent in these countries than it has to hide them - just as the robe could not hide the true beauty of Messi's crowning moment.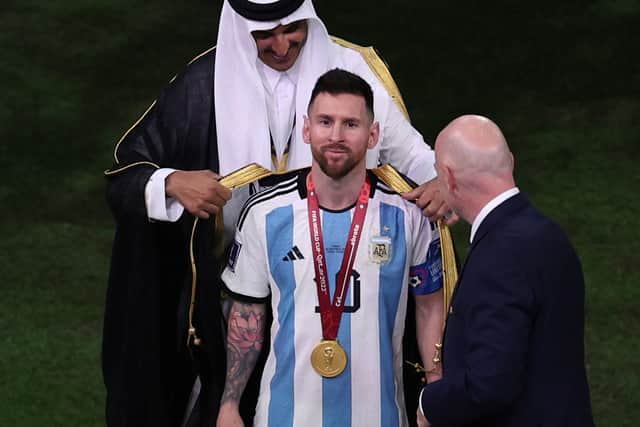 Football isn't just a game, it's not just 22 men kicking a ball around a patch of grass, it's a way of life for people all over the world, almost like a religion. Just like religion, it is mainly a force for good but some will always look to exploit and degrade it for their own gain. Both can be tools to bring people together or to divide us in the worst way possible.
It was also fitting that a tournament which was marred in controversy from the start ended with one last feeble attempt to enhance the reputation of a country which should never have been selected as hosts. Fitting because it failed to do anything of the sort. The 2022 World Cup was rotten to the core in many aspects but it still managed to achieve what football always does in the end - bringing people together.
Supporters all over the world regardless of race, gender, religion, politics, sexuality etc etc etc were united by the story of one man from Rosario cementing his legacy as arguably the best to ever lace a pair of boots. A man who has given so many incredible memories to football fans finally winning the biggest prize of all. That's what football is about.
What's important now is that the conversation around countries like Qatar and Saudi Arabia, where alleged atrocities have always been part of the news cycle, doesn't go away just because football is no longer in the spotlight. We cannot allow football, or any other sport, to be used as a tool to try and wash clean blood soaked hands.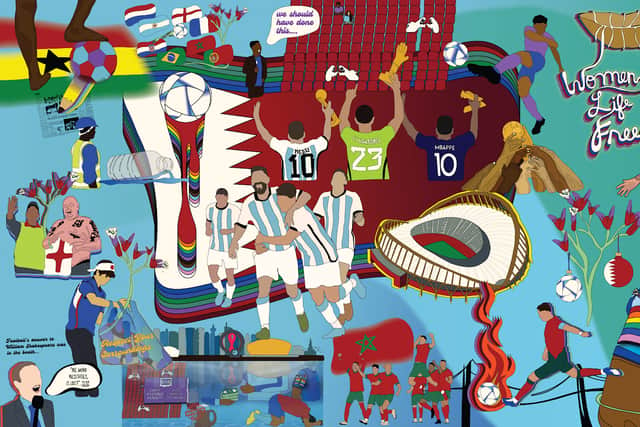 Qatar has not improved its reputation by hosting this tournament and FIFA have somehow sunk their own to an all time low even after years of corruption and scandal but football, the sport that brings us together and that we all love, has emerged unscathed. The question is, what more can be done to combat attempts at sportwashing?
It will be interesting to see, probably in many years time if ever, if Messi is faced with the question about whether or not he felt in a position to refuse the Emri's offer of the robe. That would have been as bold a political statement as any other made at the tournament but in the moment it wouldn't be fair to blame the Argentina captain for not doing so.
The One Love armbands were supposed to be an important symbol of togetherness but were quickly abandoned under the threat of a dreaded yellow card while players from Iran risked their literal lives and those of the people closest to them by standing up against their own regime. Security confiscated symbols of unity from supporters but they cannot silence the voice of the masses.
Football was, is and forever will be for everyone. The ups and downs of the beautiful game are sewn into life's rich tapestry and will always belong to the people. No amount of money will ever change that but it is up to us, from the supporters in the stands to the players on the pitch, to always stand up and make sure that nobody will ever again be able to use it as a tool to mask oppression.