Keylor Navas to Nottingham Forest would be beautiful, unhinged madness
Nottingham Forest have been linked with a sensational move for ex-Real Madrid goalkeeper Keylor Navas.
Watch more of our videos on Shots! 
and live on Freeview channel 276
Visit Shots! now
Ask a random passer-by on the street to name something that Costa Rica is known for, and they might give you one of several answers. Perhaps they would mention its world famous coffee beans, rich and mellow in flavour, or its paradisiacal vistas, from vivid rolling horizons to its towering, dense rainforests. Maybe they would tentatively and quizzically ask if that was the place with all the volcanoes, or the home of nature's lovable basket case, the sloth.
Ask any given football fan to name something that Costa Rica is known for, however, and they will give you one answer and one answer only: Keylor Navas. Ever since the veteran goalkeeper made a lucrative move to Real Madrid in 2014, his career has radiated a kind of breakout quality, like an Australian soap opera star who rolls the dice and conquers Hollywood. His list of personal accolades is longer than a winter solstice night shift; La Liga Goalkeeper of the Year, Ligue 1 Goalkeeper of the Year, UEFA Champions League Goalkeeper of the Season, CONCACAF Best Men's Player of the Decade, and so on and so on. His list of winners' medals is longer still; four FIFA Club World Cups, three Champions Leagues, two Ligue 1 titles, a La Liga title, and a couple of domestic trophies scattered about like velvet cushions on a four-poster bed.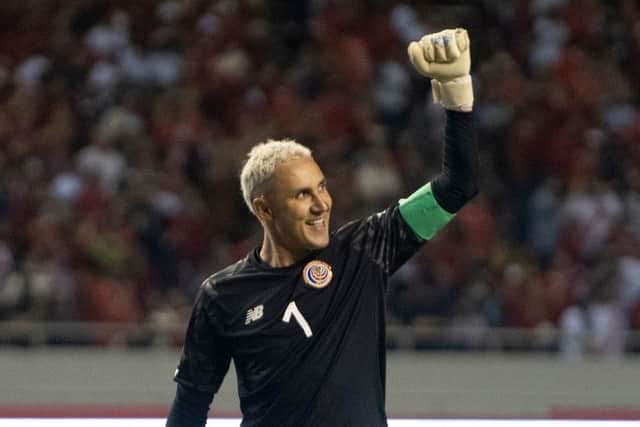 We want your feedback on 3 Added Minutes - details here.
At 36, with well over a century of international caps to his name to boot, Navas is a certifiable living luminary. But luminaries are rarely content to watch their lights dim and fizzle out. Currently on the books at Paris Saint-Germain, the stopper has been profoundly relegated to the role of Gianluigi Donnarumma's permanent understudy in the French capital. Navas is yet to make an appearance in Ligue 1 or the Champions League this season, and his prospects are unlikely to rejuvenate any time soon.
And so, it is in this context that we find ourselves addressing one of the most fantastical transfer rumours of the January window. Keylor Navas, Costa Rica's sloth-eclipsing favourite son, is being pursued by Nottingham Forest. Do not adjust your sets. We are firmly in the realm of ambitious, tangential Football Manager save files at this point, a kind of dreamlike astral plane in which nostalgia and pragmatism mingle and coalesce to polish grains of gritty speculation into pearls of giddy disbelief.
In some respects, it makes sense for Navas to be courted by a club who have treated their transfer business like an episode of Supermarket Sweep in recent months, and not just because he looks a bit like a Hispanic Dale Winton. Here we have one of the finest goalkeepers in Europe, if not the world, gathering dust as the snapping mongrel terriers of time and retirement gnash their way ever closer to his ankles. Likewise, we have a team in possession of both galactic aspirations and an injured first choice goalkeeper; the two in tandem verge on the oxymoronic.
Manchester United loanee Dean Henderson picked up a thigh complaint a little over a week ago, and is expected to be out for at least a month. Wayne Hennessey will deputise in his absence - or at least he will when he's not making suspicious gestures in the background of photographs - but it's achingly clear that Forest will need reinforcements, especially in the event of Henderson's injury proving to be more substantial. Why shouldn't they make a temporary approach for Navas, even in spite of his looming reputation? Shy bairns, as they say, get nowt.
And were the unthinkable to happen, his is a vibe that has 'cult hero' scribbled and scrawled all over it, one that promises eccentricity and dependability in equal doses. In your mind's eye, you can already see the soaring limbs as he flings himself across his line to save a vital, bludgeoned penalty on the final day against Crystal Palace; already picture the red and white scarf tied round his head like some knitwear Rambo, face contorted grotesquely in sweet exultation as he perches atop Willy Boly's shoulders, heralding survival with the same fervour that he has previously spent on the glint of the Champions League trophy; already hear the insane, infectious chants sweeping terraces and timelines alike as his lore mushrooms. May I humbly suggest a bastardisation of Marillion's 'Kayleigh'?
All of that is to say that Navas would be a magnificent signing for Forest, but he would also be a wonderful addition to the Premier League writ large. Perhaps the clubs currently grazing straight-armed haymakers off the ducking cheekbones of Steve Cooper's side down in the lumbering bar brawl of the relegation doldrums would be inclined to disagree, but for the genuine, uninvested neutral, what a prospect it is.
Football is at its best when it is being inexplicably, irrevocably silly, when it dons a daft mask and reminds us why it is, and always will be, stranger than fiction. And believe you me, if Keylor Navas swaps the rainforest for Nottingham Forest this winter, nothing will come even remotely close to matching it for beautiful, unhinged absurdity.