How the Premier League is weaponising fans against clubs to fuel overspending and greed
A look at how the Premier League could be seen to be manipulating fans to achieve eternal financial growth and market share dominance.
Watch more of our videos on Shots!
and live on Freeview channel 276
Visit Shots! now
The Premier League has a growing spending problem - but those expecting action will be left disappointed.
The January transfer window is now over and done with, and once again, we have seen the Premier League grossly outspend the other top leagues in Europe. Premier League clubs combined to spend £815million in January alone, with Chelsea alone contributing around £300million of that.
In contrast, La Liga clubs combined to spend a mere £26.5million, while Serie A clubs, strangely, spent exactly the same amount. That's a difference of £788.5million splurged by the Premier League compared to both La Liga and Serie A, and that has led to criticism from both of those European leagues, with football fans on the continent also concerned.
It comes in the wake of European Super League's empthatic rejection, though it could be argued that's something we may already have in some ways. Though, it's true that we are yet to see the Premier League's out-of-control spending develop into any sort of dominance. Since the year 2000, there have been only five English Champions League winners, compared to 10 from Spain, three from Italy and the same amount from Germany. In the same timeframe, there have been only four English Europa League winners, compared to 11 from Spain, with only one German winner and no Italian champions.
Beyond that, you could make a serious argument that in Germany and Spain, in particular, if you cross-referenced the teams in each of Bundesliga and La Liga, the majority of teams would stand up well against their Premier League counterpart. For example, the likes of Chelsea or Manchester United would have a hard time beating Real Sociedad or Real Betis, while Wolves or Southampton would face a serious test against Stuttgart or Hoffenheim.
That's because spending smartly often outperforms spending wildly, and just because Premier League clubs are splashing the cash with abandon, it doesn't mean they are getting better. But that's not to say it cannot create a dominance in the future, and that is what is concerning the other European leagues currently.
Of course, there is a degree of hypocracy involved when clubs like Barcelona and Real Madrid are complaining. In Barcelona's case, they almost spent themselves into oblivion recently, while Real Madrid have a history of paying above market to get their man, not to mention it's easy for a team that has won more Champions League titles than any other team to complain about 'unfair competition'.
But there is no doubting that spending in the Premier League is getting out of control, and the competitiveness, even within the Premier League, should be protected for the fans' sake, but the fans have already become part of this money machine, and the Premier League bosses must be loving it.
You may well have noticed the recent trend developing in the English top flight, and perhaps even in the second tier as well. In essence, if a Premier League club's owner doesn't keep up with the spending of other clubs or doesn't 'show ambition' by spending significant amounts, they are suddenly 'running the club into the ground'. Now, there are certain examples where there are objectively shoddy owners, but notice we never hear those claims when a club is successful.
Even in bad situations, many fans believe the only way to make progress is to spend exorbitantly on new talent. History tells us that is not the case, and smart club management is often the best way forward. Clubs who try to spend their way out of danger often end up going down, and then the club finds itself in perilous financial territory.
The trend is a concerning one because it is changing how supporters require their club to be run, and it suits the Premier League to no end. From the league's point of view, there are two possible scenarios, and they both work out well for them. Scenario one is that the club chiefs listen and go out and spend money on new talent, something Manchester United's owners, the Glazers, have done over recent years.
They have tried to be smart, then go into panic mode amid complaints from fans and buy that new shiny star after all. That works out well for the Premier League, who are following the NBA's model of banking on stars. The more stars, the more new signings, the more they dominate the news cycle and the more people tune in on television - where the bulk of the league's money comes from.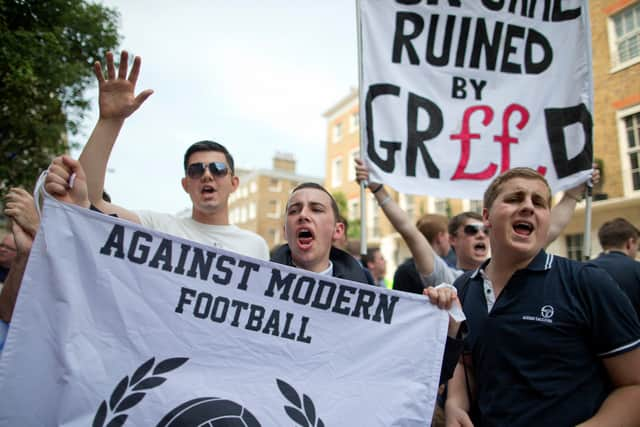 And sure, you could make the argument that economic growth is good for fans, but that argument has no basis, at least not until ticket prices and television subscription prices start plummeting down instead of sky-rocketing - pardon the pun - as they currently are.
Scenario B is that the owner ignores the calls from fans, ends up falling out with them, and while it may take time, eventually sell the club. What has become clear over recent years is that new owners in the Premier League are significantly richer than their predecessors. Again, this suits the Premier League because it now has a richer club capable of investing more not only in their team, but also into the league as a whole.
This means the Premier League can demand bigger television contracts and around the circle goes, until everyone who touches the business side of the English top flight ends up filthy rich. And by the way, don't be surprised if the Premier League eventually follows the NFL's model of taking full control of all things media as the league's wealth continues to grow.
Also don't be surprised if the Premier League ends up with its own 'network journalists' who are fed breaking news before those from newspapers, and don't be surprised to see a centralised TV service like NFL Pass or NBA Pass, where fans can tune into every game by paying the league directly for the streaming of games; that's something MLS has recently signed up to, in conjunction with Apple TV.
The Premier League appears to have little interest in solving division between supporters and owners, and they don't care about the damage done by an owner, as long as the next one is richer, and as long as the next one is willing to contribute to a £800million+ January spending bill. As for fans, unfortunately, they have become pawns in a game being played by the billionaires club, and with every passing week, with every transfer window, the opportunity to take back any kind of control is slipping away.