Newcastle United vanquish ghosts of the past with landmark St James' Park moment
There may be unease with progress and success on Tyneside - and that feeling has its roots in the past.
Watch more of our videos on Shots!
and live on Freeview channel 276
Visit Shots! now
There's a knot in the stomach, a dull aching knot that lies somewhere between being a child going to bed on Christmas Eve worrying about waking to a bag of coal and waiting to get a filling at the dentist.
A soul-crushing, bitter-sweet knot caused by Newcastle United's potential to turn the improbable into the inevitable. A knot that has roots laid in disappointments of grasping failure from the jaws of victory and somehow falling short, even when the odds are firmly stacked in their favour.
Why else would nervous tension and painstaking worry envelope St James' Park as the Magpies were seemingly easing their way into a first League Cup Final since 1976, when Sean Longstaff's double gave them a three-goal aggregate advantage in their semi-final against Southampton.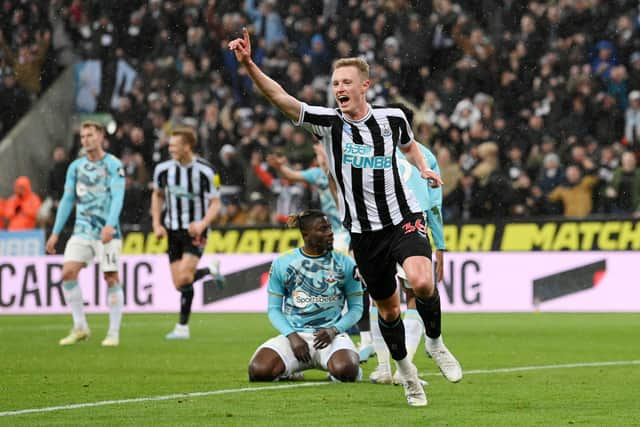 The simple answer? Because history has told the Gallowgate faithful to expect panic, negativity and ultimately disappointment, even in moments of promise and positivity.
Take the mid-1990s, when Kevin Keegan's Entertainers looked all-but certain to become the first Magpies side to claim a top-flight title since 1927, the same year Newcastle Brown Ale was brewed for the first time and 12 months before the Tyne Bridge was officially opened.
Disappointment caused by some poor results against the likes of West Ham United, Blackburn Rovers and Nottingham Forest allowed an Eric Cantona and Peter Schmeichel-inspired Manchester United to pip them to the title in the final week of the season.
Or Sir Bobby Robson's side of the early 2000s, that took a 1-0 lead into the home leg of their Champions League qualifier against Partizan Belgrade, only to come out on the wrong end of a quite horrendous penalty shoot-out.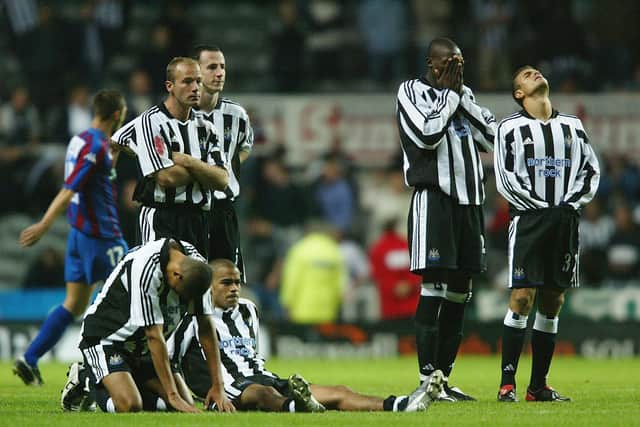 Or taking a two-goal advantage midway through the first-half in the second leg of a UEFA Cup quarter-final at Sporting Lisbon in 2005, before injuries to key players and some woeful defending lead to a 4-1 defeat that formed part of a disastrous fortnight containing that infamous Lee Bowyer and Kieron Dyer on-field scrap and a 4-1 hammering in an FA Cup semi-final against Manchester United.
History tells us Newcastle United are at their most fragile when things are going well. The ownership of Mike Ashley and his tendency to rock the boat in the most positive of moments only enhanced the unease on Tyneside.
In the same week that Chris Hughton's United secured promotion back into the Premier League in 2010, Ashley released a statement revealing there would be 'no capital outlay' for new signings. When Alan Pardew's Magpies were surprisingly pushing for an unlikely Champions League place two years later, Ashley inexplicably renamed St James' Park to include his sports retail business in a misjudged effort to 'showcase' stadium sponsorship.
Just months later, when United fell short in their bid for a top four spot but still qualified for the Europa League, Ashley hauled a number of club officials over the coals after agreeing to release funds to sign Papiss Cisse in return for a promise of Champions League football. What followed was a summer of discontent as an unnecessary deal for Ajax midfielder Vurnon Anita proved to be the only major business of the close-season and left Pardew's squad woefully unprepared for a hectic schedule during the following campaign.
All of the above neatly sum up why Magpies supporters were riddled with tension and concern when Che Adams got Southampton back into the second leg of Tuesday's Carabao Cup semi-final. This was it, chance blown, train tickets cancelled, requests for refunds put into prematurely booked hotels, thoughts of turning Wembley Way and Trafalgar Square into black and white mass shelved for another season.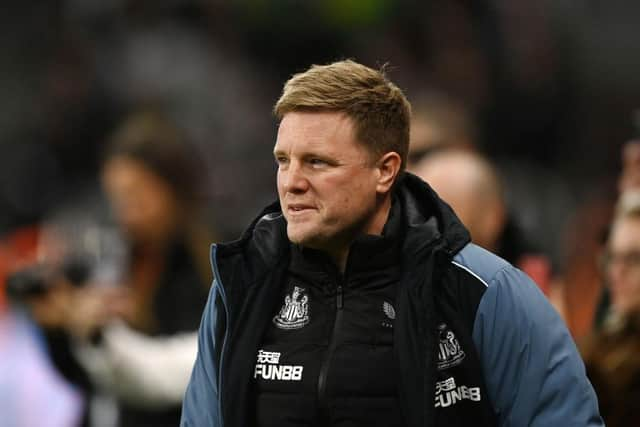 Those feelings were hardly enhanced when Bruno Guimaraes was shown a red card following a VAR review with just under ten minutes remaining. A desire to prematurely float to cloud nine now saw supporters weighed down by the ghosts of the past that had taken the form of Ian Woan, Stan Collymore and Gustavo Poyet.
But something felt different, not in the stands, but on the pitch. There were no nerves, not outwardly anyway. There was no lack of control or loss of discipline. There were cool heads, leadership on the hallowed turf that filtered from the home dugout. There was a clear plan, and it was being carried out to near-perfection by the men in black and white.
Southampton were kept at bay by a much-improved United defence, chances were limited, minute-by-minute, second-by-second, the inevitable disappointment petered away and the realisation of progress and success seeped in.
Many will point to the controversial takeover of the club by a Saudi-led consortium and their lucrative investment as a catalyst for progress. Without the takeover, Eddie Howe would not be Magpies manager, but without Eddie Howe, the impact of the takeover would not be as dramatic.
His methods, his meticulous eye for improvement and attention for detail, coupled with the dedication and willingness to learn of his squad and some clever recruitment finally have Newcastle on an upward trajectory after years of limited ambition under their former owner.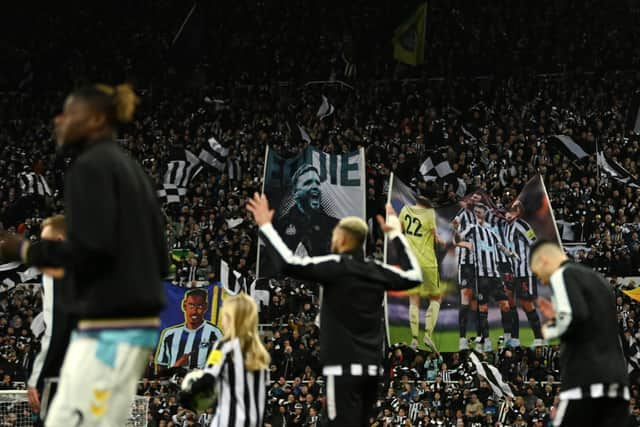 Newcastle United supporters will get a first visit to Wembley for a major cup final since 1999. They will dance and sing in Trafalgar Square, they will paint Wembley Way black and white and they will embrace, cherish and remember every single moment as new lifelong memories are created, no matter what way the dice fall in the game itself. The numbers 1955 and 1969 have been thrown at the Magpies faithful for many a year, with those respective years representing the last time domestic and European silverware was last paraded on Tyneside.
The trophy drought may well be ended or it may be extended into another season at Wembley later this season - but there is now genuine hope and belief, both currencies any football supporters richly deserves at very least.
They will cherish each and every second of their weekend in London - just don't expect them to believe a positive outcome is coming their way.