Sky Sports' Game Mode debuted in Arsenal vs Man City is answer to question nobody was asking
Sky Sports and the Premier League trialled Game Mode during Arsenal's win over Manchester City - but it's hard to know who it was for.
Watch more of our videos on Shots! 
and live on Freeview channel 276
Visit Shots! now
Human achievement has, over the course of millennia, been driven by a sense of daring and a desire to innovate. Our lives have been immeasurably improved by countless minds that have pushed the species forward with bold leaps of the imagination. Fresh ideas are a necessary part of the constant expansion of the human mind and our capacity to live life to the fullest. Except, perhaps, when it comes to watch a football match.
Sky Sports and the Premier League introduced us to their latest creation on Sunday during Arsenal's win over Manchester City – Game Mode. Those who watched the match on Sky Sports Football will have found that instead of the time-honoured fixed single camera view from somewhere high in the gantry, they watched the game from a camera on a rail down the side, recreating the shifting view that will be familiar to players of football video games like FC24 or Pro Evolution Soccer.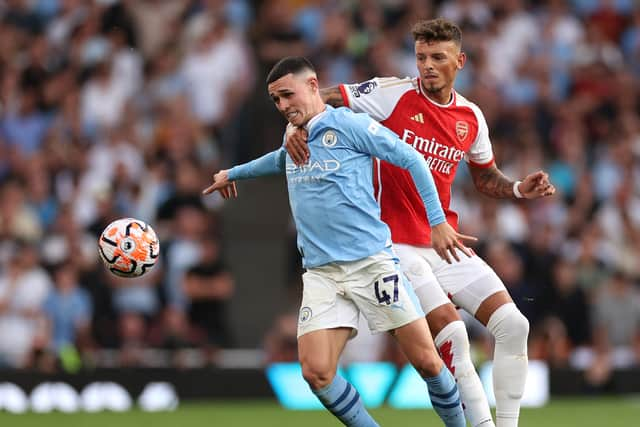 Like most people who are, to paraphrase the great Danny Glover in Lethal Weapon, too old for this nonsense, I lasted about 30 seconds. Perhaps I am just a creature of calcified habits, but I can't help but feel we already have the perfect camera angle for watching football, and it's the one that's been in use for the past god-knows-how-many decades.
Apparently the roving camera gives the viewer "a better appreciation of space" – the words of the Premier League – but I confess I'm not clear on how. It does provide a more consistent angle, admittedly, which probably means fewer moments of mild internal embarrassment when you get excited about a ball apparently heading towards the top corner only to discover that it's actually drifting several metres wide.
Apart from that, you seem to see slightly less pitch than you did before, and long balls launched downfield are immediately lost while the camera scuttles down its railing trying to catch up. I don't know what the camera's top speed is, but it's slow enough that Rishi Sunak would describe it as being contrary to British values.
The new video game-inspired angle is presumably being trialled at least partly with younger audiences in mind – or at least audiences of any age whose primary introduction to the world of football is through EA Sports titles. I'm old enough to have owned a copy of the very first FIFA, a 2D game which allowed you to indefinitely avoid having your players booked by making them run away from the referee, and spent many happy hours as a youngster smashing 35-yarders in as Adriano on Pro Evo, but I still can't say that I ever felt that there was anything superior about the computer game angle. But then again, I hold many opinions that almost nobody else does, so that may just be me.
Whether it works on such "joystick fans" (as Peter Drury put it in the voice of a man whose gaming days stopped around the time of the Sega Mega Drive) will be borne out by the viewing figures, but it's hard not to suspect this will simply be an another expensive and fruitless experiment which will fall by the wayside, along with player cams, fan commentators and the brief period when Sky became convinced, against all evidence, that punters in the pub would want to put flimsy 3D glasses on to watch the game in order to have a blurry Wayne Rooney appear slightly closer to them. After pushing it hard for a couple of months to broad public indifference, Sky Sports 3D vanished. I suspect Game Mode will go the same way.
After all, if Sky's experience with player cams and fan commentary and all the other gubbins they once loaded the red button with taught them anything, it's that people watching a football match just want to watch the game in the simplest way possible. They want to see what's going on in the easiest and broadest way possible, not get that better appreciation of space, or follow the movements of Dimitar Berbatov and see absolutely nothing else happening. Like so many other things, football broadcasting is best kept simple – bells and whistles have much the same effect as a stadium full of vuvuzelas. They're a distraction and a nuisance, and most people don't want them.
Still, perhaps we shouldn't shame Sky and the Premier League for trying something new. Maybe there is some better way to watch the match that nobody has yet envisioned, and we'll only get there with experimentation. But Game Mode isn't it, and feels much less like a necessary step forward than yet another attempt to reinvent the wheel. Sometimes we've already got the best design possible, and there's nothing more to be done.