It's been coming. After a run of form that has alternated between the positively Sisyphean, and the downright antagonistic, Frank Lampard has now been relieved of his duties as Everton manager. The Merseyside club currently languish second off bottom in the Premier League table, with no wins in any competition since October 22nd. Not even Willy Wonka and his army of trusty Oompa Loompas could sort out Toffees this bad.
Blighted by miserable performances and widespread fan unrest, it started to feel inevitable that Lampard would be the man left to carry the can at a club that has been beset by inexcusable recruitment blunders and boardroom mismanagement for far too long. Of course, that's not to say that the former England international has not been blameless (he emphatically has), but at the very least it's worth remembering that his struggles have not existed in a vacuum.
But now that Frankie Lamps has been extinguished, it begs the question, who would be daft enough to take his place? We've taken a quick look at some of the potential candidates, likely and otherwise, below...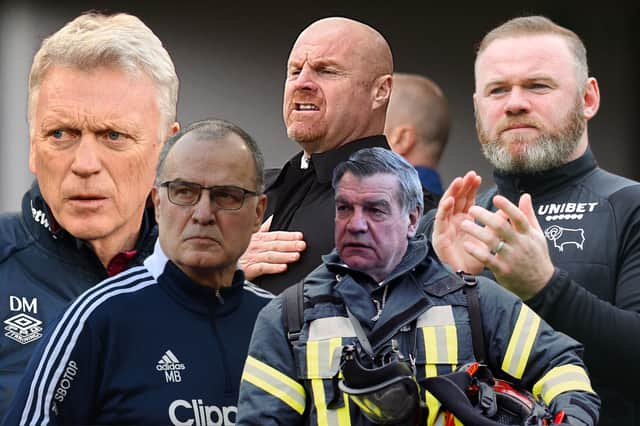 Sean Dyche
Picture the scene... The Goodison Park tannoy, for my money unparalleled in the Premier League with regards to its volume and clarity, is hijacked at half-time of next Saturday's top flight clash against Arsenal. Glass smashes, followed by a chugging nu-metal rendition of 'I Am the Resurrection'. "By Gawd!", Darren Fletcher proclaims from the gantry on BT Sport's coverage, "That's Stone Cold Sean Dyche's music!"
Replete in knee-length jorts and a leather vest, the gravel-voiced brute comes strutting up the tunnel, arriving at the halfway line with a can of beer in each hand as the home crowd pops HUGE. Smashing his beverages together and guzzling them down in a spluttering waterfall of hops and optimism, he proceeds to the centre circle where he delivers a textbook Stunner to a waiting Farhad Moshiri, who sells it like he's been hit by a bazooka. Is it a work? Is it a shoot? Who even cares... Everton have their fighting spirit back.
Marcelo Bielsa
Marcelo Bielsa has spent the past sixteen weeks watching and analysing VHS tapes of every Everton match since the turn of the millennium. He has an entire library of dog-eared notebooks dedicated to formations and set-piece routines, and has erected a shrine to Thomas Gravesen in his garage.
He also has absolutely no interest whatsoever in taking the vacant job at Goodison Park, this is just how he likes to relax. Next up, a deep dive on Fulham's 1999 Division Two winning side.
Duncan Ferguson
You know that scene in The Office where everything goes to pot during a training day, and David Brent tells Gareth to 'go and get the guitar'? That's kind of been the Everton board's policy with Duncan Ferguson in recent years. Any time the Toffees start to teeter, the powers that be get the fiery Scot fitted for a club tracksuit and whack him in the dugout for a bit, at least until the heat dies down a little.
Big Dunc might just be the soundest man in football, but the Blues are in a world of trouble at the moment, and you fear that were the owners to take a genuine punt on the popular hard man, rather than rolling him out like a commemorative plate at a royal funeral, things could turn out more 'Paris Nights' than 'Free Love Freeway'.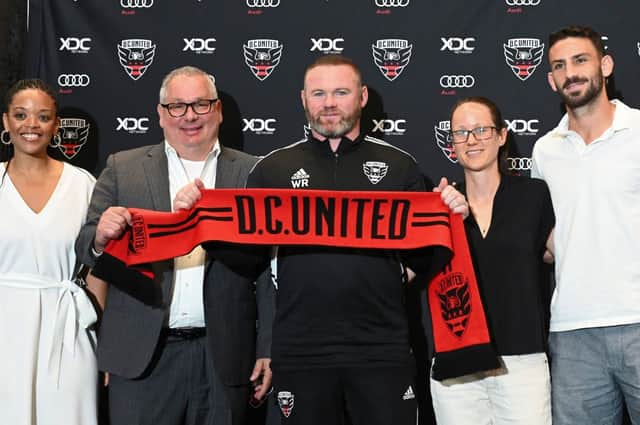 We want your feedback on 3 Added Minutes - details here.
Wayne Rooney
Bring him home. Again. Wazza, to his immense credit, has proven himself to be an astute and selfless manager since his second, somewhat muted stint at his boyhood club in the twilight of his playing career. His spell with Derby County was admirable despite the insurmountable hurdles he had to clear, and his time at DC United... Well, that's been a bit crap, in truth, taking just nine points from 14 matches, but still. I mean, does the MLS even count? I'm joking! Of course it doesn't.
For a man who now looks like the third Mitchell brother, a heroic homecoming would be a suitably soap-operatic plot twist in his fledgling dugout forays.
Nuno Espirito Santo
Nuno has scores to settle in the Premier League. Everton have scores of scores to settle in the Premier League. Should they team up and settle said scores together? Almost certainly not, no!
The Portuguese manager, with his lovely salt and pepper beard and his calming demeanour like a velvet-lined sleeping bag, is currently head honcho at Saudi outfit Al-Ittihad, and will likely realise that after his Tottenham debacle in 2021, one wrong career misstep could blow a gaping hole in his reputation that the usual naysayers would never allow him to recover from. Everton aren't necessarily doomed, but accepting the vacant job on Merseyside is akin to opening a bathroom/live toaster emporium. Yeah, you might be okay, but honestly, why risk it?
Sam Allardyce
Big Sam is often described as a firefighter. I think it is much more accurate to think of him as a sort of Mrs. Doubtfire figure - a pragmatic, adaptable presence screaming 'Help is on the way, dear!' and vaulting dessert carts in a desperate effort to prevent some Premier League club or other from choking on a proverbial shrimp, a la Pierce Brosnan.
Now, of course, Sam has had a stint at Everton previously, and, of course, it didn't end too well. But if the Toffees are looking for a pure, proven survivalist, could they perhaps coax the big man out of relative obscurity for one last gig? Don't be surprised if he's already bombing along the M57 in his Vauxhall Astra as we speak, desperately rutting around in the glove compartment for a royal blue tie. And a Werther's Original. If Sammy Lee has any left in the packet.
David Moyes
According to Wikipedia: "Wife Swap is a British reality television programme produced by independent television production company RDF Media and created by Stephen Lambert for Channel 4, first broadcast in 2003 and ran for 7 years before being cancelled. The show returned for a one-off special episode on 15 June 2017. In the programme, two families, usually from different social classes and lifestyles, swap wives/mothers – and sometimes husbands – for two weeks."
There is, somewhere in the wrinkled realms of eternity, a timeline in which former Everton manager David Moyes and former West Ham midfielder Frank Lampard are both relieved of their duties this week, and are both reunited with their old flames for one last redemptive arc. The chances of it being our timeline? Slim to minimal to non-existent, but hey, never say never, right? Wrong, I'm unequivocally saying never.
Steven Gerrard