Karim Benzema's proposed transfer to Saudi Arabia is simply yet more sportswashing
Watch more of our videos on Shots!
and live on Freeview channel 276
Visit Shots! now
Karim Benzema's departure from Real Madrid, which was confirmed in one of the club's famous comunicado oficials on Sunday, is the next step in a length changing of the guard at the Bernabeu, a gradual transition from the old to the new. But Benzema leaving is only a small part of the story – where he is going is more important.
Nothing has been confirmed at the time of writing, but the 35-year-old Benzema is shortly expected to sign for Saudi Arabian Pro League side Al-Ittihad for a deal worth around £345m. It will make him one of the best-paid professional athletes in the world, with only Cristiano Ronaldo and Lionel Messi ahead of him in football.
Messi may himself follow suit, with his departure from French champions Paris Saint-Germain also signalling a possible move to Saudi Arabia, where the Argentine is already a tourism ambassador. Al-Hilal, the reigning Pro League champions, have supposedly increased their already eye-watering offer of £740m for a two-year deal to over a billion pounds. If the reports are true, it would make Messi the best paid athlete in history.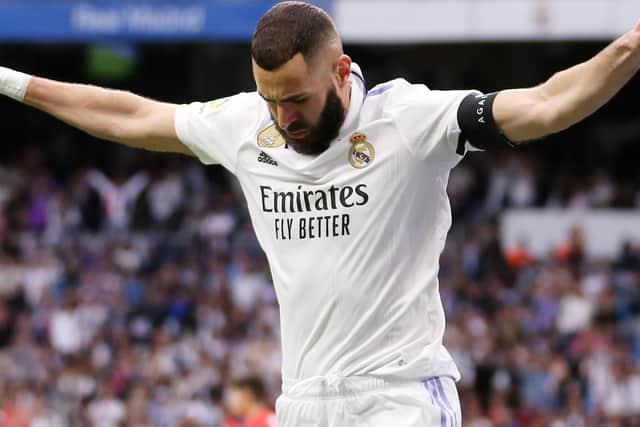 Ronaldo, the best-paid sportsperson in the world for the time being, earns a comparatively paltry £171m per year on his two-and-a-half year deal with Al-Nassr. A former team-mate of Ronaldo and Benzema's, Luka Modrić, will reportedly follow in their footsteps and accept a lucrative offer from a Saudi club in the near future.
Players nearing retirement age taking one last juicy paycheque is nothing new, of course, but the astronomical contracts are. The sheer scale of the expenditure is itself both an advertisement and a statement of intent – an intent which has precious little to do with sport itself, whatever Ronaldo might like us to believe.
Saudi Arabia is in the middle of a long and hugely expensive journey in which it hopes to transform itself into one of the world's great tourist destinations – the planned next step for the country's economy when oil no longer produces the extravagant wealth that it does at present. Messi was already being paid a reported £30m per year to advertise Saudi tourist destinations, and it was his leaving PSG without permission to attend a Saudi PR opportunity that caused the final fracture between him and his club.
Ronaldo does not officially have any such deal, but already appears to be willing to put in some PR work, despite his club Al-Nassr denying that the state was helping to fund the former Manchester United man's contract (which is worth around 40% of the entire reported profit made by the Saudi Pro League for the 2020/2021 season, at least according to the Saudi sports ministry) – and he was quick to talk the league up in an official interview last week following rumours that he was considering breaking his contract and returning to Europe.
"I am happy here, I want to continue here", said the Portuguese forward. "In my opinion if they continue to do the work that they want to do here, for the next five years, I think the Saudi league can be a top five league in the world."
That is, obviously, rather unlikely – but music to the ears of the Saudi state, which is busy funnelling billions into sports from football to motor sports to boxing to golf in the hope of driving tourism up and taking the spotlight away from its alleged human rights abuses. If one of the best players the game has produced is talking the Saudi game up, it helps paint a positive image of the country for his legions of fans and social media followers.
To be fair to Ronaldo, he did also gently criticise the league's infrastructure and officiating, suggesting work was need to grow. Whether he genuinely believes for a moment that the Saudi Pro League can rival Ligue 1 or the Bundesliga is debatable, but it wasn't strictly a fluff interview. Those may come in numbers in the future, however, with reports in January suggesting that Ronaldo had a clause in his contract which would see him work as an ambassador for Saudi Arabia's 2030 World Cup bid – a claim which was also denied by Al-Nassr.
But the promotional work being done, whether intentionally or not, by Ronaldo and Messi – and soon by Benzema – is clearly worth its weight in gold to Saudi Arabia. Al-Nassr – which does not have a transparent ownership structure but is operated by people with close ties to the Saudi royal family and under direct license from the sports ministry - may claim they are not using state funding, but the only way that any of these deals could possibly be justified economically was if they had non-footballing benefits.
Al-Nassr's enormous contract with Ronaldo includes their temporary ownership of his image rights and that will earn them a substantial amount of sponsorship money, but no amount of replica shirts will make up the cost of the contract. If the rumoured billion-pound contract for Messi emerges, it would be worth around triple the profit made by the entire league for a year. The money to make all this happen is coming from somewhere, and the only other visible winner is Saudi tourism, and therefore the state itself.
Which is not inherently a problem on its own, of course – if the Saudi state wants to spend enormous amounts of money on Messi, Ronaldo and Benzema (or on Newcastle United) then that is its prerogative. Presumably they feel the financial benefits outweigh the outlay. The issue is that glitzy sports stars and events, such as Formula One races and Anthony Joshua fights, also serve a second purpose beyond simply putting people on flights to Riyadh and Jeddah – they work to distract from Saudi Arabia's appalling human rights record.
Saudi Arabia stands accused of state-sanctioned torture and of mass executions (for instance, the killing of 37 civilians in 2019 who were convicted of crimes using confessions allegedly obtained by torture), as well as the denial of fundamental rights to women and the state-sanctioned persecution of religious minorities, the LGBTQ+ community and Jews. Mohammed bin Salman, the crown prince and de facto absolute ruler of the kingdom, promised significant reforms when he came to power, but has not delivered them.
Saudi Arabia, of course, does not want to be associated with such a laundry list of unpleasant allegations in the Western mind. It would like us to spend our money on holidays in their opulent hotel resorts and in their enormous luxury shopping centres. No doubt the tourist infrastructure that the country is developing is immensely impressive, but it also hides a country where modern slavery and sexual trafficking are a major problem, one that is not being dealt with well enough.
Ronaldo, Benzema, Messi - and no doubt many more to come - are being paid exorbitantly not for their immense football talents but for the image they will help to produce, that of a modern, cosmopolitan country where the famous and wealthy make a happy home and have an all-round wonderful time. No doubt many of the people involved in the day-to-day running of the Pro League or of the clubs involved are genuinely passionate football fans who want to improve standards and see the best play in their country, but there is no possible sporting justification for the contracts in play. They would be enormous dead losses on their own, financial decisions on par with a toddler with its mother's credit card.
We want your feedback on 3 Added Minutes - details here
This is not about the sporting value these superstars bring to the country. It is about image, about marketing, about selling a country – and about hoping that all the worst accusations levelled against the Saudi state can be brushed neatly under the carpet.