Something must be done about ACL issues in women's football as injuries mount up
A number of high profile female footballers have suffered ACL injuries in recent months.
Watch more of our videos on Shots!
and live on Freeview channel 276
Visit Shots! now
For any player to rupture an ACL is painfully unlucky. For two in the same squad to do so is freakishly unfortunate. For it to happen to four teammates in the span of a single season, something must be very, very wrong.
On Monday night, Arsenal defender Laura Wienroither suffered the dreaded injury during her side's Champions League semi-final defeat to Wolfsburg. The Austria international was stretchered from the field at the Emirates in obvious anguish, and will now be sidelined for the foreseeable future. Already this season, her colleagues Leah Williamson, Beth Mead, and Vivianne Miedema have also been struck down by the same complaint; four players, all in their prime, rendered inactive for months at a time by one of the most horrifying and cruel fitness concerns in professional football. And that's just for Arsenal.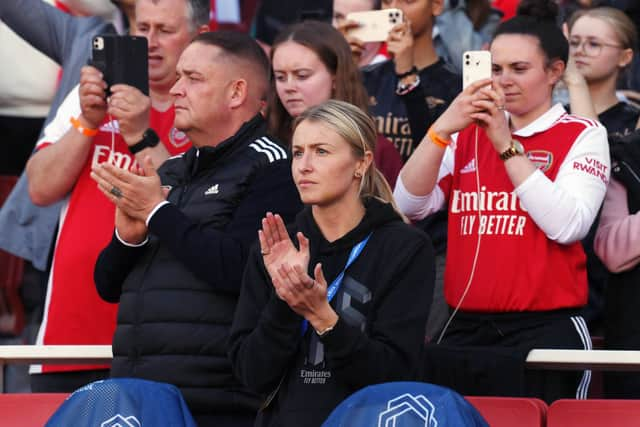 Beyond the confines of the Gunners' dressing room, the women's game writ large has a real problem with ACL injuries. Ballon d'Or winner Alexia Putellas missed last summer's European Championships after falling victim to a rupture just days before Spain's opening game. Simone Magill then suffered the same fate in Northern Ireland's opening game of the tournament against Norway, while France striker Marie-Antoinette Katoto also limped off in the group stages against Belgium, understandably heartbroken. In truth, I could probably fill the vast majority of the remainder of this article's word count just listing female footballers who have been through similarly difficult experiences.
The immediate, instinctive response is to ask how this keeps happening. Women are six times more likely to suffer ACL injuries than their male counterparts, but as yet, there is no concrete answer as to why. There are theories, however. One is that changes in hormone levels in the body during menstrual cycles can affect joint stability, potentially increasing the risk of knee ligament issues. Another is that modern boots are ultimately designed for male feet, and given that women's feet tend to differ in both shape and volume, this can cause a whole host of issues ranging from stress fractures to deformation, and perhaps, again, problems with stability. Several major manufacturers have pledged to develop female appropriate footwear ahead of this year's World Cup, but for now, choices remain limited for many players.
And until a time at which a definite cause is established, thorough and proper research must be pushed for at every opportunity. According to a paper published last year, only about six per cent of scientific studies into sport and exercise are conducted exclusively on women. In short, the female body - especially in an athletic sense - is not understood in anywhere near as much depth as it should be.
That's not to say that there is a simple solution to the ongoing trend of ACL injuries, nor is it to suggest that once a breakthrough is made it will wave some kind of magic wand and make it all okay. But something has to change because things can't continue as they are now; women's football, and more importantly, female players, deserve better.