Arsenal are the second best team in the country - but the title race isn't over yet
Manchester City showed their superiority over Arsenal at the Etihad - but being the better team isn't the only thing that counts in the Premier League.
Watch more of our videos on Shots!
and live on Freeview channel 276
Visit Shots! now
The moment Erling Haaland sprinted towards the Etihad stands - arms outstretched, his freshly-liberated hair streaming behind him, looking like nothing so much as a golden retriever bounding through a field in a commercial for dog food that promises vitality and a glossy coat - you could feel the headlines being written, and Arsenal being written off.
And those headlines were there this morning, of course: "De-stroyed" as The Star put it, "Simply De Best" from The Mail, "They Think It's Haal Over (…It Is Now)" in The Mirror. The laboured puns all bore the same message – Manchester City have taken control of the title race and Arsenal are dead and done for. It's an inevitable, instinctive reaction to a dominant victory by the better side – but is it really all over? Or even Haal over? Not yet, because while Arsenal have dug a shallow grave for themselves in recent weeks, they are no flash in the pan, no weakling underdogs, and could still haul themselves out of the mud. The people aren't on the pitch yet, and Geoff Hurst isn't bearing down on the German goal. There is still time for things to change.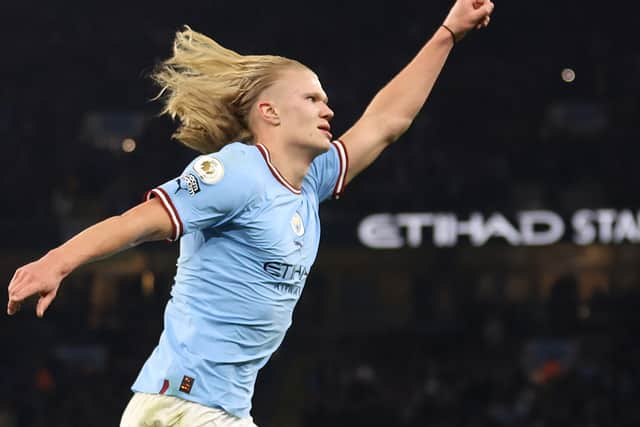 To start with what should be an obvious point – Manchester City are better than Arsenal. They should be, too – their superbly-constructed and wildly expensive squad is the culmination of years of the considered combination of first-rate scouting, a unified tactical and technical vision, and exceptionally deep pockets. They were built to be champions, and to be champions on a repeat basis. Arsenal, by comparison, were distinctly improved by the addition of two of City's cast-offs this season, and lean heavily on several very young players. Man for man, they are not as good, and could not expect to be at this stage in their cycle.
That was clear enough when Manchester City won 3-1 at the Emirates in February, another match in which Kevin de Bruyne expressed his superiority over Arsenal's midfield and Haaland shrugged off the attentions of the centre-backs to score. Clarification should not have been necessary before last night's game, but it was delivered in spades for anyone who doubted the evidence of their eyes. But there is more to winning a title than simply being the better side.
Leicester City's miraculous Premier League title in 2016 is the most obvious proof of that, but there are plenty of examples of teams who weren't the strongest in the land lifting silverware at the end of the season. Sir Alex Ferguson won quite a few of his titles with squads that should have lagged behind their rivals. Look at his last season in charge, in 2012/13 - the United midfield consisted of an aged Ryan Giggs and Paul Scholes, both long past their peaks, Michael Carrick, Shinji Kagawa, Tom Cleverley, Nani… Manchester City, by comparison, had David Silva, Yaya Touré, Samir Nasri, Gareth Barry and James Milner, all in their primes. They were as good as or better on paper, more or less across the field – but still finished 11 points off the pace.
And Arsenal may yet win the title this season, despite being a lesser team. Because there is more to becoming champions of England – winning the Premier League isn't just a test of footballing aptitude, it's a test of psychological strength. Ferguson's sides had that in spades. When squeaky bum time came around, they never clenched too hard.
Of course, the evidence suggests that Manchester City will win that battle as well. Arsenal have done little but clench of late, throwing away those 2-0 leads against Liverpool and West Ham, drawing with Southampton. The pressure of their own success has told – but there are still some promising signs. Going down 3-1 to Southampton may be the mark of a team in trouble, but coming back to draw when they needed two goals with two minutes on the clock is the mark of a championship side. Perhaps that is straw-clutching, but it suggests a team who haven't completely crumbled just yet.
Last night's result wasn't about bottling it. Arsenal didn't lose to the occasion or their own inferiority complex. They lost because they were simply worse than Manchester City, and because City are a truly exceptional team. They lost because they couldn't lay a finger on Kevin de Bruyne, and because they couldn't handle Haaland. Very few teams can, and none of them currently play in the Premier League.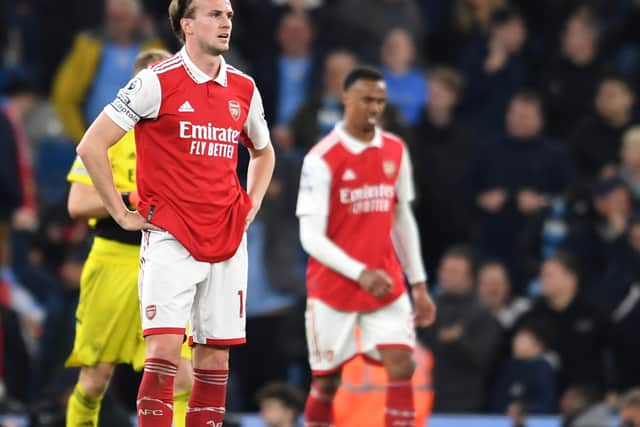 So yes, Arsenal could still show the fight and determination and calmness in the face of pressure that they need to finish the title race well. Perhaps being re-cast as the underdogs will suit them. Key players like Bukayo Saka have rarely looked overawed in the big moments. But the problem is less whether Arsenal can push themselves over the remaining hurdles, but whether Manchester City will let their own form fall. They are a team of tried and tested champions, who have been here before and have never shown any signs of letting the bit loose from their teeth once they've got a firm hold on it. Arsenal may do everything right and still finish second.
But the title is not decided, however it may feel in the moment. There are more than enough games left for Manchester City to trip up somewhere. However much that game was billed as a title decider, both Pep Guardiola and Mikel Arteta were correct in insisting that it wasn't. All that has changed is the nature of the mental battle both teams face – Arsenal now effectively the chasers, City now the front-runners. It is a test Manchester City have passed before, and a fresh experience for a youthful Arsenal team.
We want your feedback on 3 Added Minutes - details here
The Gunners may well fail that test – but whatever happens, they still look and feel like a strong side at the beginning of a journey that Manchester City are in the middle of. Arsenal were directionless for many years but have now begun building a team that has a purpose and a plan. Their supremely talented youngsters will develop and improve, and even if it ends without silverware, this season will still serve to lure quality players to north London and steel the ones already in place. Arsenal don't look like a flash in the pan, a team that will have one season in the sun and then crash back to earth after flying too close. They look like a team who can challenge for a few years yet.
Last night was a crushing blow, and may yet prove to be a fatal one – but there is plenty of cause for optimism among Arsenal's faithful. There's life in the title race yet, and this will surely not be their last stand.