Fear assumes many guises. I have a cousin, for instance, who is terrified of balloons. Globophobia, it's called. (The fear, not my cousin.) Likewise, Alfred Hitchcock once told an interviewer that he was, quote, "frightened of eggs". I myself have a real thing against pigeons. Together, me and Alf hate the entire bird life cycle. One of us should make a film about them.
But last night, as I settled down to watch Brazil begin their World Cup campaign in earnest against Serbia, I discovered a brand new dread; Alisson Becker's moustache. I fear that it may be too ridiculous and iconic a look for them to not win the entire tournament. The thing just screams '2042 retrospective Sky documentary celebrating the champion Samba Boys of yesteryear'. Think of Ronaldo's ludicrous forehead crescent from 2002. Think of the enduring affection courted by Nintendo's Super Mario Bros. In one fell swoop, Alisson may just have harnessed the power of both.
He looks like the lumberjack mascot from a luxury kitchen roll brand, like the sexy brain surgeon in a Spanish language soap opera who copes with the heartache of finding out that his beloved wife has been having an affair with his long lost evil twin by seducing ravishing nurses on the operating table between life-saving procedures.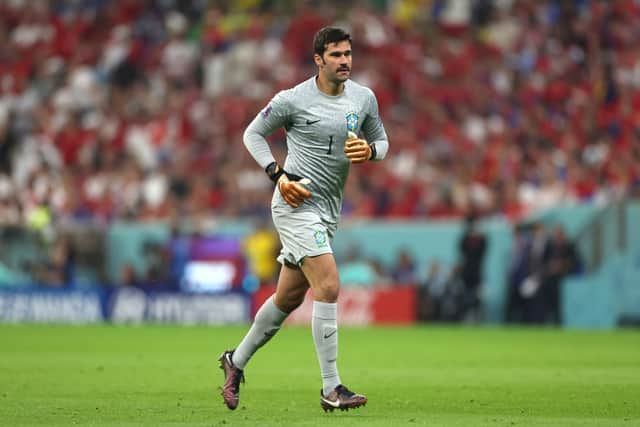 His vibe is now very much 'freakishly handsome Bullseye contestant from Tamworth who goes out in the first round, but comes back to gamble everything on the final prizeboard, only for him and his partner to throw a feeble 29 with their six darts and miss out on winning a speedboat'. But don't be fooled, his is the moustache of a man who could quite easily add a World Cup winner's medal to his trophy cabinet alongside his Bendy Bully and consolatory tankard. (They're already safe, they're his.)
Alisson's motives are unclear. Perhaps he's raising money for Movember. Perhaps he lost a bet. Perhaps, like me, he's been watching reruns of My Name is Earl. Perhaps, even, he saw that meme of Tom Sellick in Magnum PI shooting a suspicious character disguised as a nun from a ladder after he realises that sisters aren't supposed to work Sundays. Although, he is staunchly Christian, so maybe not. Then again, maybe his faith makes him doubly mad at people impersonating people of the cloth, so maybe so! Who can say? But regardless of his reasoning, the moustache is a terrifying prospect.
It says, 'I'm so profoundly assured in my own sense of self and galling handsomeness that I'm willing to sport this look voluntarily in one of the only truly global crucibles on the planet'. It says, 'I am a man, and I enjoy the bitterness of black coffee as I warm my calloused palms on the raging bonfire of war'. It says, 'I've seen Smokey and the Bandit 17 times'.
Whether he means it to be or not, it is a shot across the bows, the admonishing crack of a pistol pointed to the sky as a saloon brawl spills out into the muddy street. Brazil have arrived, and there's a new sheriff in this here town. The Samba Boys, those riotous, carnivalesque ringmasters imbued with the avant-garde spirit of anarchic bliss, have a secret weapon at this year's World Cup, and it's sat on their goalkeeper's top lip.