They say that necessity is the mother of invention. If Antoine Griezmann's performances at this World Cup are anything to go by, it may well be the mother of reinvention too.
France travelled to Qatar in a decidedly threadbare state. Several notable players are absent from Didier Deschamps' squad. The likes of piston-lunged monk N'Golo Kante and gammon agitator Paul Pogba were ruled out from day dot, while Ballon d'Or recipient Karim Benzema flew out to the Middle East, but was hamstrung by a thigh complaint and has since assumed a watching brief. There have been other casualties besides.
Combined with a woeful run of one win in six outings heading into this winter's tournament, France's plight was enough to convince many that they were ripe for a humbling. Instead, aside from a second string wobble against the kamikaze spirit of Tunisia, the defending champions have strutted and sliced their way to a quarter-final dust-up with England. And while much of the commendation has been directed towards Kylian Mbappe, who you fear may be on the cusp of parroting the kind of iconic tournament that Pele stunned the world with in 1958 or that (the proper) Ronaldo enjoyed in 2002, a considerable sliver of appreciation should be reserved for a less likely architect.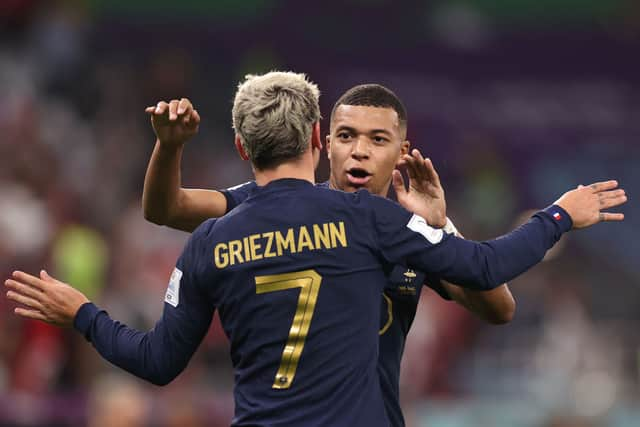 Griezmann has endured a bizarre, near-Sysphian fate in recent times. Stranded in the doldrums and dregs of a grim stint with Barcelona, the 31-year-old returned to Atletico Madrid on loan in August of last year, only to be restricted to a measly half hour per game, so as to stay the financial guillotine of an automatic buy-out clause written into his temporary agreement.
Had he trudged to Qatar in a state of despondency, or at the very least afflicted by a touch of ring rust, it would have been entirely understandable. But Deschamps, a sort of Napoleon Bonaparte/Beaker from The Muppets hybrid, has a happy knack of getting the best out of Griezmann. Certainly, in a France squad that has been historically fractured by everything from blackmail allegations to accusations of witchcraft, theirs is a relationship that has remained steady and close.
Perhaps it was this profoundly entrenched trust that convinced Deschamps to lean on Tony Grizzles as the absentees began to pile up around him like snow drifts in an avalanche. Deployed in a deeper role, Griezmann has acted as the vital connection between midfield and attack in Qatar. He is the aorta, the scart lead.
And maybe most startling of all is the selflessness with which he has embraced his new mantle as France's fixer. Still yet to score a goal in this World Cup, or indeed in any of his last 10 international outings, Griezmann has registered fewer shots than four of his compatriots in Qatar. That may not seem overly revelatory, but we're talking about a player who is surpassed only by Olivier Giroud and Thierry Henry in his country's all-time record of top scorers. Instead, he has adopted a more multi-faceted, holistic influence.
No player in Qatar, regardless of nationality, has made more key passes than Griezmann over the past couple of weeks. With regards to France's squad specifically, only Aurélien Tchouaméni and Dayot Upamecano have recovered possession on more occasions, and only Adrien Rabiot has made more blocks. The transformed forward is putting in the graft and doing the dirty work that allows those around him to shine as brightly as they are. Maybe he should consider changing his first name to 'Elbow'.
Others will arrest the limelight for France this winter, and with good reason. But if Mbappe and company are the West End chorus limbering up their larynxes for a curtain-raising spectacle, Griezmann is the usher at the back of the stalls, diligantly directing people to their seats, illuminating the aisles with his handy little flashlight. It would be quite easy for his work to go unnoticed, but without him, none of Deschamps' ambitions would be possible.