"They got their true rewards today, they deserved that defeat. We fell well below the standards that got us to the World Cup, if we'd met those standards we'd have been alright. And if you do that in top competitions, you get punished."
Those are the words of Wales boss Rob Page after his side's shock defeat to Iran in the 2022 FIFA World Cup group stage. The defeat leaves Wales on the brink of elimination with just one game left. They either need to defeat England by four goals in their final game, or they need to win by any amount and hope Iran and USA draw.
In part, Page is accurate in his assessment that his Wales stars were below par in their defeat to Iran. Many players were off the pace, including Aaron Ramsey, who put on a woeful display in midfield. Wales managed half as many shots, half as many shots on target, and accumulated just two corners to Iran's seven. Wales dominated possession and little else, with Iran looking sharp and dangerous on the ball, while Wales looked sluggish, slow and out of ideas.
But Page has missed the mark, and not for the first time during this tournament. To take this instance first, Page has failed to stand up to the relative failure he has orchestrated in Qatar. During Wales' draw with USA in their opener, he put together a negative, sub-standard game plan that allowed Wales to be dominated for the entirety of the first half.
Before the tournament, Page himself spoke of how Wales would go 'toe-to-toe with anyone', But when faced with USA, he chose to make Wales play the role of the inferior before they stepped foot on the pitch. On that occasion, he and Wales were lucky to get a penalty to save a point in the second half, albeit they did improve significantly in the second 45'.
Against Iran, Wales lacked any kind of cutting edge, and it was clear the game plan was a disastrous one at half time. Having made just one change from the USA clash, Page will have seen the issues at half time, how Ramsey was failing in his role to take Wales forward from midfield, how Neco Williiams couldn't manage a first touch or a decent pass, how Connor Roberts was left looking dizzy, how Gareth Bale could barely get on to the ball and so on.
He didn't make any changes until the 57th minute, and by that point, Wales looked like they had played four periods of extra time. They were tired, out of ideas, and Iran had already assumed dominance. Predictable substitutions did little for Wales, while Carlos Quieroz's four substitutes in nine minutes from the 68th minute were calculated and designed to win a game of football.
Iran went on to get a deserved winner, scoring two in stoppage time, after Wayne Hennessey had been sent off for mis-timing a challenge in a bid to stop a counter-attack started by a hopeless long ball from the aforementioned Williams. Iran's goals were deserved, and Wales are left hanging by a thread in the competition.
But while performances were poor, it was Page who dropped the ball. During the game, he failed to show the bravery required to impact the game. He didn't substitute Ramsey until Hennessey was sent off, and refused to contemplate replacing an anonymous Bale for the good of the team.
He took the likes of Mark Harris and Ruben Colwill to impact games, and yet to change the game, he threw on Joe Allen, who hadn't played since September, and the midfielder played a role in the concession of the first goal with a poor clearance. The substitution reeked of the mindset Page has shown in preparation for this tournament.
During his squad selection, Page spoke of showing 'loyalty' to the players who have represented Wales brilliantly over recent years. That was his first big mistake. Some of these players have been - and will always be - heroes to this nation for what they have done, but you have to be ruthless in football.
The red card could have happened to anyone, but in what world do you start Hennessey - who hasn't played a single league game all year - over Leicester City mumber one Danny Ward? In what world do you take League Two midfielder Jonny Williams over Ollie Cooper, who has scored three times in an impressive Swansea City side?
You cannot show blind loyalty to players in a bid to please individuals or achieve a certain narrative, and Page is now likely to pay the price. Page did not want to upset the senior players of this Wales side, but by resisting those big decisions, he has now forced a much worse scenario. Pending the result of the final group game, Wales must now move on from those players through heartbreak, and not through celebration of what has happened over recent years.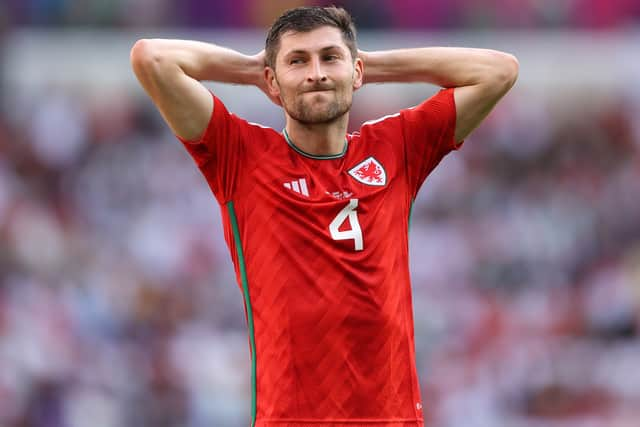 The disappointment comes amid the Football Association of Wales' dropping of the ball over the Qatar World Cup as a whole. They stood behind FIFA in the lead up to this tournament, and they were part of the group to back down over the OneLove armband, despite pretending they were going to be 'defiant' in wearing it.
Elsewhere, Germany players covered their mouths in protest during a team photo, and that prompted a silly comment from Wales boss Page. He said: "I want my players to focus fully on playing games of football and winning games. I am sure Germany now, in hindsight, will probably have the same message."
Germany may have gone on to lose, but Iran did not. Perhaps that's because Iran were willing to take risks, to fight for something more, to wear their hearts on their sleeves. Protest is not a distraction when it is for a worthy cause. In fact, if Wales had shown heart in fighting for something other than spoting merit, it might have helped them avoid the heartless display they produced against Iran.
But make no mistake, these players were put in a position to fail by an ill-prepared manager who needs to learn serious lessons from this tournament. This is a manager who needs to learn to stand up for himself against his bosses, to avoid towing the party line, to put team and nation before individuals and to put his money where his mouth is.
This is not a call for his head, and this is not to call out the Wales players, nor to brand this tournament a failure. There is still some hope, after all. Even if Wales lose by four against England, the achievement is reaching this stage. Wales, including Page, have made a nation proud by qualifying for the first time in 64 years, and nothing can change that.
But they must learn from what appears to be a wasted opportunity, and against England, Page must finally live up to his promise of ensuring Wales are brave enough and willing to go 'toe-to-toe' with anyone...even their noisy neighbours.