In a World Cup that has been so noisy, where the ceaseless, droning chatter of controversy and grubby discourse has been punctuated only by orchestral swells of nonsense from those who are trusted to know better, it is a moment of silence that has spoken louder than anything else.
On Monday afternoon, Iran played England. They lost 6-2, but like most things in Qatar, the football almost felt like something of an afterthought. Carlos Queiroz's men took to the pitch amid the usual pageantry and fuss, lined up for the national anthem, and proceeded to remain entirely mute. It was a simple and steadfast protest, and one that captured the attention and imagination of a watching world.
In September, Mahsa Amini was allegedly beaten by the Islamic Republic's 'morality police' into a coma from which she never woke after being arrested and detained for wearing a headscarf that was deemed inappropriate. She was 22 years old. The young woman's tragic and needless death sparked uprisings across the nation as anti-regime protests furiously derailed the passive rhythms of daily life. It is understood that hundreds have been killed in a bloody backlash from authorities seeking to suppress popular revolt.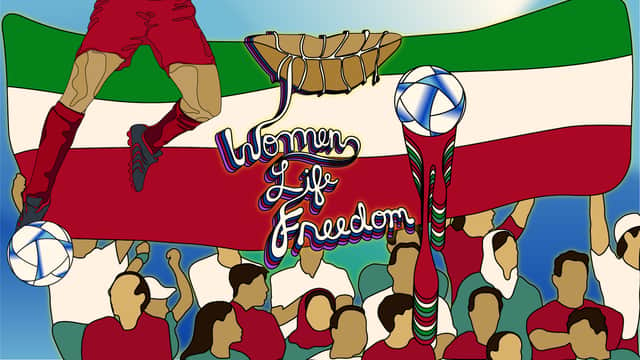 Iranian streets resemble warzones as the government escalates its attack on its own people, especially in predominantly Kurdish areas. Activists have denounced state forces for deploying heavy weapons and helicopters, while one UN official described the situation as 'critical' earlier this week. Tensions have risen internationally too, with President Ebrahim Raisi labelling the USA a 'Great Satan', and accusing his American counterpart, Joe Biden, of 'inciting chaos and terror' after he spoke in support of dissenting citizens. The two nations play each other in Al Thumama on Tuesday.
This is the terrifying context into which Iran's footballers stoically sewed their peaceful rejection of the anthem. While tumult and dread reign at home, the national team have taken to the world stage and have raised their collective voice without uttering so much as a single word. The fear now, however, is over the severity of any potential repercussions for those involved.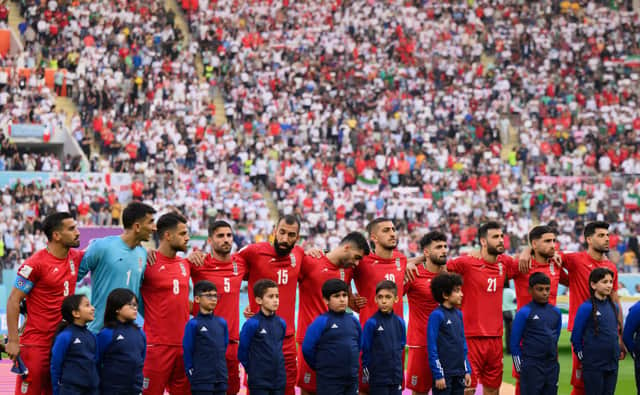 It was unclear as to whether or not Iran would repeat their concerted silence when they played Wales on Friday morning - in the end they sang in poignant reluctance - but already there had been cries of apoplexy from the most vocal advocates of the Islamic Republic's supreme leader, Ali Khamenei. On Tuesday, Mehdi Chamran, the chairman of Tehran city council, said: "We will never allow anyone to insult our anthem and flag. Iranian civilisation has a history of several thousand years, this civilisation is as old as the total of European and American civilisations." More ludicrously still, a conservative MP in Kurdistan called for Queiroz's squad to be replaced by faithful and revolutionary youths who would be willing to sing the national anthem. Such absurd spleen venting will only heighten concerns that reprisals are imminent.
Given the violent disdain with which the Iranian government continues to treat its people, these implied threats cannot be dismissed as mere trivialities. Even taking Friday morning's indisposed lip service into account, the national side have made their statement, much to the intimidating chagrin of authorities.
A team who have drawn widespread ire from protesters for even competing in Qatar, whose defeat against England was cheered by many back home, and who were lambasted for bowing in front of President Raisi as they departed for the tournament, have done more to shed light on, and inspire conversations about, the situation in Iran than anybody else. Their gesture may have been humble and silent, but their bellowing courage is commendable.