Artificial Intelligence names worst Premier League XI ever - including Arsenal, Newcastle and Man Utd players
We asked ChatGPT to name the worst Premier League XI of the 21st century...
Watch more of our videos on Shots!
and live on Freeview channel 276
Visit Shots! now
Look, we've all seen the films - I, Robot, 2001: Space Odyssey, Blade Runner, The Terminator, Ex Machina, The Matrix, Terminator 2: Judgment Day, Her, Wall-E, Terminator 3: Rise of the Machines, Austin Powers: International Man Of Mystery - and the message is very clear; Artifical Intelligence is either out to harm or seduce us, and regardless of whichever future it chooses to pursue, we're done for. Wall-E, of course, represents a notable exception to that rule, although even then, we can't know for certain what he got up to in his spare time.
Nonetheless, and in spite of Hollywood's gravest and sexiest warnings, the relentless advance of AI marches onwards, slowly speckling every aspect of our modern life. You would imagine that it is only a matter of time before, much like freckles darkening on a forearm in the height of summer, its influence is so ubiquitous that it forms a kind of coded, unfeeling blanket that swaddles us all.
From mocked-up photographs of parties where the revellers have twelve fingers and 64 teeth each, to never-ending episodes of Seinfeld that only occasionally plunge into bouts of toxic bigotry, AI is really finding its virtual feet as a creative force. Give it another six months at this trajectory, and GB News might even offer it a primetime slot and a corner office.
As you might be able tell, we here at 3 Added Minutes are not huge fans of the ol' Artificial Intelligence. Then again, why would we be? If the podcasting tech bros and Silicon Valley gilet junkies are to be believed, then it is quite literally coming for our livelihoods. Personally advocating for chatbots and the like would be akin to turkeys vouching for the efficiency of a new brand of electronic carving knife.
They do say that you should keep your friends close and your enemies closer, though. And in that spirit, we've decided to give ChatGPT - very much the LeBron James of virtual conversation - an opportunity to prove itself.
Taking up the mantle in the name of mankind, I, Jason Jones, asked the computer to name the worst Premier League XI imaginable, made up entirely of players who have featured in the top flight from the turn of the millennium onwards, and this is what it came back to me with. (It also gave me a snarky little comment saying: 'Note: This is a subjective selection and there are many players who could be included in such a list'. Classic fence-sitting.)
So, without further ado, Domo Arigato, Mr Chatboto...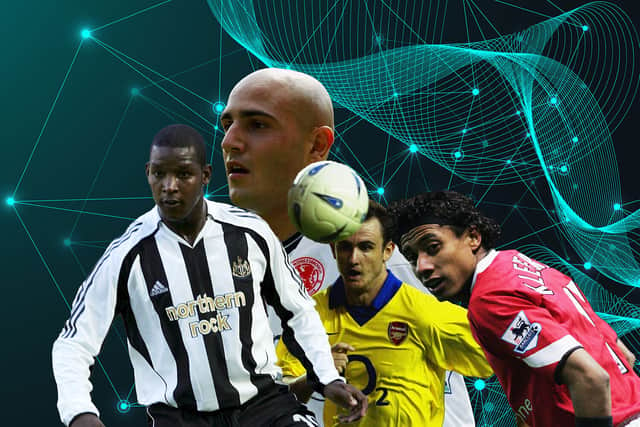 Before we go any further, we need to have a word about ChatGPT's tactical approach. In this regard, I gave it no inclination of a hint, no guidance that would lead it towards either sagacity or folly. In response, and entirely under its own volition, it decided to opt for a 3-3-4 formation, including four out-and-out centre forwards. As such, at this stage, we cannot rule out that all Artificial Intelligence is in fact a sort of Wizard of Oz situation, with Garth Crooks sat behind a green velvet curtain somewhere, hammering away at the keyboard of a Commodore 64. Anyways...
Goalkeeper
Massimo Taibi (Manchester United)
ChatGPT says: Infamous for a high-profile blunder in his first and only league game for United, allowing a weak shot from Southampton's Matt Le Tissier to squirm through his legs.
A real life human with hopes and fears says: Not actually the worst shout to kick us off here. Taibi is, after all, legendarily renowned for being irrevocably useless during his brief stint in England.
That 'first and only league game' ChatGPT is on about happened on September 25th 1999, though, which is absolutely not a date from after the turn of the millennium. Then again, all those years ago, our programmed pal was still just a twinkle in the eye of the Y2K bug, so maybe we can let this one slide.
Defenders
Jean-Alain Boumsong (Newcastle United)
ChatGPT says: Struggled to adapt to the pace and physicality of the Premier League after his move from Rangers.
A real life human with dreams and endearing foibles says: Boumsong's first season in England wasn't actually that bad, suggesting that his issue wasn't one of adaptation, but rather, one of longevity and preservation. Stick that up ya disc drive and smoke it, Shallow HAL.
Titus Bramble (Newcastle United, Wigan Athletic, Sunderland)
ChatGPT says: Prone to costly mistakes and lapses in concentration.
A real life human with a shockingly bad hairline says: Checks out.
Igor Stepanovs (Arsenal)
ChatGPT: Struggled to keep up with the pace of the Premier League, culminating in a nightmare performance against Manchester United in which he was repeatedly exposed by Thierry Henry.
A real life human who thought Real Valladolid were called Real Valladoid until the age of 21 says: Again, few would argue against Stepanovs being a viable candidate for one of the most underwhelming Premier League footballers of all time, although you do have to wonder how he was 'repeatedly exposed' by the pace of a fellow Arsenal player.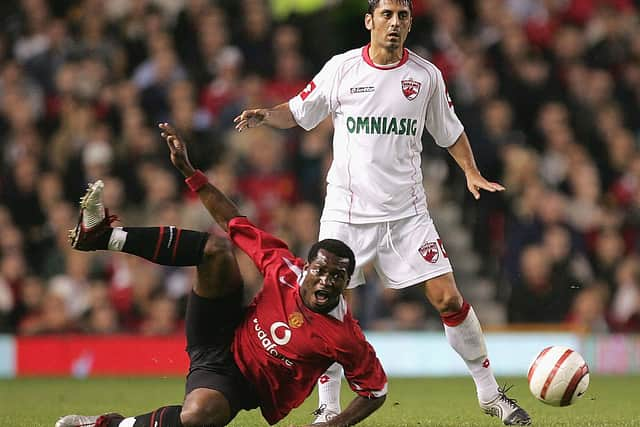 Midfielders
Eric Djemba-Djemba (Manchester United, Aston Villa)
ChatGPT says: Failed to live up to the expectations placed on him as a potential successor to Roy Keane.
A real life human who is very unsure of pigeons says: A fair, if rudimentary, assessment of Djemba-Djemba's career in the Premier League, but further inspection once again highlights the overt flaws in the artifice of Artificial Intelligence.
I asked it to provide me with Eric Djemba-Djemba's ideal DJ name, and rather than responding with the obvious and sublime 'DJ Emba-Djemba', it instead gave me a list of these options: DJ E Double D, Eric D², The Djemba, Djemba Beats, Djemba Squad, and Eric D-Jay, as well as the flimsy note, 'Ultimately, the ideal DJ name is one that resonates with the artist and their audience, so it's up to Eric Djemba-Djemba to choose the name that feels right for him.' Cheers, pal.
Kleberson (Manchester United)
ChatGPT says: Struggled to adapt to the physicality and pace of the Premier League after winning the World Cup with Brazil in 2002.
A real life human who has had that bit in Regulate by Warren G and Nate Dogg that goes 'the rhythm is the bass and the bass is the treble' stuck in his head for three days straight says: Kleberson was pretty poor, granted, but one of the worst ever? Come off it, ChatGPT. The fella was injured half the time.
Kevin-Prince Boateng (Tottenham Hotspur)
ChatGPT says: Struggled to make an impact at Spurs, managing just one league goal in 16 appearances.
A real life human who has a tattoo of Homer Simpson dressed as the Grim Reaper on his left calf says: God, everybody's struggling aren't they? The Prince is a bit of a left-field shout, but credit where credit is due, on the weight of evidence, there might be an argument for his inclusion. He bombed at Tottenham, he got relegated with Portsmouth, and he missed a penalty in an FA Cup final defeat to Chelsea too. Fair enough.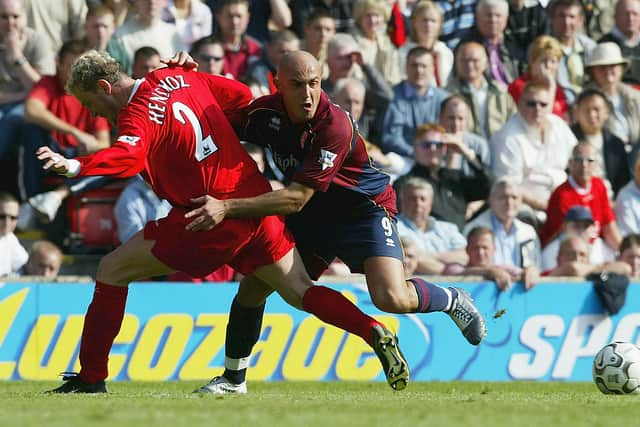 Forwards (All Four of Them)
Massimo Maccarone (Middlesbrough)
ChatGPT says: Signed for a club-record fee but failed to justify the investment, managing just 8 league goals in 52 appearances.
A real life human who has a recurrent and inexplicable pain in his right knee but who is also too lazy and apprehensive to get it checked over by a doctor says: A bit of a tricky one, this. It is true that Big Mac, as he was affectionately known, never really shone too brightly in the Premier League, but he still managed to achieve a decent level of cult notoriety on Teesside. In large part, however, that was due to his exploits in various cup competitions, and so strictly speaking, maybe the bot isn't too far wide of the mark.
Bosko Balaban (Aston Villa)
ChatGPT says: Signed for a club-record fee but struggled to adapt to the pace and physicality of the Premier League.
A real life human who one day wants to quit this writing malarkey and open a Mexican-inspired street food truck called 'Jase-adillas' says: Bosko Balaban is an incredibly fun name to pronounce, and I pity ChatGPT for never being able to experience such a simple and innocent sense of joy.
Savo Milosevic (Aston Villa)
ChatGPT says: Signed for a club-record fee but failed to deliver consistently, managing just 22 league goals in 90 appearances.
A real life human who is still chuckling away at the Shallow HAL joke he made earlier says: If there are two things that Chat GPT desperately needs to work on, they are varying its sentences openings and accurately recalling dates. Milosevic played for Villa from 1995 to 1998.
Francis Jeffers (Arsenal, Everton, Charlton Athletic)
Chat GPT says: Dubbed the 'fox in the box' early in his career, but struggled with injuries and form, managing just 29 league goals in 152 appearances.
A real life human who will be the first to perish when the machines take over says: Francis Jeffers; an absolute classic of the Premier League flop genre. Maybe, just maybe, this AI thingamajig isn't so horrendous after all. I mean, it did make some astute points about Kevin-Prince Boateng.
With that in mind, and as one last chance to prove itself, I prompted ChatGPT to write a short script detailing a conversation that Jeffers might have had with fellow boyhood Evertonian Wayne Rooney before they both made their England debuts in 2003. Take it away, harbinger of our looming technological apocalypse...
Wayne Rooney: Hey, Francis. Congrats on the call-up.
Francis Jeffers: Thanks, Wayne. Same to you. Can't believe we're both here.
Wayne Rooney: Yeah, it's crazy. I've dreamt about playing for England since I was a kid. And now it's finally happening.
Francis Jeffers: Me too, mate. It's a huge honor (sic).
Wayne Rooney: So, what do you think about the game? Nervous?
Francis Jeffers: A bit, yeah. I mean, it's my first time playing for England. But I'm excited too. It's a chance to show what I can do.
Wayne Rooney: Yeah, same here. I just want to get out there and do my best.
Francis Jeffers: I hear you. So, what position are you playing?
Wayne Rooney: I think I'll be playing up front. What about you?
Francis Jeffers: Probably on the wing. But you never know. The gaffer might switch things up.
Wayne Rooney: Yeah, that's true. I'm just going to focus on playing my game and doing what I can to help the team.
Francis Jeffers: Same here. And you know what? I think we're going to smash it.
Wayne Rooney: I like your attitude, Francis. Let's do this.
Francis Jeffers: Let's do it, Wayne. Come on England!
I take it back, every single derisive word; Artificial Intelligence will be the salvation of us all!