The nature of being a top level football club often means taking the next step, for fear of being left behind by rivals at home and abroad.
That seems to be the feeling around Manchester United, after they claimed their first major trophy under the management of Erik ten Hag. There can be no doubt the Red Devils have made impressive progress under the former Ajax manager and they were worthy winners in Sunday's Carabao Cup Final triumph against Newcastle United.
There have been some suggestions that the Red Devils could even force their way into the Premier League title race as they sit in third place in the table - although they do lie 11 points shy of current leaders and title favourites Arsenal as the season approaches its final third, albeit with a precious game in hand over the Gunners.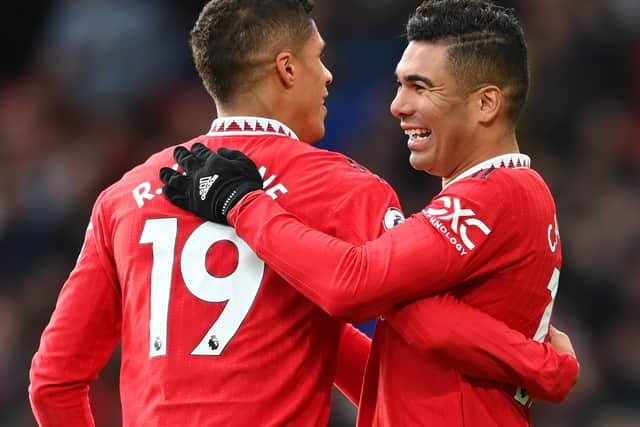 Investment into Ten Hag's squad has been significant, with the likes of Antony, Tyrell Malacia and Lisandro Martinez following the Dutchman from the Eredivise to Old Trafford for a reported total of around £148m. The trio have freshened up the Red Devils ranks and added something extra as their manager looks to build on the unquestionable momentum he has gathered in his first season in charge.
But it is two of the more experienced heads in his squad that could unwittingly present the former Ajax boss with his biggest issue in the future, as they approach the autumn of their trophy-laden careers. Watching on myself from the Wembley stands on Sunday afternoon only enhanced the belief that the nous and knowhow of Raphael Varane and Casemiro are - along with Marcus Rashford - the single most important figures within Ten Hag's ranks. Undoubtedly their experience of what it takes to secure success on the biggest stages in world football played a significant part if helping their manager deliver his first piece of silverware.
Although Varane was faced with little threat from the Magpies forwards that looked timid despite a bright start, his cool and classy approach underpinned by a fierce competition and dark arts expertise, ensured his side's bid for success was built upon solid foundations.
Casemiro's ability to mix silk and steel - just as he has on many an occasion during his highly-successful spell at Real Madrid - provided a reliable presence in what was a keenly-contested midfield battle with fellow Brazilians Joelinton and Bruno Guimaraes. It provided an intriguing side-story in what was a strange 90 minutes that offered so much, held the interest, yet left you somewhat wanting when it came to intense action.
But Casemiro was dogged and determined, snapping into the tackle, his quality on and off the ball and his willingness to do the hard yards were key reasons behind why red and white ribbons ultimately adorned the Carabao Cup. His goal merely sealed his place as the official Man of the Match, a title he surely would have claimed regardless.
Between the experienced duo is a trophy haul containing 39 major honours at domestic level, as well as wins in the Copa America, UEFA Nations League and World Cup with their respective countries. They have provided stellar service during over a decade of service at Real Madrid and in winning a combined 162 caps for Brazil and France at the highest level of the game.
They are showing no signs of slowing as they provide a solidity, consistency and reliability for Ten Hag that every manager at every level of the game craves from their key players. No matter what happens between now and the end of the season, Varane and Casemiro are foundations upon which their manager can build enduring success at Old Trafford.
With the experienced duo sitting one year either side of 30, they will need replaced by players of a similar calibre at some point in the future but, if the upward trajectory continues, they will allow Ten Hag to do so from the alluring position of strength provided by silverware and success.
One Carabao Cup success is unlikely to see Casemiro and Varane taking their place among esteemed company in the Manchester United hall of fame - but if they carry on in the manner they have, the next step may come sooner than many think for Ten Hag and his side.