Sometimes in life you are the seagull, sometimes you are the chip. I believe it was Eric Cantona who said that. Or Ronald McDonald, perhaps. Or neither of them. I dunno. The point is that there are times when you will swoop and feast, and times when you will be swooped and feasted upon. And for a team known as the Seagulls, Brighton spend an awful lot of their days being pecked at by the hungry beaks of the top six.
Today, for instance, Football Insider report that Liverpool have registered an interest in World Cup winner Alexis Mac Allister, who - much like Republica in 1996 or Limp Bizkit in 2013 - is said to be 'ready to go' this summer. Every day he sits in his hallway throwing a baseball against a wall like Steve McQueen in The Great Escape, staring longingly at a duffel bag he keeps packed and prepared by the front door and listening to Goodbye My Lover by James Blunt on repeat. When, oh when, will he get his chance to go to a bigger, shinier club - one that will start him on the bench every other week and sell him at a loss in three years' time? Life can be so cruel.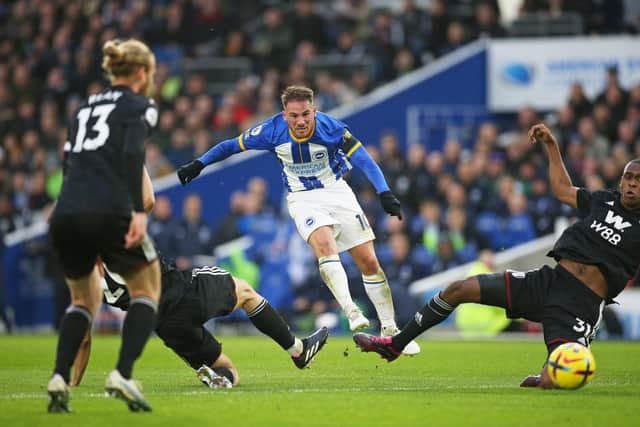 Elsewhere, Newcastle United and Arsenal are interested in signing Real Madrid midfielder Marco Asensio - or they are according to Fichajes, at least. The 27-year-old will be available on a free transfer at the end of the season, and as yet, there are no indications that he will agree to a contract extension in the Spanish capital.
We've been here before, though. The way that I view Marco Asensio exit speculation at this stage is similar to the manner in which I regard the discourse surrounding Bigfoot; I would never rule it out, necessarily, but I won't become a fully subscribed believer until I actually see it with my own two eyes.
Speaking of which, slight aside, Channel 5/History Channel/Quest, can we stop with the documentaries? If somebody actually discovers incontrovertible evidence of the existence of the mythical sasquatch, that hullabaloo is going to be front page headline news all around the globe. In fact, I would argue that the very last place that I would hear about documented contact with Bigfoot would be on BLAZE at 11pm on a Wednesday. You can dress it up however you like, but I'm not buying the faux suspense. I'm also looking at you here, Ancient Aliens...
And finally, The Times claim that Chelsea have revived their interest in RB Leipzig defender Josko Gvardiol. I personally wasn't aware it had ever died.