Premier League preview: 100% endurance will decide second half of wacky campaign
A look ahead to the resumption of the Premier League campaign.
Watch more of our videos on Shots!
and live on Freeview channel 276
Visit Shots! now
Like Arnie in The Terminator or Dirty Den dragging his sopping carcass from the murky depths of a Walford canal, the Premier League is back - and you'd better believe it means business. After six weeks of skulking about in irrelevancy, the top flight will come hurtling into focus once more over the festive period, and anybody who claims to be ready should be immediately distrusted.
In the age of information overload and disposable consumerism, it feels somewhat fitting that England's top division will resume just eight days after the World Cup final in Qatar. Why let anything settle or absorb when we go again; faster, louder, harder? But while the avarice of the relevant governing bodies and their sponsorship cronies might have infinite capacity for expansion, our poor brains do not. What we really need, then, is one of those 'previously on...' episode recaps that they whack before the opening titles of primetime ITV crime dramas about mopey detectives with ill-fitting grey suits and depressing home lives. So here goes...
Arsenal are top, although nobody really knows how or why. Best guesses are a combination of youthful exuberance and an undying fear that one bad performance will have Mikel Arteta reaching for the whiteboard markers in preparation for another nonsensical pep talk. Speaking of Pep, Manchester City are second, but continue to hunt down the Gunners with all the cool malice of Javier Bardem in No Country For Old Men. Newcastle United are third, which makes sense when you think about how much money they now have at their disposal, but makes less sense when you consider the fact that they still employ Paul Dummett. Tottenham round out the top four, but have lost three of their last five and are looking, for want of a better word, 'Spursy'.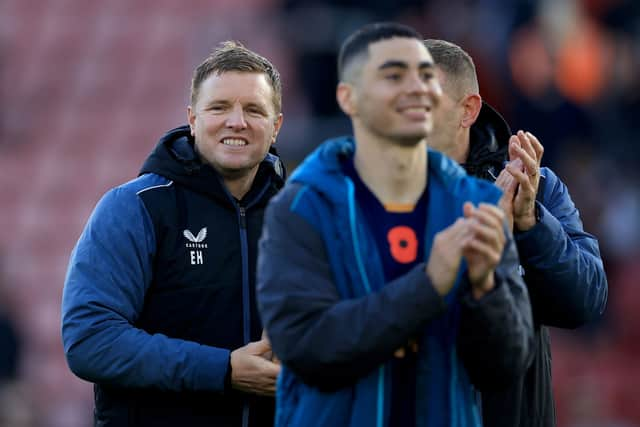 Outside of the Champions League spots, Manchester United are facing up to life without Cristiano Ronaldo. Insert shrug emoji here. Meanwhile, Liverpool's love/hate relationship with momentum continues to hamper their aspirations of meaningful progress. In seventh, Brighton are applying No More Nails to Moises Caicedo and Alexis Mac Allister as we speak, while in eighth, Chelsea's Graham Potter is probably wondering why he ever left Brighton in the first place. Below them, Fulham, Brentford, and Crystal Palace represent the three corners in a Bermuda triangle of mid-table obscurity. And there's absolutely nothing wrong with that.
At Villa Park, it's still a little too early to tell whether Unai Emery can be the man to help Aston Villa realise their obvious potential, although the early signs have been promising enough. Leicester City continue to bounce back in a manner akin to The Undertaker, while Bournemouth, now owned in part by Michael Jordan, will be hoping their new boardroom arrangement is a slam dunk. Wait - what do you mean it's the other Michael Jordan?
And finally, down in the doldrums, things are getting hairy. Leeds United are cutting about the gaff like a foam jackhammer; plenty of energy, not always enough penetration. West Ham have fallen off a cliff faster than a lemming in Doc Martens. Everton, for all of Frank Lampard's fickle joviality, are in trouble. Nottingham Forest's social experiment into the virtues of mass communal living arrangements between complete strangers have, as yet, proven inconclusive. The Saints of Southampton need a minor miracle. Wolves have been looking decidedly mangey, and will be hoping that Julen Lopetegui - a man whose name I have to Google every time I attempt to write it - can help to cure them.
As things stand, that is the state of play. How quickly this article becomes entirely obsolete remains to be seen. The Premier League has a happy knack of making fools out of all of us, and whether the process begins on Boxing Day, or whether it waits until the final wacky scramble of the proverbial home straight, expect revelations. Nothing is concrete and everything is obtainable... within reason. As such, I'm not going to pontificate on anything as insignificant or flimsy as predictions or forecasts, but I will say this; from now until the end of the campaign, this is going to be about 100%, pure, unrefined endurance. Whether it be Arsenal's title bid, Newcastle's continental ambitions, or Everton's relegation dog fight, the teams who will succeed are the ones who can steel themselves enough to scrap and stagger their way over their respective finish lines. Beyond that, everything else is a mystery...