Nothing delivers a greater feeling of happiness and contentment to a football fan than sitting around and reminiscing about long-forgotten players of yesteryear. Observe; Mustapha Hadji. Linvoy Primus. Diniyar Bilyaletdinov. Feel a little warm and fuzzy, don't you?
I've got another one for you. Who remembers Djed Spence? Ring any bells? Lanky fella, jets on his heels, tried to start a Twitter beef with Neil Warnock of all people? Of course, I'm being facetious, but ever since the wing-back signed for Tottenham last summer, he has been so starved of minutes that it's a wonder his face hasn't started appearing on milk cartons. Evidently somebody, somewhere (Antonio Conte, N17) doesn't like the cut of his proverbial jib, and as things stand the lesser-spotted Spence finds himself stunted and relatively ostracised.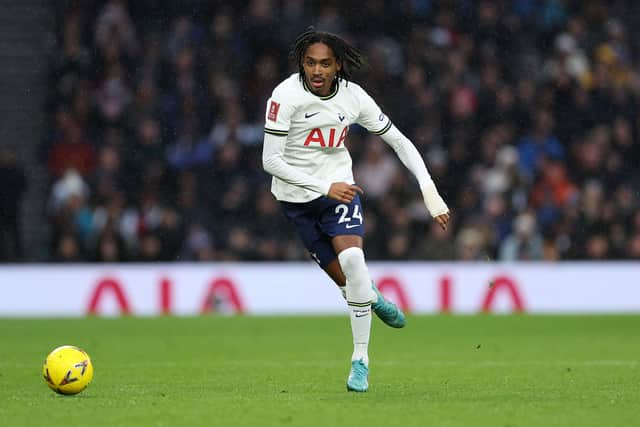 We want your feedback on 3 Added Minutes - details here.
Never fear though, because French outfit Lyon have assembled les chiens de detection and are sending out a search party for the 22-year-old. They hope that once they find him, they might be able to convince him to sign on loan for a few months. Brentford, Southampton, and Leicester City have also expressed an interest.
Elsewhere, like a bridesmaid on a Las Vegas hen-do who has fluked and stumbled their way to the brink of a jackpot at the Blackjack tables, Arsenal face a tricky decision: stick or twist? Do they trust in what they have, believe in the personnel that have brought them this far; or do they double down and gamble on any new additions not disrupting the delicate biome of their juggernaut momentum?
Already they have opted for the latter approach to bring in Leandro Trossard and Jakub Kiwior, but according to Fabrizio Romano, they are also one of a number of Premier League clubs keeping a close eye on Brighton's Moises Caicedo - the most popular man in professional footballTM. Will the Gunners be able to sign him this month? Probably not, because the Seagulls don't really want to sell him.
And finally, Chelsea have spotted Liverpool waiting in line for an ice cream and a Matheus Nunes-shaped balloon, and now they want an ice cream and a Matheus Nunes-shaped balloon because Todd Boehly and his inexhaustible chequebook possess the impulse control of a cantankerous toddler.