Lyon ultras berating their players might be amusing – but there is a darker side to it
The video of Lyon players lined up to receive a lecture from their own fans has gone viral - but the ultra group behind it don't deserve any admiration.
You've likely seen the video by now – the Olympique Lyonnais squad, fresh from a humbling 4-1 defeat at the hands of French champions Paris Saint-Germain, lined up like misbehaving schoolchildren in front of the home fans as they receive a dressing-down from a middle-aged man yelling into a microphone in the stands, the self-styled 'capo' of Lyon ultras group 'The Bad Gones'.
"You're the ones who wear the Lyon jersey", bellowed the 'capo' to a team which has slumped to a third defeat of the season and sits bottom of the early Ligue 1 table. "Others before you have worn it, glorified it. You don't have the right to tarnish it... All we ask is to be by your side. But to do that, you're going to have to earn it."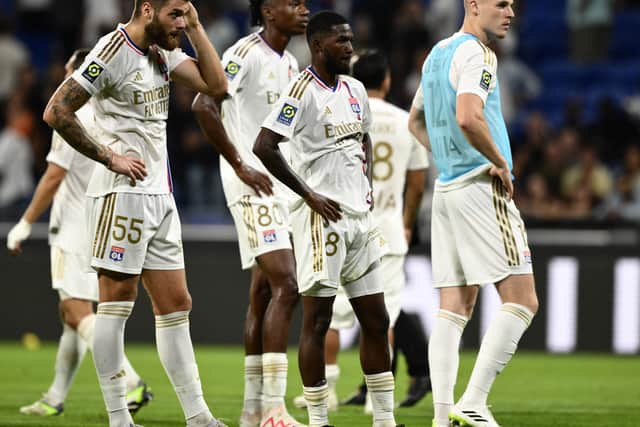 There was nothing especially unpleasant or controversial in the message itself, even if watching a dressing-down that would typically happen in the dressing room play out on the pitch felt rather discombobulating. The response has largely been one of amusement, overlaid with the broad sense that quite a lot of fans wish it could happen in English football too. The video was a vicarious experience for many fans who'd endured seeing their side take a pasting without showing sufficient heart, and the players, who alternately looked impressively stoic or like they wished they could jump into the stands and shove the microphone somewhere quieter, were a handy stand-in for every frustrating journeyman that we wish we could have driven to their next club ourselves.
But while a single such video in isolation is amusing (if not bewildering), there is a darker side to it. The ultra group's name – which translates from Franco-Provençal slang as 'The Bad Kids' – and the fact that they give their leaders the same name as the leaders of mafia families should tell us about the kind of people we're dealing with here, and how little respect they deserve, but it's their history of cheap violence underscores the point – it was Lyon ultras who forced a game against Marseille to be abandoned after four minutes when a bottle struck Dimitri Payet, and who invaded the field against Paris FC, causing their own side to be kicked out of the Coup de France.
Both of those incidents, the worst in Lyon's recent history but far from isolated examples, happened in 2021, after the Covid lockdowns and during a year which marked the nadir for French football violence, a time when there seemed to be fresh incidents every other week. It was in 2021 that Marseille fans invaded their team's training ground, setting off fireworks and smoke bombs and injuring their own player, Álvaro González. That same weekend, Saint-Étienne fans broke into their club's training ground and surrounded their players to voice their own displeasure at performances.
And while violence in French football may not have sustained that level since, neither was it a new phenomenon, and nor has it disappeared. For years now, pitch invasions have been a sporadic issue, violence between fan groups inside and outside of grounds has been commonplace, and threats and missiles have been thrown from the stands with regularity. The daughter of Lyon's former owner, Jean-Michel Aulas, was publicly abused by ultras, despite her having nothing to do with the running of the club. The point is that while a bloke berating the chastened players of Lyon with a microphone might have a certain pantomime quality to it, it's really not much of a laughing matter when placed in context.
Of course, fans who pay for their tickets are allowed to voice displeasure with performances. Jeering and yelling may not be pleasant, but protest against poor play is a part of the game, and so long as shows of frustration remain within reason there is no cause to argue against it – but ultra groups rarely stay within the bounds of reason, in France or elsewhere. Such groups create a sense of collective bravado and spur their membership to greater acts of ostentatious support but also to greater acts of violence and idiocy. And when such groups are allowed to develop the degree of entitlement that enables them to demand the players silently endure their sermons after the match, it encourages the same sense of entitlement that sees fan group invade the training ground.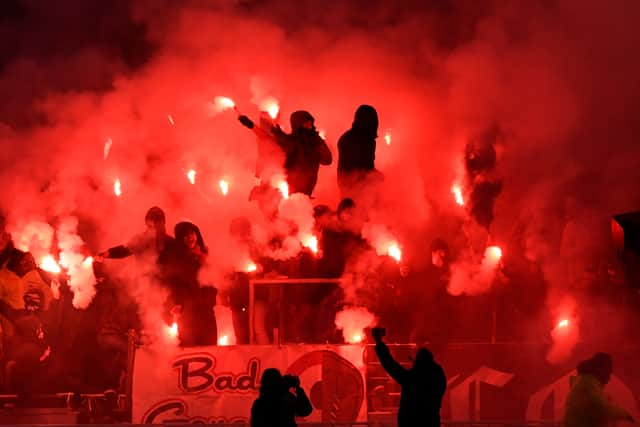 And in reality, none of us have any entitlement to the respect of the players, at least not beyond asking that they put the required effort in to their performances – and if we feel we are being let down there are ways to voice our displeasure without treating the players like a headteacher lining naughty kids up outside their office. We are not compelled to pay for our tickets or applaud politely if the product doesn't meet our expected standards, but to treat the players like our serfs, and to subject them to treatment we'd never tolerate from our own employers (the people who actually do directly pay our wages, which supporters typically don't with footballers, at least at the top level) is embarrassing, grim, and frankly rather weird. There's nothing in The Bad Gones' behaviour that we should aspire to, no matter how frustrated we might get with our own team's performances each week.
So by all means goggle at the video and enjoy its absurdity, but do remember not to develop too much admiration for the fan culture that created it. Football in France, in common with many other countries where ultra groups have developed substantial sway, has many problems and these same people are often the ones responsible for them. No matter how much we might be tempted by the chance to give players a direct piece of our mind, it's best for all concerned if we stick to muttered cursewords in the pub after the game.