Liverpool's Mohamed Salah has no need to apologise - and we shouldn't encourage players to say sorry
Salah has apologised to Liverpool fans for failing to reach the Champions League - but should he need to?
Watch more of our videos on Shots! 
and live on Freeview channel 276
Visit Shots! now
Mohamed Salah shouldn't have to apologise for anything – but he's felt the need to anyway. A seemingly heartfelt message, begging forgiveness for a rare failure to reach the Champions League, was published on social media after Manchester United's 4-1 win over Chelsea confirmed the top four ahead of the final day.
Accompanying the tweet was a black and white photo of Salah looking downcast – perhaps a fresh, player-centric take on the traditional "lonely corner flag" so beloved of clubs as they disseminate bad news.
"I'm totally devastated", Salah said. "There's absolutely no excuse for this."
As if there is a need for an excuse. Salah, his club's best player for many years in a period where they've won both the Premier League and Champions League, owes nothing more to anybody. Nor, to be honest, did Bruno Fernandes when he posted a Notes app apology for a missing a penalty against Aston Villa back in September.
Perhaps these apologies are truly heartfelt, perhaps they were posted because of a perceived need to stave off a baying mob of fickle and frustrated fans – but they serve little purpose, except to slowly contribute towards the developing sense of entitlement fans have over the players they follow. Apologies, or ticket refunds for poor performances, or anything else of that ilk may not represent some grand evil, but they do represent the start of a slow erosion of the long-standing relationship between professional sportsman and adoring fan.
There is an unspoken social contract between fans and players – they do their best, and we support them. As long as they keep up their end of the bargain, there should be no need for an apology – and the problem comes when apologies begin to be offered for offences they aren't merited for, and change the expectations of the other party in that social contract – namely us, the paying fans.
If we come to expect apologies for an under-par performance, or for a missed penalty, or for a poorly-timed challenge which leads to a red card – all normal parts of a football match which will happen to every player at some stage in their career – then how will we begin to feel about players who don't feel the urge to perform an act of public grovelling? In a world where the external pressure placed on players is already beginning to create an unsustainable mental toll, how much further would we push it if we demand not just best efforts but actual flawlessness?
Salah's apology, as well-intended as it was, pushes us towards a demand of perfection. He scored 19 goals in the Premier League this season, to go with 11 assists. Another 10 goal contributions in the Champions League. Even if Liverpool's performance as a team has been slightly below par, his has not. There is nothing for him to apologise for.
Of course, there are times when an apology is merited – Aleksandar Mitrović when he shoved the referee over is a perfectly reasonable example. No player should apologise for being sent off for a late tackle – if they lost their temper and lamped an opponent, sure. Grovel away. That's all in the social contract, too – if you genuinely screw up, you need to make amends to merit redemption. That's what an apology is fundamentally for – but you don't need redemption when you haven't done anything actually wrong.
As for Liverpool as a team? They haven't hit the heights they have proven themselves capable of over the past three or four seasons, granted – but there are now seven teams who, between their extensive funding and recent history, went into this season with plausible expectations of reaching the top four. Even if they all performed at their best (which clearly didn't happen) some of them would miss out. Even with the new Champions League format offering an extra place, not everyone who sensibly wants or expects Champions League football will get it.
Liverpool were not awful. They need a bit of a refit in midfield, and so far Darwin Nuñéz has not lived up to the standards of his predecessor, Sadio Mané, but their fifth-placed finish is as much a reflection of Manchester United and Newcastle United managing to be slightly better as it is any particular condemnation of what Liverpool put together. But it's reasonable to say that – both as a team and on an individual basis – they put in an appropriate amount of effort and full marginally short of the levels they managed for several seasons in a row. Nobody from Liverpool should be apologising – their fans should be grateful for their past efforts more than anything else.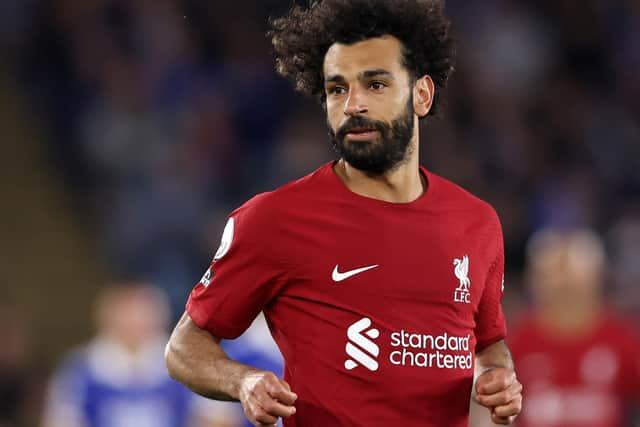 Which is not to say that Liverpool supporters let themselves down in response to Salah's apology. The replies show far more gratitude than frustration. The social contract still stands – thank god – but how many more crass Notes app apologies can it withstand? How many more grayscale photos of a player looking sad? Eventually the apology becomes the norm and the contract is redrawn at a point where we get used to demanding unrealistic standards from the players we watch.
Maybe this is all worrying over nothing. Perhaps Salah's own internal standards are set so high that he feels genuine guilt – in which case, he needs an arm around him, and hopefully he gets one. Or maybe he felt the need to apologise because he feared a backlash. It doesn't look like it was coming, but if players are thinking like that, then it's fair to be concerned we're at the top of a slippery slope. From our end of the bargain, as the fans, let's try to remember that we all need the space to stuff up sometimes and not feel too bad about it, and that we wouldn't expect to have to apologise for every single misdemeanour we commit across our lives. Footballers are still human beings, after all.
We want your feedback on 3 Added Minutes - details here
And if there are any fans reading this would did feel that Salah's apology was justified and necessary, perhaps there should be some reflection on your part as to what the word "supporter" means. To most of us, it means offering love and backing through thick and thin alike, and means uplifting our players when they're suffering as recompense for the joy they bring us when they win. If half of that equation is thrown away, then all the remains is no support, but a list of demands.