Chelsea legend Gianluca Vialli's light has gone out, but the flashbulb memories will forever burn bright
Chelsea, Juventus and Italy legend Gianluca Vialli has passed away at the age of 58, following a battle with pancreatic cancer.
Watch more of our videos on Shots!
and live on Freeview channel 276
Visit Shots! now
Human memory is notoriously fallible. To this day I swear blind my primary school band 'The South Monkeys' - pre-Alex Turner et al, it must be noted - had the potential to headline Glastonbury. Others say we were just five tearaways hopped up on a lethal cocktail of Panda Pops and Haribo Starmix, performing ape-themed, largely accapella rip-offs of the 1990s' biggest hits at end of year talent contests. Ultimately, the courts will decide.
When it comes to my earliest memories of football, they couldn't be more crystal clear. The mere mention of Gianluca Vialli doesn't so much flick the switch to trigger the flashbulb memory as cause an electrical surge to shatter the glass - or Autoglass, as the case may be.
When hearing the news of the Chelsea icon's tragic passing at the age of 58, my first reaction was one of immense sadness, immediately followed by an overwhelming, unexpected flood of memories I've not reflected on in what must be decades...
It was a roar that could have been enough to put me off football forever. As a six-year-old whose grasp of emotional intelligence was on a level par with my bike-riding ability, or the lack thereof, I thought my Dad's bellowing was an expression of absolute molten fury. I froze - had I accidentally taped over the treasured VHS copy of 1978 critically panned murder mystery 'Coma' with an episode of 'The Demon Headmaster'? Or had my clumsy attempts to cover up the accidental destruction of a Campingaz canister in the garage finally been discovered?
No, Chelsea had just won the FA Cup for the first time in 27 years, and the house's very foundations were shaking. This was something I simply had to be part of, the most visceral moment of excitement I'd ever seen - outside of the BBC's unrelenting canon of emotionally scarring animated offerings. 'The Animals of Farthing Wood', you have so much to answer for.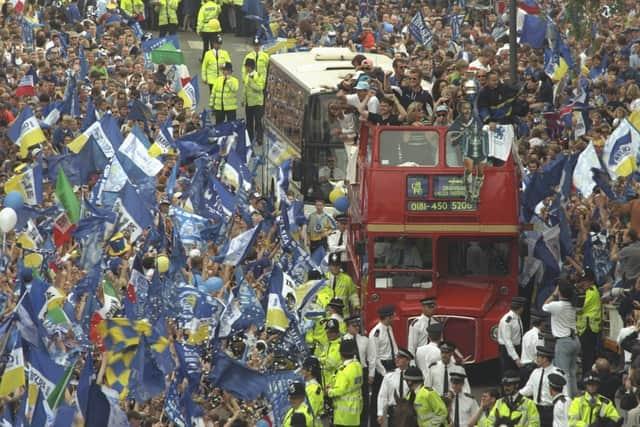 Among the ticker tape and aggressive sponsorship for Littlewoods, there stood 5ft 11 of majestic Italian alabaster, a poster boy for the influx of exciting, European talent to the Premier League. Brought off the bench for a solitary minute in a game that saw fellow Italian Roberto Di Matteo smash the record for the fastest ever FA Cup Final goal after thundering home a 30-yard strike just 43 seconds in, Vialli's contribution may not have been immense, but his sheer jollity after the final whistle captured my imagination like nothing else.
Then came the shirt - my first football shirt. Having spent the summer engrossed in copies of Match and Shoot magazine - too young to quite understand the stories, but old enough to devour the glossy pictures and cartoons - my birthday arrived just in time for the start of the season. I wanted only one thing.
That iconic, cobalt blue, Autoglass beauty. An absolute Rolls Royce of a shirt, 'The Great Escape' by Blur if it were stitched from a shimmering, smooth poly fabric. It came half way down to my knees, and was the most precious thing I had ever owned.
The name on the back? I'd be lying if I said I hadn't given serious consideration to a certain Sardinian magician by the name of Gianfranco Zola, but it was Vialli who had caught my eye and sparked my desire to follow the club. He was the only real contender.
Firing home 19 goals in 34 appearances, the striker who arrived at Stamford Bridge on the back of a Champions League win with Juventus well and truly found his feet in England during his sophomore Premier League season. In a quirk rarely seen in the modern day era, he became Chelsea player-manager mid-season, stepping into the breach after Ruud Gullit was given his marching orders. He led the side to a top four finish, scooping up both the League Cup and, more impressively, the Cup Winners' Cup with a famous 1-0 win over VfB Stuttgart.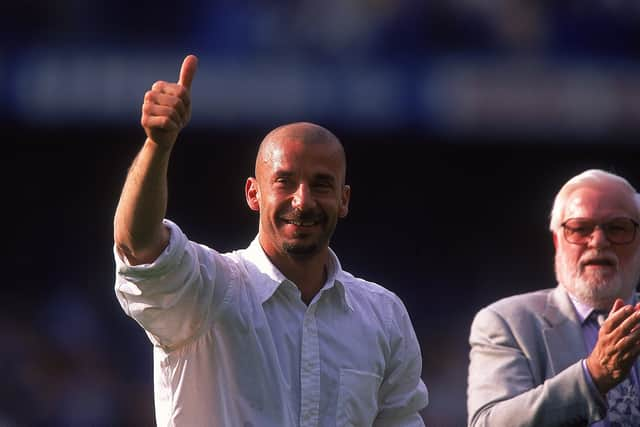 Naturally, when he was given the job on a permanent basis, I was delighted. Under the ever humble, ever enchanting coach from Cremona, Chelsea swaggered their way to more glories, winning the Super Cup and another FA Cup to boot.
The following season I went to my first ever football match. Actually, I tell a lie. My first football game was Hibernian vs Stirling Albion in the Scottish Cup. I'd missed my Saturday league team's trip to a similarly glamorous tie due to sickness, and in what could retrospectively be deemed an act of child cruelty, I was dragged along to Easter Road to cheer me up after missing a big day out. The highlight of the game was a police officer slipping over dramatically on the sidelines and their hat falling off. We never returned.
Let's start that again: the following season I went to my first ever Chelsea match. After a frantic journey down the A19, where speed limits may or may not have been strictly observed, we bundled our way into the Riverside Stadium to see Vialli's Chelsea take on Middlesbrough. We were stuck in with the home fans, one row from the back of the East Stand, and my increasing paranoia that our southern accents would see us detected somewhat marred the occasion.
However, Stepping out into the stands and seeing Vialli, with a group of players I had only captured glimpses of on Match of the Day or a rare live terrestrial TV appearance was an unforgettable moment. There was the mustachioed Ed de Goey, a towering Dutchman who looked more beaver than goalkeeper. The irrepressible cheeky chappy and criminally underrated Dennis Wise, and beside him a prime example of nominative determinism in powerhouse defender Frank Leboeuf. I was transfixed.
In truth, the game was far from a classic, with Chelsea edging a 1-0 win and Boro's Paul Gascoigne receiving a straight red card for some form of skulduggery. But I'd had finally seen my beloved Blues in the flesh, and it was confirmed that I'd be a Chelsea fan for life.
Even my mother, whose interest in football is these days very much restricted to periodically asking me: "So...are Chelsea doing well at the moment?" was drawn into following the club's fortunes, such was the affability of Vialli. She wrote a letter to the Chelsea chairman - these odd things happened in the 1990s - expressing how much our family loved Vialli, and whether we could bag some tickets to a future game. She received a lovely reply from his PA but alas, no tickets. Damn you, Ken Bates.
Of course, as is so often the case with Chelsea and their managers - word has it Graham Potter still swithering over whether to redecorate his new office at Cobham - it ended in heartbreak.
I was met at the school gates by my ashen-faced mother, and I braced myself for some earth-shattering news: I got just that. Vialli had been sacked, and I was distraught. Her immediate insistence that my father - a Blues fan since the 1950s, who pitched up to Stamford Bridge when it was surrounded by a greyhound track (Parklife!) and the side spent five dire consecutive seasons in the second tier - and I abandon the club to follow him to Watford was mercifully dropped, but so too was her fleeting interest in Chelsea.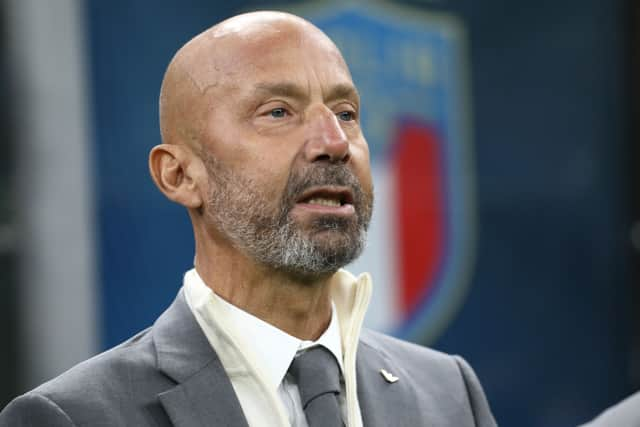 The Vialli era means so much. It was a time when silverware was met with rapturous glee, rather than a shrug of indifference. It was a time when the Blues' band of European talents were so appealing, they could almost be a rival fan's second team - something unthinkable now. Crucially, Vialli's days at Stamford Bridge are something Chelsea fans can point to defiantly whenever it's inaccurately and indeed ludicrously claimed the club "won nothing" before the arrival of billionaire Roman Abramovich.
To quote the refrain in 'Blue Tomorrow', Chelsea's long forgotten, 1999 FA Cup Final song: "Just look over your shoulder, see Vialli dressed in blue."
If it weren't for Vialli, I wouldn't be writing this piece right now. I wouldn't have developed such an obsession with football. I wouldn't have dreamt of becoming a footballer - a flight of fancy swiftly extinguished upon the discovery of the mother of all killjoys, the offside rule. I wouldn't have eventually stumbled my way into the wild world of football journalism, or had any of the memorable experiences the career choice has provided thus far.
I'd probably be dragging The South Monkeys through the latest leg of the greatest hits world tour, come to think of it.