The King is dead, but Pele will never truly die
The Brazilian legend passed away on Thursday at the age of 82.
Watch more of our videos on Shots! 
and live on Freeview channel 276
Visit Shots! now
Sometimes words can feel so feeble and meagre. There are certain beauties that transcend anything committed to the page, and that have to be seen to fully convey their true majesty. For the longest time, Pele's gloriously peerless career has felt like one such phenomenon.
The discourse surrounding the oft-heralded and ultimately unquantifiable mantle of 'The Greatest of All Time' has been reignited in recent weeks following Lionel Messi's World Cup triumph with Argentina. Some have come to argue that the little wizard has ascended to the throne in the wake of his Qatari sojourn. Others remain firm in the stance that Diego Maradona, the complex, troubled genius who embodied both the spirit of el pibe and el gaucho - the street urchin and the cowboy - stands unparalleled. The hipsters might advocate for Alfredo Di Stefano or Johan Cruyff, the anonymous Twitter accounts ran by giddy adolescents for Cristiano Ronaldo. But Pele is not just in that conversation - he is quite often the opening remark.
In recent years, the Brazilian's accomplishments have taken on something of a risible hue. His official tally of 1,281 career goals, recognised by FIFA, has been forensically mocked by many. Some have joked that Pele's personal haul must have included strikes registered in his own back garden, or perhaps his overhead kick in Escape to Victory. And there is good reason to scrutinise. Of those 1,281 efforts, some 526 were recorded in unofficial friendlies and tour games, which is a little like claiming that you can sing like Aretha Franklin, but only in the shower when there's nobody there to witness it.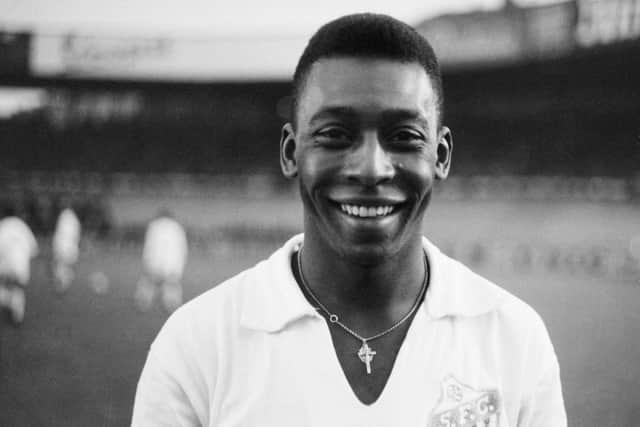 Cynics argue that these statistical discrepancies undermine the legitimacy of Pele's greatness. Is he the pre-eminent, towering obelisk of footballing history, or a canny fraud with a smoke-belching propaganda machine whirring away behind the red velvet curtain of his inflated reputation? Perhaps the two are not mutually exclusive. Even disregarding the half-tonne of dubious goals, Pele still scored well over 700 times in official matches, including 643 strikes in 659 outings for FC Santos at a time when domestic competition in South America was arguably the strongest on the planet. He is still the joint-highest scorer in Brazil's history with 77 efforts in 92 caps, still the only man to win three World Cups. Quarrelsome details aside, he is still Pele. Or rather, he was.
Edson Arantes do Nascimento, as he was born in Três Corações, Minas Gerais on October 23rd 1940, passed away on Thursday, and his absence is going to take some getting used to. Ubiquity of Pele's stature is rare. Within moments of his death being confirmed, phone screens across the world lit up with notifications and breaking news banners on rolling television channels in countless different languages were altered to reflect the tragic development, while outgoing Brazilian president Jair Bolsonaro announced three days of national mourning. Grief like this is usually reseved for royalty, but then again Pele was a king to so many.
And now, as football looks back on the legacy of a man who began writing his legend at the age of 17, hopefully the doubters - of which there have been mounting ranks in recent times - will undergo their epiphanic realisations; Pele was not just the greatest goalscorer of all-time, he was one of the greatest players of all-time too.
To watch him wriggle and writhe on grainy highlight reels, juggling and dumbfounding like a cocky sea lion, is to observe an artist at full tilt. His gift for improvisation, his escapologist's knack for evaporating out of the most constrictive of spaces, his wondrous demeanour like an angel descended from the heavens to play mischievous tricks in this mortal realm; he had it all, and he frequently used it.
As the world turned from black and white into fizzing technicolour, his renown only burgeoned; the immensity of talent made all the more vivacious by the brilliant flashes of golden yellow and verdant green. Even in his more human moments, Pele couldn't help but accentuate his lore. Take that save from Gordon Banks, for instance, the one that spat in the face of Newtonian logic and made the globe gasp in astonished unison. Was it remarkable enough to stand the test of time on its own merit alone? Absolutely, yes. But did also benefit from the added panache of Pele being the man to head the ball goalwards? Also, irrefutably, yes.
In the end, it doesn't actually matter who the greatest footballer of all-time really is. To convince one person that it might be you is to attain a kind of immortality that few of us could even begin to fathom. Pele, of course, did not convince one person, but rather an entire world. And in that sense, the King may be dead, but he will never truly die.