Perspective can be a humbling thing. One day you're welching on a trip to the gym because you've got the mildest headache in medical history and you're all tuckered out from the exertions of the weekly food shop, the next you awake to the news that a man with one leg has won the Puskas Award - the prize for the 'most aesthetically significant goal' in all forms of football over a calender year. Be still my beating sense of inadequacy.
The Puskas is, without exception, a ludicrous accolade. It is a celebration of the bizarre and the sublime, an annual middle finger to the laws of physics and all kinds of conventional wisdom, and, much like a first past the post election or a Matt Hancock-endorsed charity auction, can theoretically be won by anybody, but has its spoils most commonly reserved for those in possession of prior influence or the affections of a shady cadre of invisible tastemakers. Previous recipients have included the likes of Mo Salah, Cristiano Ronaldo, and Neymar, as well as Son Heung-min, Zlatan Ibrahimovic, and Olivier Giroud. Now we can add to that illustrious roll call a relatively unknown Polish amputee.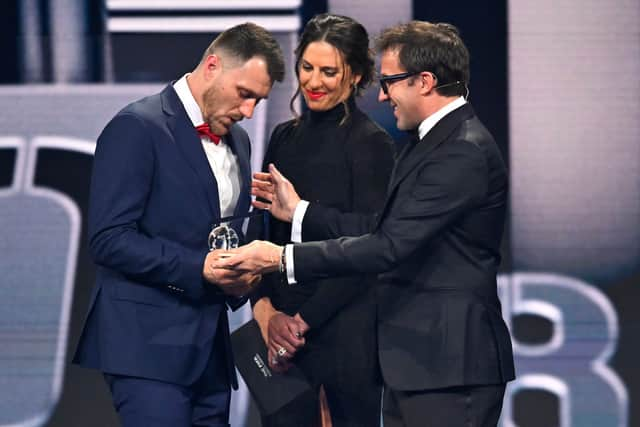 At the time of writing, Marcin Oleksy does not have a Wikipedia page. He is 36 years of age and, professionally speaking, has never played higher than the fourth tier of Poland's footballing pyramid. His recognition at last night's inelegantly-monikered Best FIFA Football Awards was akin to a regional advert for a discount carpet retailer picking up an Oscar nomination - although, to be fair, his story would make for pretty serviceable Academy-bait in its own right.
Oleksy used to be a goalkeeper. He played for Korona Kozuchow in western Poland, balancing his exploits with a day job as a construction worker. In 2010, while he was labouring at a section of roadworks, an oncoming vehicle veered off-course and crushed his legs. Shortly after, doctors took the decision to amputate one of them. Since then, Oleksy has gone on to represent his nation at the Amputee Football World Cup in Turkey, and has established himself as a regular for club side Warta Poznan. It was for Warta that he scored the goal which would win him the fabled Puskas.
Prior to this year, no amputee had ever been nominated for the award, let alone won it. Make no mistake though, there was absolutely no gimmickry - and even less pity - in the decision to crown Oleksy. His strike came last November in a match against Stal Rzeszow, and the footage is quite something.
On an astroturf pitch that at once manages to be both verdant and dulled, before a yawning stand speckled with the faintest five o'clock shadow of a crowd, a passage of play is worked out to the right flank. Pitching himself on two obstinate crutches, a balding winger carves at the approaching face of the ball like a golfer caressing his short game from the sandy jaws of a shallow bunker. The resulting pass spins and rotates in a state of suspended celestial animation as Oleksy coils in anticipation. Like the springing of a mousetrap, or the antagonistic lunge of a rattlesnake, the Pole ignites into a catherine wheel of limbs and metal, and for an unreal moment, he levitates. Everything slows, and then everything quickens. Leather connects with leather, and like a bolt of electricity flashing through a length of copper wire, the ball crackles past a petrified goalkeeper to find its resting solace in the bottom corner. Cue rhapsody and bewilderment from Oleksy and his teammates, anger and a kind of begrudging, deferential admiration from their opponents.
It would be patronising to blindly label Oleksy as some kind of inspiration purely on the basis of his disability. At the end of the day, one leg, two legs, four legs - it doesn't really matter. He is just a bloke playing a game that he loves, producing something that, by his own admission, 'felt like magic'. But there is no getting away from the fact that Oleksy, and his improbable moment in the limelight, serves as a reminder that it's not always about the quality of the delivery life gives you, but rather, how you adapt to get your shot away regardless. And hey, if it gets more people into amputee football writ large, even better.
Reflecting on his Puskas win, the Pole, with a charming earnestness, said: "When I started playing amputee football, I always wanted to do something special." That much, he has done. And then some.