If football was a soap opera, it would have been dismissed many moons ago for being far too unrealistic. Forget your Christmas Day murders and your tram derailments, your resurrected corpses and your Yorkshire Dales plane crashes, nothing that the unhinged writers of television's trashiest mainstays have cooked up could ever hope to hold a candle to the insane melodrama of the beautiful game.
On Sunday afternoon, Newcastle United will look to end a near-eight-decade wait for domestic silverware when they play Manchester United in the Carabao Cup final. And they will likely do it with Loris Karius in net. The German has not played a competitive game of football for an English club since 2018's Champions League final - a match in which he dashed both Liverpool's continental dreams and his own burgeoning reputation in one - or rather, two - fell swoops.
Evidently suffering from some kind of head injury after an early collision with Real Madrid defender Sergio Ramos, Karius gifted the Spanish giants two goals in a 3-1 defeat for Jurgen Klopp's side, and has never truly recovered any kind of credibility since.
But now - with Nick Pope suspended, Martin Dubravka cup-tied, and the Toon Army desperate - he has an improbable shot at redemption. Can he banish the demons of that fateful night in Kyiv, or will his looming Wembley trial doom him to a lifetime of ceaseless derision and mockery?
Of course, only time will tell, but the entire debacle did get us thinking, what if Karius had nothing to redeem himself for at all? And so, dear reader, join us as we take a trip through the looking glass and into the realms of counter-factual history. Here is what might have been had Loris Karius not come a cropper in Kyiv all those years ago...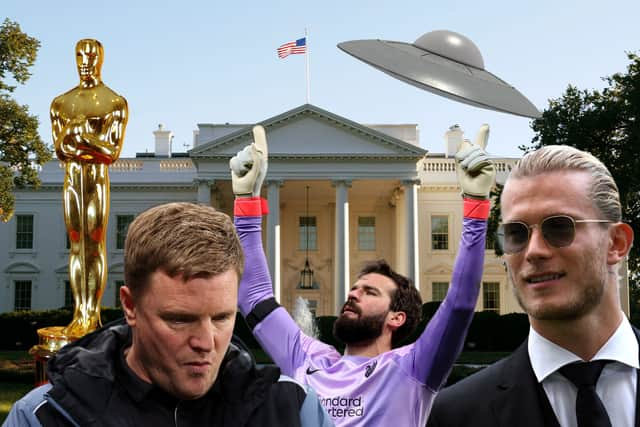 May 26th, 2018. Kyiv, Ukraine. Liverpool vs Real Madrid. A night that will go down in infamy. But not for Loris Karius. No, the German, avoiding a collision with an on-running Sergio Ramos in the early knockings, puts in a stellar performance between the sticks and proves himself to be the dependable and steadfast presence that Jurgen Klopp always believed he could be. Liverpool, buoyed by the solidity of their number one, win a sixth Champions League title to kickstart a period of dizzying continental dominance.
Returning to Merseyside, Karius is met with a hero's reception. Adulation for the stopper only increases when he personally requests that the open-top double decker trophy parade is halted momentarily so that he can rescue a cat from the upper branches of a over-hanging tree. Convinced of Karius' worth, Klopp engineers a new bumper contract for his compatriot, and makes the decision that he will not be buying a new first choice keeper any time soon. Karius signs a number of lucrative brand sponsorship deals, walks the catwalks of Milan as a guest of Karl Lagerfeld, and is voted GQ's Sexiest Man Alive 2018, beating Idris Elba to the title.
As a result of Klopp's renewed confidence in Karius, Liverpool decide against a proposed deal to sign Brazilian star Alisson Becker, who has impressed considerably with AS Roma over in Serie A. Instead, Becker stays in the Italian capital, and is quite content at the Stadio Olimpico, or at least he is until Jose Mourinho takes over in the dugout. A devout Christian, Becker becomes somewhat irked by Mourinho's attempts to revitalise his 'Special One' gimmick, believing that there is only one true 'Special One', and that his name is Jesus Christ, our lord and saviour. Fed up with Jose's apparent claims of divinity, he reevaluates his entire life, before taking the painful decision to quit the bright lights of professional football. He moves back to Brazil, where he promptly opens a cattle ranch.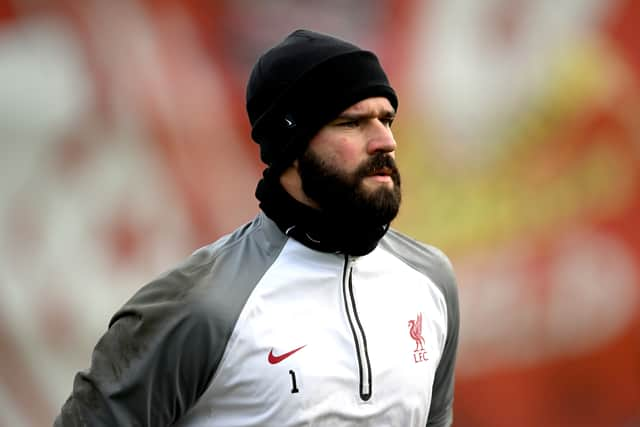 For a while, Alisson is quite content with his new life, until he stumbles into a chance encounter with nearest neighbour and fellow amateur rancher, Brazilian actor Wagner Moura. Bowled over by Becker's rugged good looks, the Narcos star enquires as to whether or not the former footballer has ever considered film work. Alisson mulls it over...
Selling up the ol' ranch, Becker uses the profits to found a film production company, aiming to specialise in big budget biblical epics that reinforce the significance of faith and family values in modern life. Naturally, Alisson himself will be the leading man in several of these features, which become an immediate success with the hugely popular traditional Christocentric right wing of the Brazilian political spectrum.
Eventually, Alisson's popuarity with the right leads to a clamour for him to replace the divisive Jair Bolsonaro as a more moderate conservative candidate heading into the 2022 Brazilian election. Bolsonaro is naturally opposed to the idea, but is forced to step down for health reasons after his commitment to an anti-vaccine stance leads to him becoming the first person on the planet diagnosed with a confirmed case of Covid-21. (He skipped 20 entirely). As such, Becker stands in his place and narrowly edges out left-wing opponent Lula. The transformation from movie star to political heavyweight is complete. Think Ronald Reagan with a bossa nova beat.
One of Alisson's first official state visits as president is to the USA, where he aims to establish a strengthened international partnership with Joe Biden. Joe takes an immediate shine to Becker, and after a couple of days in which the pair play hide and seek all around the White House and eat their own body weight in vanilla ice cream, he decides to take his guest to the most wondrous place in all of North America; a place where giant mutant mice roam freely signing autograph books, and where there are twice daily parades in which a revolving cast of whimsical characters ride floats as they dance and wave for the watching crowd. No, not Disneyland... Area 51.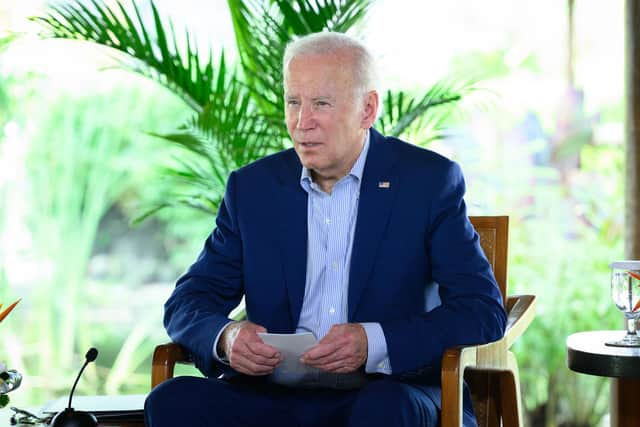 This turns out to be a massive, massive mistake. When presented with irrefutable proof of the existence of aliens, and thus a direct rebuttal to his entire worldview and belief system, Alisson is horrified, and subsequently beats a hasty retreat to his home country.
Now teetering on the edge of sanity, Becker holes himself up in the Palácio da Alvorada, and in his isolation, formulates an extreme plan that will reconnect both him and his populace with an almighty that he is now questioning for the first time in his life. Under strict instruction from the president himself, the entire population of Brazil is urged to relocate to an innumerable patchwork of small communities in the Amazon rainforest - a place where the evils of modernity cannot reach or taint them. Those who do not wish to make the journey are left to fend for themselves as Alisson enacts the most radical twist in his plot yet; a giant dome is erected over Alisson's New Brazil. Think The Simpsons Movie, but with a bossa nova beat.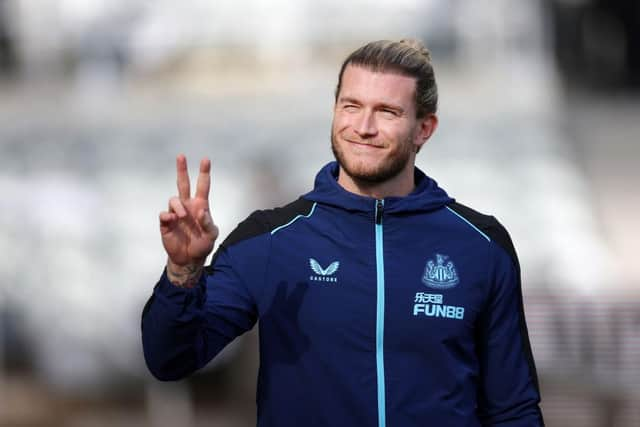 In the meantime, confidence firmly intact, a thriving Karius has helped Liverpool to win a further two Champions League titles - one in 2019, and one in 2022. By this point, he is widely accepted as the best goalkeeper in the world, and the Anfield faithful is in firm agreement that he is the greatest stopper in the club's long and storied history. There is talk of a statue bearing his likeness outside the ground. Plans suggest that it will be carved from white marble and will be entrusted to a literal descendent of Michelangelo.
Elsewhere, up on Tyneside, Newcastle United - now Karius-less, of course - still make it to the final of the 2023 Carabao Cup, and are still facing the prospect of a trip to Wembley without Nick Pope. Indeed, it is Karius, not Alisson, who sprays the driven through ball that tears the heart of the Toon defence asunder, and that forces Pope into his moment of tragicomic lunacy. Forgetting that Mark Gillespie exists, Eddie Howe takes the unprecedented step of scouting a local Sunday night Powerleague division for a goalkeeper who can fill in against Manchester United.
It just so happens that on the week Howe is watching, I put in a world class performance for Fiorentina Adamson against fellow high-flyers Parmesan Belgrade, and am approached immediately afterwards by the Magpies boss, who wastes little time in giving me the nod. Little does he know, however, that I'm a Sunderland fan. Newcastle lose 46-0 at Wembley, and I enter the witness protection programme, undergoing a full facial transplant, changing my name to Esteban Rojas, and moving to the suburbs of Santiago, Chile in the hopes of starting a new life. I tell nobody, not even my family.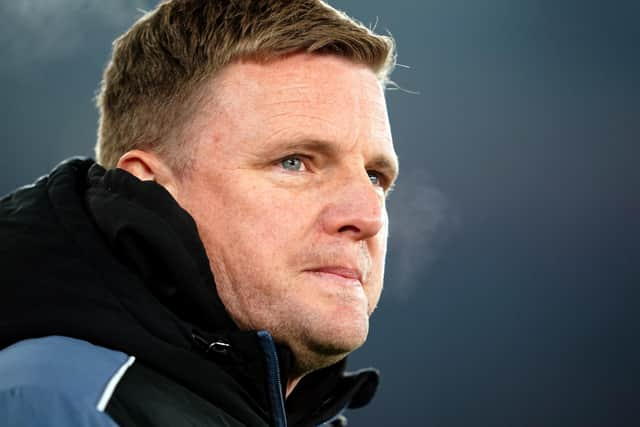 Meanwhile, in the Amazon, Alisson's domed retreat is having serious, unforeseen knock-on effects. Aside from crippling the ecological health of the planet by depriving it of the benefits of one of its key rainforests, the increased and inescapable humidity in Becker's artificial biome leads to the mutation of a new, deadly fungus in the region. Think The Last of Us, but with a bossa nova beat. To make matters worse, everybody inside the dome gets really frizzy hair. Concerns grow about the safety of both Brazil and humanity writ large.
In response, the UN forms a taskforce replete with the greatest minds the scientific community can muster, as well as an ambassador who they believe can pierce Alisson's madness and speak to him on a personal, relatable level. That's right, Time Magazine's Person of the Year 2022, Loris Karius, heads to the jungle.
Upon arrival in the Amazon (they enter by helicopter through a little plughole in the top of the dome, in case you were wondering) promising research suggests that there is a prospective antidote hidden deep within an underground cavern in the heart of the wilderness. There is but one plant that yields the sap needed to counteract the violent effects of the rampant fungus. Given the extremely treacherous nature of the descent, as well as the relative feebleness of the UN's elderly science cohort and a Brazilian population that is so overly humidified that their entire bodies now resemble limbed prunes, it is decided that the only two people who are physically fit enough to embark on such a quest are Karius and Becker.
Thus ensues a frantic, all-action escapade in which the unlikely duo venture deep into the untamed entrails of the Amazon. They laugh. They cry. They learn.
At one point, however, Karius suffers a nasty knock to the head after an encounter with a hitherto undiscovered primate. Maybe it's the impact of the blow, or maybe it's a disorienting consequence of the oppressive climate, but Loris could swear that it had the face of Sergio Ramos. Alisson asks if he is okay to continue on their path, and the German promises he is, but something is clearly not right.
At long last, our heroes reach the cavern in which their one remaining hope takes root. After a precarious climb and a series of terrifying cave-ins, the antidote is recovered, but Alisson is left standing on one side of an unbridgeable chasm with Karius on the other. With dust falling from the fragile ceiling and time rapidly running out, the only solution is for Alisson to sacrifice himself and throw the vial containing the vital cure to his new blood brother. He roars his final goodbye and hurls the antidote just as the ground gives way beneath him, but Karius, evidently concussed from his tussle with Sergio Ramos' simian doppelganger, lets it slip right through his fingers and into the abyss below. The world is doomed.