Why England's greatest World Cup shirts are the ones they never got to wear
England are gearing up for their 2022 FIFA World Cup opener against Iran
Watch more of our videos on Shots!
and live on Freeview channel 276
Visit Shots! now
Ah, USA 94. Diana Ross spooning a penalty, John Aldridge ranting on the sidelines and Roberto Baggio and his glorious rat tail haircut going from hero to zero from 12 yards. I loved USA 94, the Adidas USA 94 shirts are a couple of my all time favourites BUT where's this all going I hear you ask. Well there was, for me, one massive glaring omission from USA 94, and that was our very own Three Lions - we failed to qualify and we also missed out on displaying three of the finest Umbro offerings emblazoned with the Three Lions badge on the world stage.
Now, as an 8-year-old getting his first taste of World Cup football with Italia 90 (that's probably where my shirt obsession started), four years down the line expectations were high. Yeah Bobby Robson had gone, we'd experienced Euro 92 disappointment and had gone out on a whimper but surely we weren't missing the big stage, and the chance to show off three belting shirts. Instead we got "Do I not like that" and "Can we not knock it" famously spouted by the late, great Graham Taylor…
So I'd wager a few quid if I were a betting man that most England fans of a similar age to me (40 years young) either lean towards the trio of Italia 90 (to 1992) England shirts made by Manchester brand Umbro - greatest shirt manufacturer in my humble opinion - more on that in the future. The enigmatic combo of Gazza's tear-soaked white home shirt, the cultural crossover of Bernard Sumner decked out in the blue third shirt, and to a lesser extent, Jay from the Inbetweeners sporting the reissue of the red away shirt. No doubt a classic trio.
Fast forward 6 years, Euro 96 came round and we got two amazing shirts, again I'd say they feature high on peoples lists given the euphoria of hosting the tournament here, the classic Gazza goal against Scotland and the, erm, dentist chair reenactment celebration. Certainly the away shirt is one of my favourite England shirts too, and that itself deserves its own story but for me, the top three England shirts ever, came around in what was one of our most barren footballing periods 1993-1995.
Look, I know shirt tastes are always open to debate, but Umbro nailed these three. No massive change in colours but the subtle details in these three shirts, for me, are top class - and I count myself very fortunate to have all three shoved out of sight in my dedicated Umbro cupboard.
Let's, pardon the pun, kick it off with the home shirt - that little England badge by the collar, typical wide 90's fit (serves my dad bod well these days), big embroidered three lions and the Umbro double diamond. Add that sublimated England emblem into the design of the shirt, pure unadulterated class and yeah, it absolutely looked the business on the pitch, even if results didn't reflect that. It also holds a special place in my football shirt heart given that England wore it for my first ever trip to Wembley in 1994, a 1-nil victory against reigning European Champions Denmark and Terry Venables' first game in charge after taking over from Graham Taylor.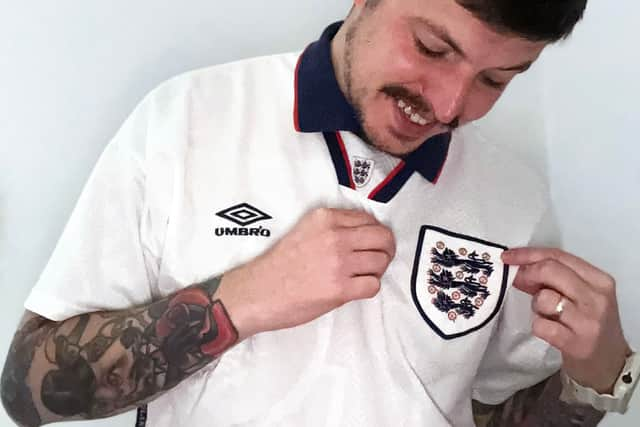 The stunning away shirt in fact had many similar attributes to the home, classic red away colours, same badge and white Umbro detailing but the clincher on the 93-95 away, massive retro collar, I mean we're talking Travolta 70s era size collar here but with it's button up option, oh it looks so so good, even with a hint of "get raw with the fever on the dance floor" ringing in the back of my head!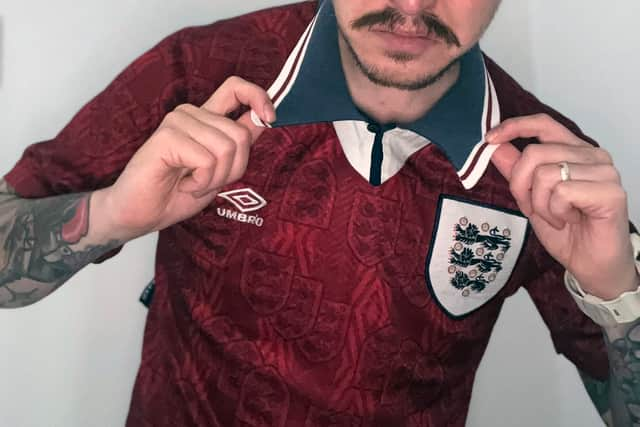 And finally, the lesser spotted third shirt with its not so subtle three lions sublimation. This one was my lucky shirt at the Euros two years back, will I wear it this time round? Likely despite the cold because for me, it's almost football shirt perfection. Strictly speaking, it's a 92/93 shirt, worn just twice against Spain and Czechoslovakia (there's a few pictures of a young Alan Shearer sporting the kit) which ticks box one for me, it's a hardly worn, really rare shirt.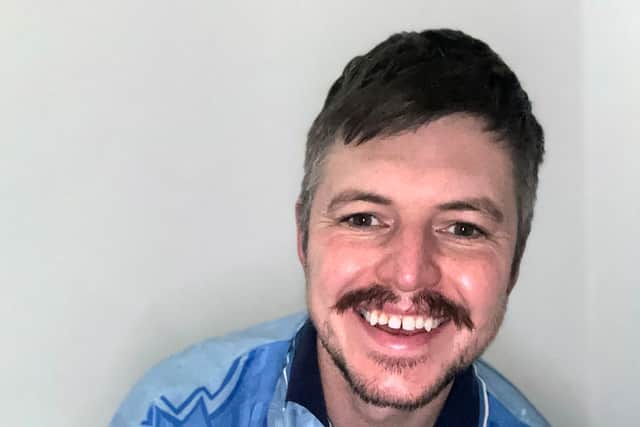 Secondly, the design - typical 90s craziness which seems very apt for a company from Mancherser at the time. Thirdly, let's talk about the template. You'll hear shirt collectors talk about templates and the Umbro shirts from 1990 to 1996 are in my humble opinion, the greatest of all time. I think it's the collars for me, now I don't mean to be too self deprecating but given my skinny neck, collars are always going to be a winner for me simply for the basic coverage - also, button them up, keep a bit warmer if needed. Textbook.
Finally, I've actually got my original shirt from 92 that I've passed on to my lad, so there's an outside chance of a father/son combo - although he prefers the current shirt - more on that too at a later date. The shirt itself was recently reissued by Age of Football but featuring three rhinos instead of the three lions to highlight the plight of the rhino itself - a nice touch and a worthy cause to reissue a classic and for a fashion crossover.
So, that's it. As we gear up as a nation for World Cup fever, I'll be raiding the Umbro wardrobe for one of those three shirts most likely and whilst I'm not massively optimistic on our chances of winning, I'm more optimistic someone will say to me "Smart shirt, mate" if I've got one of my three favourites on down the pub.