I have a confession to make; I am a proper emo. I mean, back in the day, I'm talking black skinny jeans, weekly Kerrang! subscription, sweeping side fringe, general and persistent apathetic mardiness - the full shebang. I grew up on bands like Taking Back Sunday and Brand New, and as I got a little older I delved deep into the work of scene elders like Sunny Day Real Estate and Texas Is The Reason. I'm exactly the kind of spectacle-adjusting pedant who will tell you that technically the term 'emo' should only refer to bands who make up the emotive hardcore genre, and that there has never been an authentic mainstream emo breakout act, but I am also precisely the sort of nostalgic fool who gets distracted by the first high G note of Welcome to the Black Parade in the same way that a Cold War sleeper agent might snap out of reality upon hearing their trigger phrase.
As time has gone by, I've shed most of the ceremonial garb from my emo ways. In the year of our lord, 2022, I'd rather wear a honey-glazed waistcoat in a beehive than subject myself to a pair of skinny jeans, I've long since traded the hair straighteners for a razor, and while I can't vouch for what those around me would say, I like to think I'm a fairly chipper chap, all things considered. But every year when my Spotify Wrapped drops, or every night when I'm deciding which Jimmy Eat World album to whack on in the background while I make tea, I ask myself, 'when is this going to end?'. People talk about their 'emo phase' like it's a fleeting thing, akin to a holiday romance or a bout of heartburn, but here I am at the age of 27 winding the dog up as I bounce around the kitchen to Bleed American.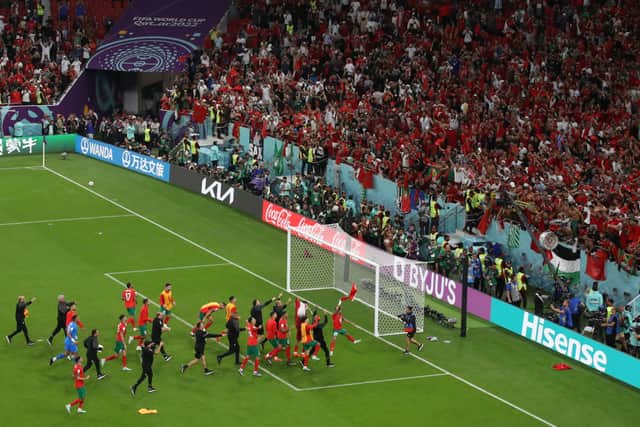 Which brings us on to Morocco. Or Emorocco, if you have a proclivity for awful puns. At every juncture of this World Cup, the watching globe fixed the Atlas Lions with a stern gaze, cleared its throat gravely, and enquired as to when they were planning to do the sensible, mature thing and get knocked out of the tournament? And, at nearly every juncture, like a teenager sat opposite their ultra-conservative grandma at the Christmas dinner table in heavy eyeliner, fingerless gloves, and a faux military band jacket, they steadfastly refused to play along with the norm.
The North Africans made history in Qatar. Never before has a nation from their continent reached the final four of the World Cup. Along the way, they humbled Belgium, Spain, and Portugal, as well as drawing with fellow semi-finalists Croatia. The only strike they conceded prior to Wednesday evening's 2-0 defeat against France was an own goal against Canada, and somewhat remarkably, that included a clean sheet in a penalty shootout against the Spanish.
Then again, perhaps we shouldn't be overly surprised by their prolonged resolve. This is a side who, excluding their World Cup exit, had been defeated just twice since January, and prior to that relative wobble, hadn't lost a match in 90 minutes since June 2019. Their squad is littered with players who represent the likes of Paris Saint-Germain, Chelsea, and a whole host of other clubs from the most esteemed leagues in Europe. They are organised better than most secret services, they counter like a pack of ravenous street dogs, and they possess a number of mercurial individualists who can conjure and dumbfound in momentary glimpses of divinity.
And beyond their tangible assets, Morocco boasted the strident support of a multitudinous swarm of footballing fantasists behind them. Not only did they represent themselves, but they represented all of Africa, the entirety of the Arab-speaking world, and the optimistic plight of the perennial underdog too. When they arrived in Qatar, it was Morocco vs everybody. By the time they left, it was Morocco and everybody vs a few remaining stragglers.
Every fibre of rationality said that the Atlas Lions could not win the World Cup. But then again, every fibre of rationality would have falsely had you believe that they couldn't beat Belgium or Spain or Portugal, either.
From an outside perspective, their Middle Eastern sojourn may have felt like some fabled run of fortuity, or a fluke extended to absurdly disproportionate lengths. But the North Africans won't have seen it that way. This is a nation who got to where they were on merit, and who believed wholeheartedly that they were capable of beating France and making it into a World Cup final. And they will believe just as fervently that this was not the end, but merely the beginning. Like a 27-year-old man making risotto to a score of My Chemical Romance, there has to be a point at which we question whether the Atlas Lions' newfound prosperity is some brief, transient episode, or whether this is just how things are.
And Morocco are here to tell anybody and everybody who will listen; it was never a fez. Apologies.