The dream Douglas Luiz replacements Aston Villa can sign if Arsenal capture star midfielder in January
Douglas Luiz has been linked with Arsenal after an exceptional start to the season - but who should Aston Villa be in the market for if the Brazilian goes?
Watch more of our videos on Shots! 
and live on Freeview channel 276
Visit Shots! now
If you're an Aston Villa fan, there's good news and bad news – the good news is that your team is really rather good. The bad news is that one of the significant reasons that they're really good, Brazilian midfielder Douglas Luiz, has been linked with a move to Arsenal, and losing him would be a serious blow.
Luiz is a do-everything midfielder. He's a strong tackler and tireless presser, a fine passer and strong dribbler who gets the ball forward efficiently and quickly, and a genuine threat in and around the box who scored two goals in the 4-1 win over West Ham United at the weekend. He's integral to Villa's game and playing the best football of his life – but of course, that means teams further up the ladder start to get excited, and Arsenal have been interested in him before. Many rumours turn out to be hogswash, but this one isn't too hard to believe.
Fortunately, the same ever-churning rumour mill has linked Villa with a handful of different midfielders who could fill the yawning void in the midfield should the Brazilian be lured to another club – so we've gone over three of the most plausible candidates suggested by the media in recent weeks to assess whether they've got the all-round game to make a good replacement for Luiz, and thrown in a suggestion of our own. Let's take a look at the options…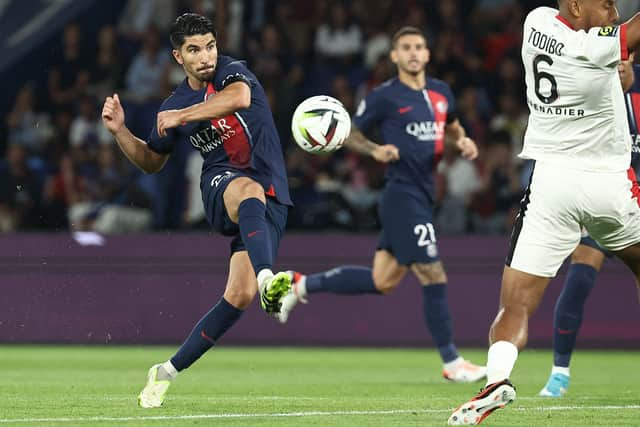 Carlos Soler
Paris Saint-Germain midfielder Soler has been in and out of the side since signing from Valencia in 2022, and has been used in just about every position imaginable – while nominally a central midfielder, he found himself at right-back in PSG's 3-0 win over Strasbourg at the weekend, a rare start for the Spaniard and a game in which he got himself on the scoresheet, too.
That positional versatility hints at the kind of jack-of-all-trades skillset that could make him a plausible replacement for Luiz, and Parisian sources have Villa and Brighton & Hove Albion – as well as former club Valencia – all in the market for a player who cost €21m (£18.4m) a little over a year ago.
Like Luiz, he's a strong passer and dangerous in the final third, with a higher average xG over the course of the last few years. He's also an undeniably willing runner, although he isn't as strong in the tackle and doesn't make as many turnovers. Where he differs from Luiz is that while the Brazilian tends to take the ball from deep and get it forward himself, Soler tends to run forward off the ball and get into positions to receive passes in the final third – in other words, he's most effective with a creative presence behind him and doesn't offer the same ability to progress play from midfield. He's a good player who could be available at a very fair price, but would likely work better in a three-man midfield or alongside a player like Luiz, rather than instead of him.
Kalvin Phillips
The much-maligned Manchester City midfielder has been linked with a move to just about anywhere as he hunts for the minutes he needs to solidify his position alongside Declan Rice in the England midfield ahead of Euro 2024 – and while he's become the butt of quite a few jokes as he warms the bench at the Etihad, it's worth remembering that there's a reason Pep Guardiola bought him in the first place.
Energetic and industrious, Phillips offers a similar capacity to win the ball back to Luiz and is excellent at making the same lung-bursting runs forward to get play up the field quickly. He's also a better dribbler than is often appreciated, and while his passing range isn't quite as good as Luiz's, it's hardly excessively limited.
He perhaps isn't quite as technically sound as the Brazilian – which, combined with the persistent excellence of Rodri, is probably one of the main reasons he can't get on the pitch for City – and he certainly won't offer the same goal threat. But he's still a quality player who offers stability, solidity and hard work, and one who deserves substantially more respect than he current receives. Is he as good, or as versatile, as Luiz? Perhaps not, but he's not so far off that he wouldn't make a fine addition to the Villa squad.
Dani Ceballos
Reports in Spain suggest that Villa are preparing a €30m (£26.2m) offer for the Real Madrid man, who didn't make a huge impression on loan at Arsenal a couple of seasons ago and is currently struggling for gametime at a club heavily laden with exceptional midfielders. He's only been on the field for 77 minutes of Real's season so far – even Phillips has had more gametime. Just.
But would he be a better fit for Villa? Based on raw numbers, the answer seems to be yes. His passing statistics are substantially better than Luiz's, with better accuracy, a wider range and an even greater ability to get the ball up the field quickly and efficiently. He's also a much better dribbler and creator, while perhaps surprisingly exceeding Luiz's defensive contributions too – they're in the same ballpark for successful tackles, but Ceballos' reading of the game means he makes considerably more interceptions and blocks more passes. The only element of the game that Luiz is ahead on is finishing and threat in front of goal.
The biggest issue with bringing Ceballos in as a Luiz replacement would be tactical – Ceballos doesn't cover as much of the pitch and tends to operate down the channels, where Luiz looks to get involved almost everywhere. That partly explains why Ceballos can be less consistent, as he just doesn't force himself into the game in the same way. Could Unai Emery turn him into the all action midfielder that Villa might need if Luiz departs? Perhaps. Ceballos certainly has the skillset and ability to perform the same role, so the question is whether he'd be willing to change his game for a new club. If the price tag is right, it certainly doesn't look like too bad of a gamble.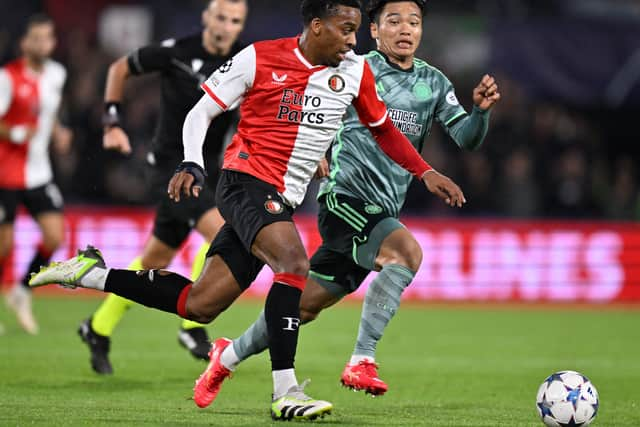 Quinten Timber
The twin brother of Arsenal's Jurriën, Feyenoord midfielder Quinten Timber has been generating a lot of buzz in recent months and has already been tentatively linked with a host of Premier League clubs, including Liverpool and Chelsea – and while they haven't been linked thus far, we think this may well be a deal that Villa should consider getting involved in. He was signed for a club-record €10m (£8.7m) in 2022, but would cost a fair bit more now – but likely still substantially less than, say, Moussa Diaby.
Timber is a more aggressive midfielder than Luiz in terms of his positioning – while he covers a huge amount of space, he tends to do so further up the pitch, and while he's an equally effective tackler he is used to doing his defensive work higher up the field. He wouldn't be winning the ball in deeper areas in the way Luiz does. He's also a less accurate passer of the ball who prefers to run with it.
But he's an excellent dribbler who has a fantastic take-on success rate and generates plenty of space and yardage with the ball at his feet, and one who generates a lot of chances with his movement and pace. He's also got the work ethic and fitness to contribute to the team press effectively – in other words, while he does things differently from Luiz, he offers a pretty similar end product. Would his more advanced positioning suit Emery's set-up? Or would it leave the deeper areas of the midfield too exposed? It's hard to say, but Timber is an exciting player who could well fill a Luiz-shaped hole very nicely indeed.