If Callum Hudson-Odoi leaves Chelsea, only one transfer choice makes sense amid West Ham and Fulham links
The winger faces an uncertain future at Chelsea this summer
Watch more of our videos on Shots!
and live on Freeview channel 276
Visit Shots! now
Callum Hudson-Odoi is only 22. It's a point worth reiterating because it feels as if he has been around forever. The Chelsea winger's sudden rise from prodigious teenage prospect to first team regular way back in the halcyon days of 2019 feels like it happened a lifetime ago. Then again, a lot of nonsense has passed under the bridge since then. And by nonsense, I of course mean the horror of a global pandemic and the perpetual flirtation with the collapse of society as we know it. Everything is chaos and time is now soup.
Anyways, Hudson-Odoi's rapid ascent was followed by an equally rapid fall into relative obscurity. England call-ups and talk of interest from Bayern Munich were soon replaced with a massive new contract, injury woes and lengthy spells in the doldrums - it felt like a realised inevitability when this period of stagnation culminated in a loan move to Bayer Leverkusen last summer.
Things have hardly improved for the attacker over in Germany either. Hudson-Odoi has scored just once in 21 outings this term, and Leverkusen have clearly seen enough to know that he has no future on the banks of the Rhine; there's dropping hints and then there's posting a goodbye to your loanee before the domestic season has even finished.
And so, with that in mind, Hudson-Odoi will return to Chelsea, but what happens next is not so clear. Speculation continues to mount over his future at Stamford Bridge, and with a number of clubs touted as potential suitors, we've taken a look at some of his most viable options below.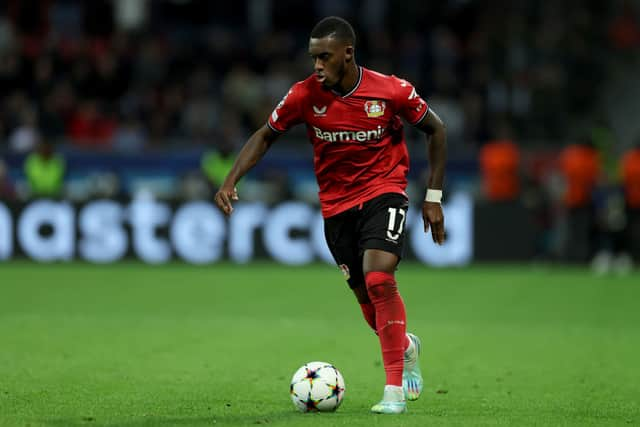 West Ham
An early favourite with the bookmakers, West Ham have a tendency to crop up in conversation when players of Hudson-Odoi's ilk become available. The Hammers, if we're being realistic, probably have ambitions of establishing themselves as the best of the rest in the Premier League - so to speak - and if that means feeding on the scraps cast aside from the top six every now and again, so be it.
The Hammers might even be able to offer continental football next term, depending on how they get on in their Europa Conference League final in Prague next month. And yet, there's something that doesn't quite feel right about the prospect of Hudson-Odoi lining up in the claret and blue. It's not that there's necessarily anything wrong about it either, mind you, it's just hard to shake the feeling that he needs to be the main man somewhere, rather than a bit-part player. His potential is obvious, but his confidence is lacking, and the more first team minutes he gets the better chance he has of rekindling his spark. With the number of supplementary attacking talents West Ham already have, you wonder whether it would be the best place for him to make the impression he so sorely needs to.
Staying at Chelsea
Perhaps a left-field shout, perhaps not. On the one hand, Hudson-Odoi has struggled for opportunities in the recent past and has done little on his loan spell to instil a renewed sense of faith in him. On the other, the summer will bring with it a new manager at Stamford Bridge, and the incoming Mauricio Pochettino is known for trusting in homegrown talent.
At the very least, Hudson-Odoi should be given an opportunity to prove himself, and if he impresses, who knows what might happen. That being said, Chelsea are hardly lacking in wide attacking options, and the odds would very much be stacked against him. On top of that, the Blues look set to part company with a host of homegrown players this summer, as they look to address growing concerns over their Financial Fair Play standing. Nothing is impossible, but some things are less likely than others.
Fulham
Maybe then, what Hudson-Odoi needs is a reset at a new club, but one where he would have the potential to make himself the main man. A club, say, like Fulham. Marco Silva's men have vastly outperformed any expectations of them this season, and after a steady enough mid-table finish will be looking to consolidate next term.
Their go-to option out on the left flank tends to be Willian, and while he has shone at Craven Cottage for large swathes of the campaign, the 34-year-old is hardly a long term solution in that position. Hudson-Odoi, were he to make the move, would be joining an exciting project with room to grow and embed himself while working in tandem with a wonderfully experienced peer.
From a personal perspective, he would be able to stay in west London, and there is barely a winger in the Premier League who wouldn't want Aleksandar Mitrovic to aim for in the middle on a weekly basis. At the time of writing, Fulham are only just behind West Ham in the bookies' reckoning, and on balance, there is a lot to like about this potential transfer.