While Forest were expected to cut it fine, West Ham and Wolves found themselves far too close to the relegation zone for comfort, albeit they did manage resurgences late in the campaign. Meanwhile, the Hammers have played their best football in the Europa Conference League, and they still have a route to next season's Europa League through winning the final.
Ahead of the summer, we have taken a look at 15 likely free agents from across England, Italy, Germany and Spain that all three clubs should consider signing ahead of next season.
Jefferson Lerma - Bournemouth
Lerma is yet to sign a new deal with Bournemouth, and he is one of the most impressive Premier League players out of contract this summer. The holding midfielder has been Bournemouth's standout player during their recent Premier League seasons, showing he is more than capable of fitting into any midfield outside of the top five.
There has been talk Crystal Palace are interested, but he could certainly do a solid job replacing Declan Rice at West Ham or Ruben Neves at Wolves. Forest would be wise to consider this one, too.
Daniel Amartey - Leicester
Amartey has been linked with AC Milan, and so his future remains unclear for now. The 28-year-old is a centre-back who can play full-back and even further up the field if needed. His versatility makes him an attractive prospect, and Forest might have the advantage if Amartey feels settled in the East Midlands. The only big question mark with Amartey is his injury record.
Tom Davies - Everton
Davies' progress has stalled over the last year or so, but at 24 years of age, he is still an attractive signing, and one Everton might do a good deal on, even if they do wind up staying up.
The central midfielder has a big upside, and he has been playing semi-regularly this season, although most of his 19 Premier League appearances have come off the bench. Davies would make a good squad player at the very least, and he would likely challenge to be a starter as he looks to kick on.
Jesse Lingard - Nottingham Forest
Lingard is a curious one at this stage. He had that brilliant loan spell with West Ham only to stay at Manchester United the following season, seemingly losing momentum along the way. He looked like a real grab for Forest, but he hasn't featured heavily of late due to injury. Forest might allow him to move on ahead of next season, and the Hammers could move to bring him back, given the attacking midfielder played his best football of recent years at the London Stadium.
Yerry Mina - Everton
Mina looks set to leave Everton at the end of this season, and he would slot nicely into either of the defences of the three teams here. The Colombian is capable of a mistake, but he is a dominant centre-back who now has plenty of Premier League experience. The big question here is about Mina's ambitions and whether he may find a more attractive move away from Sean Dyche's side, likely outside of the Premier League.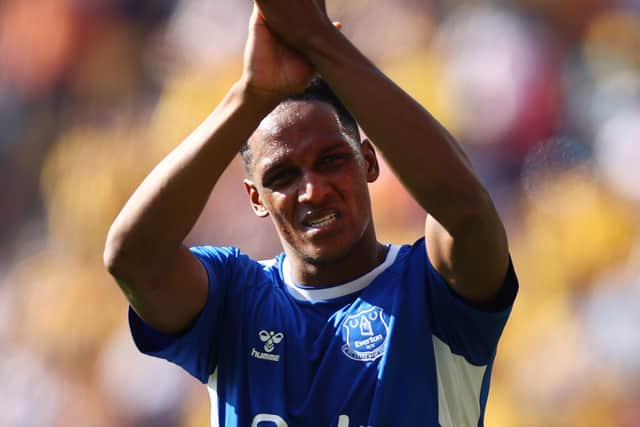 Mohamed Elyounoussi - Southampton
Elyounoussi may be a bit of a gamble, coming off a disappointing season with Southampton, scoring one and assisting as many in 28 Premier League appearances. Then again, the Saints were a disaster this season, and it was hardly an easy team to impress with. Elyounoussi is a dynamic winger who could add quality and depth to either of Forest, Wolves and West Ham. He almost certainly won't be playing Championship football next season, one way or another.
Adama Traore - Wolves
It will be interesting to see where Traore ends up after a very good comeback season with Wolves, particularly since Julen Lopetegui's arrival. You wonder whether he has big ambitions and might return to play abroad, but if he wants to stay in the Premier League, West Ham might well suit him, given how they have played with pacey players like Said Benrahma and Michail Antonio. The Hammers may be able to convince him, too, if they can win the Conference League and remain in Europe.
Alex Oxlade-Chamberlain - Liverpool
Oxlade-Chamberlain is in need of regular football after being a utility man for Liverpool over recent years. The 29-year-old still has plenty of quality, and he would be a good signing for West Ham or Wolves, in particular. Unfortunately for Forest, Oxlade-Chamberlain isn't likely to join a team who are likely to be one of the favourites to go down next season, even with their late revival this term.
Matt Doherty - Atletico Madrid
Doherty is playing for another contract at Atletico Madrid, and he may yet be kept around as a depth option. If he doesn't, the former Wolves star may well be looking for a Premier League return, and he would be a smart signing for any of these three teams. The Irishman is a dynamic and modern right-back who would add real quality for all three.
Adria Pedrosa - Espanyol
A couple from left-field, and we start with Adria Pedrosa, who has been a solid full-back for Espanyol over recent years. The Catalonia team look like they are heading for relegation, and Pedrosa could leave. At the very least, the 25-year-old could be a very good depth option at left-back for any of these teams.
Aleix Garcia - Girona
Garcia is a 25-year-old midfielder who could yet stay with Girona should they qualify for Europe, having a one-year extension option. But if he does leave, Premier League clubs like Forest, West Ham and Wolves should be considering taking a chance. Garcia has six assists in La Liga this season, and he has been a consistent performer for a Girona side that has really impressed. Garcia is a tough but technical midfielder who often plays on the edge.
Dani Ceballos - Real Madrid
Ceballos could yet leave Real Madrid after a season where he has been involved more than many expected. He spent time on loan with Arsenal in the not too distant past, and it would be interesting to see if he would consider a Premier League return. In truth, if he does leave, he is likely to join one of the Spanish clubs in Europe - perhaps Real Betis - but the right amount of money may sway him towards the Premier League, and he has shown his worth with consistent performances this season despite Los Blancos' La Liga struggles.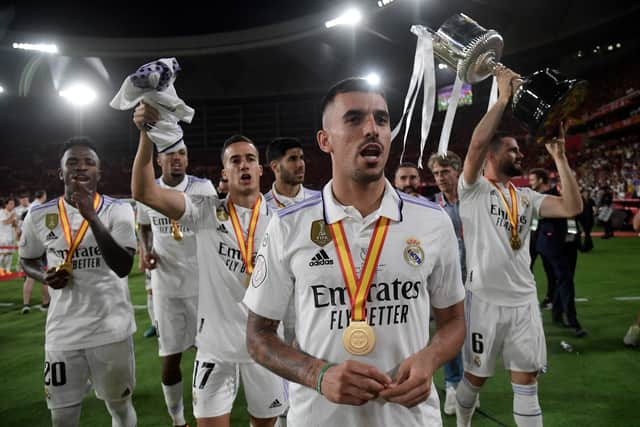 Daley Blind - Bayern Munich
Blind is getting up there in years, but he could still add quality to any of these sides, offering vast experience at full-back. The former Manchester United star has plenty of Premier League experience, and he surely won't be demanding huge money given he is now 33 years of age. Blind is coming off a six-month spell with Bayern after leaving Ajax.
Josuha Guilavogui - Wolfsburg
Guilavogui is a 32-year-old no-nonsense defensive midfielder who could be an interesting signing. West Ham may be interested as they look to add depth to the heart of their midfield amid the possibilty of Rice moving on, and the same can be said of Wolves with Neves. There has been talk of Guilavogui heading to Saudi Arabia, but on a free transfer, it is worth one of these three teams taking a look.
Roberto Soriano - Bologna
There are lots of players out of contract in Serie A, but many have already pledged their future or are still in talks over a new deal. The best we can safely offer from Italy right now is Bologna's 32-year-old attacking midfielder Roberto Soriano. The former Villarreal man would be a depth option at this point, but he could be a smart signing for Forest, who may replace Lingard this summer. Soriano will offer that magic through ball or deft touch, drifting between the lines and creating space for forwards.