In a world where high-quality number nines are so hard to come by, you'd expect Dušan Vlahović to be a coveted asset at Juventus – but after an extended goal drought earlier in the season, question marks are being raised over his future at the Allianz Stadium, and several Premier League clubs could have a chance at getting their hands on a sorely-needed central striker.
After impressing at Fiorentina, the Serbian moved to Juve for a fee rising to €80m in January 2022, and got off to a pretty good start in Turin – but after scoring six goals in his first 10 games of the Serie A campaign, a month on the sidelines with injury knocked Vlahović out of his stride, and he registered just two goals in 17 matches, including going goalless in 11 straight league ties.
That's seen his stock drop at Juventus, and despite scoring key recent goals against Lecce and Atalanta, speculation has stepped up that the Old Lady may be keen to cash in – and Arsenal, Newcastle United, Chelsea and Aston Villa are all reported to be keeping a close eye on proceedings, while Átletico Madrid and Bayern Munich are also purportedly interested.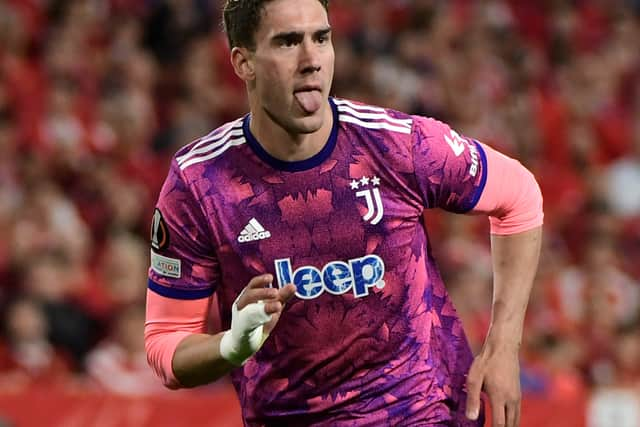 Let's look at Vlahović's possible Premier League landing spots and see where would make the most sense for him if he did make the move to England, a transfer that would likely clock in at a bare minimum of £70m. Regardless of the fee, we think there's a pretty clear best option for him…
Newcastle United
It's hard to find a player who hasn't been linked with a transfer to Tyneside these days, and the newly-pecunious Magpies are invariably one of the first names the rumour mill churns out in connection with anybody with two football boots and a pulse. That doesn't mean the link with Vlahović isn't genuine, however.
The first question that needs to be asked is: are Newcastle really looking for a number nine? Both Alexander Isak and Callum Wilson have been in fine fettle lately, and if Eddie Howe plans to play a lone striker up front in the long term, that means that it's relatively unlikely they would splash significant cash on a new forward. Howe has had plenty of recent success playing Isak and Wilson together, however, and if that becomes the go-to plan then some extra competition on the front line could be a pretty good idea.
Whether Vlahović would complement either of Newcastle's current first-team forwards is a tougher question to answer – he's used to playing as a lone frontman, holding the ball up and using his technique to turn his man and shoot, but link-up play has never been his main selling point. That said, he's effective in the channels so there's no reason why he couldn't perform as one of a pair – but whether he has the specific tactical tools to make it work is a question only he could answer right now.
He'd be an interesting addition for Newcastle – but whether they'd be willing to spend big money on one of their strongest positions is hard to say, especially when there's an element of gambling involved. Was Vlahović's dry spell a product of misfortune which will look like a brief blip in years to come? Or has he lost a bit of his spark after injury? We think Vlahović makes more sense if you really need to roll the dice in the striker department, not if you've got things pretty settled up top. That means he probably shouldn't be too high on Newcastle's shopping list.
Aston Villa
Another team who typically play two up top – but a team who could definitely do with a new striker to pair with Ollie Watkins. The Villans have generally played Emiliano Buendía alongside Watkins so far, and while it's worked pretty well for Unai Emery, it's hard to argue against Vlahović having more chance of netting 15 goals a season that the Argentinian.
Villa have been linked with a series of highly ambitious signings this summer, and there are few bigger statements they could make than picking Vlahović up from Juventus. Again, there are queries over how he'd play in a front two, but the gamble makes far more sense when there's a vacancy in the front line that could be filled.
Whether Vlahović would be keen on the move is another matter entirely. Villa can't offer Champions League football, and that may curtail their capacity to lure big names to Birmingham. Even with the Midlands club seemingly making all the right moves to sustain their upward curve, it's hard to imagine the Serbian being keen on the swap. We're saying it would be a pretty good deal for Villa – but one that isn't likely to happen.
Chelsea
We've covered Chelsea's struggles to find a suitable forward recently, and they've now become the latest club to be linked with a move for Vlahović, with today's press filled with reports of a £70m bid being lined up by likely new manager Mauricio Pochettino.
Chelsea have a ton of expensive talent on the books but no clear-cut number nine, a glaring gap in their team that has been exposed time and time again in a dreadful season. Vlahović would fill that gap nicely, and if he finds his form again, would be a brilliant buy.
There are two problems – one is that, like Aston Villa, they can't offer Champions League games in the immediate future, or indeed European football of any kind. They have a big name and plenty of recent history behind them, so they can probably sell themselves as a project more easily than Villa, but it may still be a hard sell given how bad the current campaign has been. The other issue is the incoming Christopher Nkunku, whose role in the new regime would be somewhat unclear if another forward came in – Nkunku is positionally versatile but if Chelsea plan to continue with their single-striker formation, then it begs the question of what Pochettino would do with the French international. Competition for places is no bad thing, of course, but spending big money on two players ostensibly lined up for the same role, neither of whom would be happy to warm the bench, would be a risky plan.
We think Chelsea makes a certain amount of sense for Vlahović, but don't think it would be as good a fit as the final team allegedly in the reckoning…
Arsenal
The Gunners have already made one attempt to sign the Serbian, with a reported £50m bid being rejected during the January transfer window. They'll still have to up their bid if they want a second bite of the cherry, but we reckon it would be a great idea for everyone involved.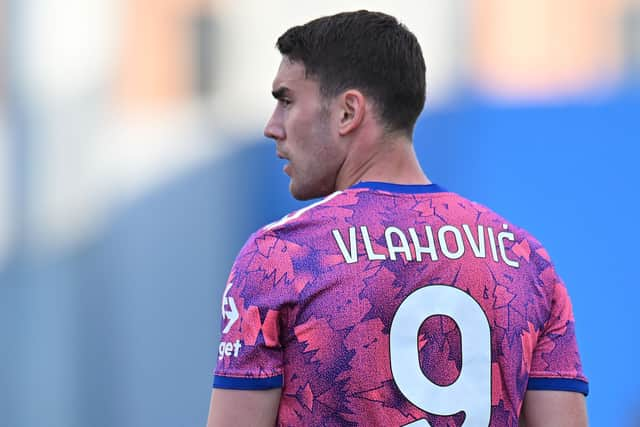 Arsenal's playing style would suit Vlahović down to the ground – a lone striker who can drop deep and bring wide forwards into play and a goal threat who can get behind the last man at the same time is precisely what Mikel Arteta wants from a forward. That role usually belonged to Gabriel Jesus this season, but he's struggled to keep his shooting boots on with any consistency and doesn't have the all-round game of the Juventus man.
Assuming Vlahović's poor form in 2023 wasn't just a flash in the pan, he'd add both the depth up front that Arsenal have lacked, and likely a more reliable goal outlet compared with Jesus – only the perennially crocked Dominic Calvert-Lewin and the unfortunate Kai Havertz have undershot their xG by a wider margin out of all Premier League strikers. Jesus has plenty of redeeming qualities, but Vlahović can match most of them, add a few cherries on top, and score more into the bargain – at least on the evidence of his football before this year. The only area where Jesus clearly has the rubber over Vlahović is in terms of sheer speed, but the Serbian is scarcely slow and is a much stronger physical presence up top.
We want your feedback on 3 Added Minutes - details here
So if Vlahović's agent does get another call from Arsenal this summer, we say he should take it. They can give him Champions League football, he'd match their tactical plan down to a tee, and if all works out well then he could be one of the few forwards on the market who can improve the Gunners' game. No-brainer – right?