Ex-Livepool star Sadio Mané takes villainous turn, Bees buzzing for new striker and Chelsea eye Gift aid
All the latest Premier League transfer news - kind of - as Sadio Mané considers some light treason and half of London goes searching for a striker.
Watch more of our videos on Shots! 
and live on Freeview channel 276
Visit Shots! now
Popular culture is packed with characters who went from beloved hero to despised villain, and it's always fun to watch the good guy slowly turn bad for our entertainment – Michael Corleone in The Godfather, Harvey Dent in The Dark Knight, Tony Almeida in 24, practically every character in Buffy The Vampire Slayer at some point… you get the drift.
Football has all too few such arcs. Players are depressingly unwilling to take a heel turn over the course of their career. The neutrals among us should, therefore, always be grateful when a fan favourite ends up playing for his team's greatest rivals, simply because it's such enjoyable melodrama. Thank you, then, to Sadio Mané, who now offers us the tantalising prospect of his becoming a Manchester United player.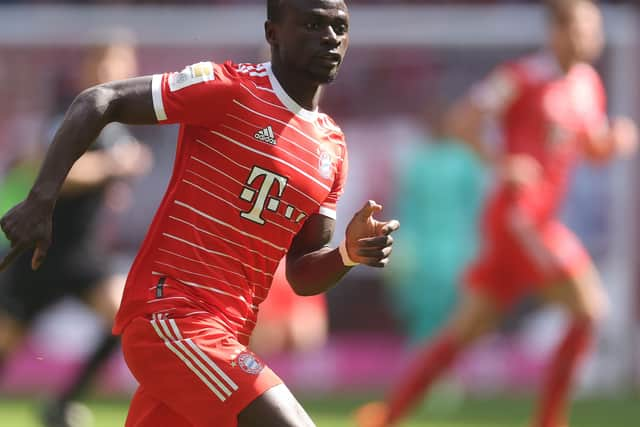 We've already written about the Liverpool legend's struggles at Bayern Munich, from poor form to punch-ups, and he's widely expected to be offloaded this summer – but The Mail now reckon that Old Trafford is a plausible destination, and we absolutely want that to be true, purely so we can enjoy the combination of Mancunian gloating and Merseyside meltdown that would accompany the move. It's not quite Sol Campbell, but we haven't had a good old slice of treachery in English football since… Robin van Persie, maybe? It's been a while.
Less intriguingly, Newcastle United are also keeping tabs on the Senegalese international, so we haven't lit the fuse on the fireworks yet, but with any luck we can all find a safe distance and watch it all go bang very soon.
The 3AM Verdict: There are two schools of thought on Mané's torrid time in Germany – is it simply a case of a great player failing to find form in a new system and environment? Or have all those injuries come home to roost? The only way to know is to put it to the test, and if we can do that while watching half of Liverpool lose their collective mind, it would at least be a bit of a laugh for the rest of us. Still, we have to say that, as mouth-watering as this transfer rumour may be, we remain sadly sceptical of the levels of truth behind it. But please, Sadio – do it for the laughs.
Another topic we've covered recently is Chelsea's seemingly endless – and certainly fruitless – search for a striker. With everything that's gone wrong for the Stamford Bridge outfit this season, they've become a little bit of a charity case, and what every worthy cause needs to help them get by is some gift aid. In this case, Gift Orban is the aid.
The free-scoring Nigerian forward signed for Gent in January and has been banging them in at a goal a game, a run of form which has seen him crop up a couple of times in the Wonderkid Power Rankings, and made a move to a bigger club inevitable at some point. Chelsea need someone who knows where the goal is, Orban patently meets that single criterium, and so the scouts have been sent over the Channel to Belgium to take a peek. Unfortunately, it's become something of a recruitment convention over there, with representatives of Manchester United, Tottenham Hotspur and Fulham all taking notes over a fruity beer or two – at least according to The Evening Standard. Well, the bit about the scouts, anyway, not the bit about beer. We made that up. Anyway, a bidding war may well be on the cards.
The 3AM Verdict: Genuine out-and-out strikers are a rare and precious commodity these days, and vaguely affordable ones even more so. Orban would not come cheap, but would not cost as much as a Kane, either, so someone's going to open up their wallet before the end of August. We're huge fans of Orban, who's looked like the complete package since moving to Gent, but he's young and unproven at the very highest level, so it will be interesting to see who takes a chance. It wouldn't be the daftest transfer Chelsea have made in recent history, anyway.
Lastly, let's check in with everyone's favourite overperforming southern team with a data-driven recruitment policy and a charming continental manager. Well, one of them, anyway. We're talking about Brentford, of course, who have a pretty big hole to fill all of a sudden thanks to Ivan Toney's stonking eight-month suspension from football.
We want your feedback on 3 Added Minutes - details here
That puts them firmly in the market for a striker this summer, and they've turned their attentions to Coventry City's Swedish-Hungarian scoring sensation Viktor Gyökeres, who's netted an impressive 40 goals in 96 games since joining the Championship club permanently two seasons ago. One of the most impressive physical and technical specimens in the second tier, if Coventry fail to make it back to the top flight next Saturday then he's likely to attract Premier League attention, and the Bees are already buzzing busily around him, according to TalkSport.
The 3AM Verdict: There is a long tradition of quality Championship forwards failing to make the step up to the Premier League – hello, Adam Armstrong – but Brentford don't miss too often and this is the same kind of leap that Toney made in style, so let's assume that Gyökeres is worth a look. Whether he'd even consider leaving Coventry if they end up getting promoted is another matter.