Graham Potter's struggles continue at Chelsea, but Blues chief Todd Boehly may have little choice but to hold on if he wants to protect his own reputation and his supposed masterplan.
Chelsea are an absolute car crash right now, and criticism is at an all-time high following two transfer windows of overspending. After taking the helm last year, chairman Boehly has sanctioned signing after signing in a bid to rapidly reinstall the Blues as title contenders - it just hasn't worked.
The appointment of Potter has not gone well so far, with the former Brighton boss is up to his neck in criticism and indeed pressure. Chelsea are now 10th after losing at home to bottom club Southampton last weekend, winning just one of their last 10 games across all competitions, even with all of those new shiny signings in action.
Now, we know Chelsea's spending spree isn't likely to be as disastrous as some of the dealing we have seen from the likes Manchester United, say, over recent years. Quite simply, that's because the signings have been strategic, and the vast majority of incoming players have been young, reducing the risk of players declining with little time to recover their careers, and indeed value.
But the Blues have clearly bought too many players in a small space of time. Whether it's at the top of the Premier League or at the bottom of League Two, footballing history teaches us that the signing a glut of players at one time very rarely works out. This is a team sport, and you are not going to achieve success if you are building working relationships on the fly. The vast majority of successful teams are built and solidified over a summer, and perhaps even over multiple seasons.
In that regard, while it looks like he has everything a manager could dream of, Potter has actually drawn a short straw. Though, it is his job to gel this team together and get them winning. That's what he is paid to do, and that is the bottom line.
That said, it's a very tricky job that is undoubtedly going to take time. You have a whole squad of players trying to adapt to a new style of playing, while he also has numerous recent signings adapting to the Premier League and life in England off the pitch. On top of that, he has been forced to leave a number of players out of the Premier League squad, inevitably creating frustration around the training ground from some players, and all that comes amid huge expectation, simply because the club have spent so much.
The question is: how many of those challenges would change if a new manager was brought in? And is there any manager out there who would provide a shortcut to fixing those challenges? It's very unlikely that the answer is 'yes'. In reality, Boehly has created a scenario where Chelsea are going to need serious time to navigate through these challenges.
Players need time to settle, Potter needs time to implement his style, and more than a handful of players need to be shipped out as early as possible in the summer to allow the squad to settle and get tighter as a group. It might be fun and games for Boehly to buy as much of the best young talent in the world as he can, but while success is not guaranteed, what is guaranteed is that any shortcut to success has been taken off the table.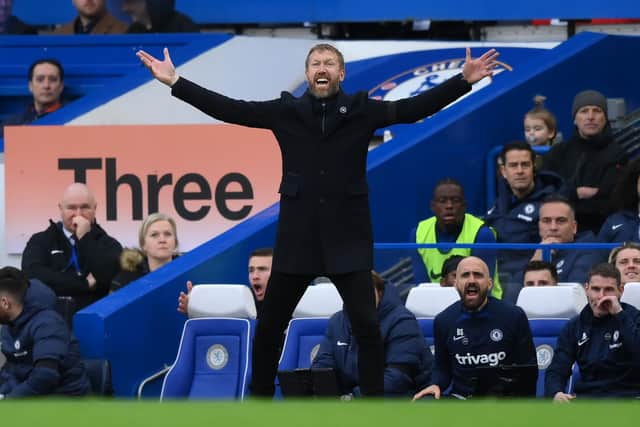 It's a long-term approach, and that does not mean it's a bad one, but it will quickly become that if the American goes through managers like Hershey bars. A change in manager is only going to slow this process down, and in the meantime, Chelsea need to suck it up and accept that they may have to sacrifice a season to be able to realise success in this long-term plan.
And above all that, Boehly cannot afford to sack another manager if he wants to protect his reputation in the Premier League. He already has the image of attempting to be a puppetmaster, overspending and moving pieces around left, right and centre, sacking staff and replacing players.
At the moment, he is somewhat protected by the fact he seems to have a long-term vision for the club - the aforementioned strategy of buying young talent instead of players who are already in their prime. But one more hasty managerial sacking will see that view crumble. Ultimately, you can't claim to have a long-term vision, appoint someone you think will implement that vision and then change course to a manager who does things completely differently.
Boehly must stay the course for now, take his lumps and ultimately, the reasoning is simple. If this squad does come good in a year or two, the American will look like a master strategist, even if success is hard to come by in the meantime. 'Trust the process', as they say in American sports. Trust the process.