Everton's Dele Alli can be catalyst for mental health conversation in football
Football has power beyond recognition and it can be used to help people open up about their mental health.
Watch more of our videos on Shots!
and live on Freeview channel 276
Visit Shots! now
Football has the power to bring frustration, elation and celebration in equal measures.
The power held by those involved at all levels of the game has been discussed far and wide and we have seen it across the country in recent years as players have used their standing and status to aid those in need.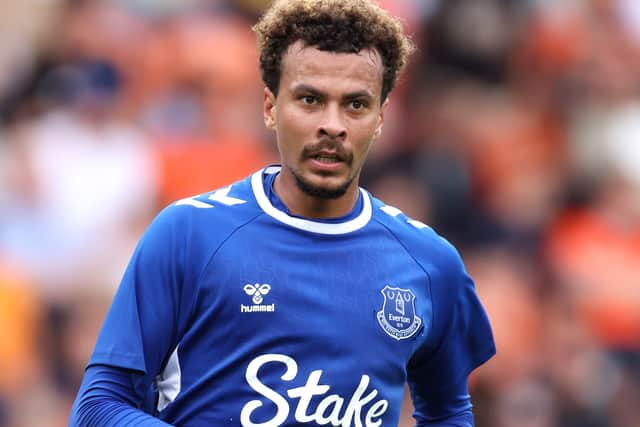 The same can be said when it comes to discussing mental health and there have been some high-profile examples of players opening up over their own struggles. Most recently, Everton midfielder Dele Alli spoke of his 'heartbreaking' mental health issues that led to him considering retirement at the age of just 24.
Speaking on Gary Neville's The Overlap podcast, he said: "I remember there was one session, like one morning I woke up and I had to go to training - this is when he'd stopped playing me - and I was in a bad place. I remember just looking in the mirror - I mean it sounds dramatic but I was literally staring in the mirror - and I was asking if I could retire now, at 24, doing the thing I love.
"For me, that was heartbreaking to even have had that thought at 24, to want to retire. That hurt me a lot, that was another thing that I had to carry."
The reaction was largely a positive one, as Alli received support from around the game and maybe that showed things are progressing in the right direction when it comes to mental health. Suddenly people were openly discussing mental health, how people react to those struggling and what more can be done - and that can only be a good thing.
The pressures of competing at all levels of football, where the stakes are high and the coverage can be wall-to-wall, are all too obvious. What happens on the pitch during those 90 minutes that have been described as an escape from the mundane can also have a detrimental effect on life as a parent, a partner or friend.
There have been great strides made at the top end of the game when it comes to discussing mental health issues in the public domain. There is an increasing level of openness and acceptance – but there is still more to be done before the stigma of mental health is well and truly shaken.
This weekend saw football clubs across the country support an annual campaign by a North East-based charity that aims to get people talking about their mental health. The If U Care Share Foundation's 'Inside Out' is asks people around the country to turn their clothes inside out and post images on social media using the hashtag #AskMeWhy and #InsideOut.
Held annually on 10th September to mark World Suicide Prevention Day, Inside Out has received widespread support from people from all backgrounds across the country and football has played a lead role in helping the campaign go from strength-to-strength.
On Saturday I made the long trip from the North East to the sunny south coast to cover a game in the National League, the top level of the non-league game. Gateshead, who have been key supporters of the foundation's work, wore 'InsideOut' t-shirts during their preparations for the game and that led to a conversation with a supporter of the home club.
As I stood taking photos of the players being put through their paces, a fan approached me to ask what the message was on the t-shirts and why they were being worn instead of the usual attire required by the National League.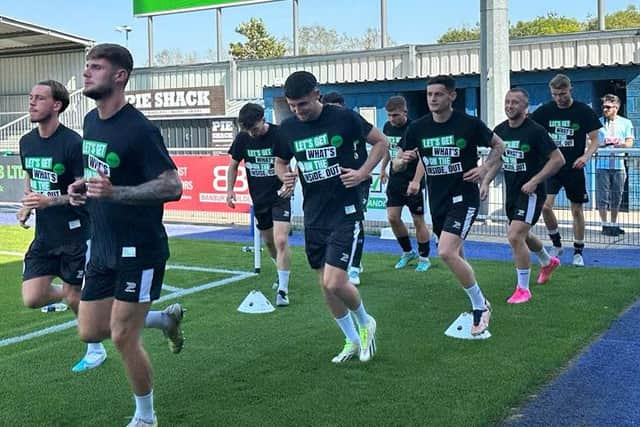 After explaining about the campaign and its aims, she opened up over her own mental health and told me about the support she has received from friends and family. Of course, the content of the conversation will remain between us but I also revealed the struggles I have experienced throughout my adult life. I told her I had suffered a rare anxiety attack just a week earlier ahead of Gateshead's home game with Oldham Athletic, something only those closest to me knew until that point. But I felt comfortable discussing the issue with her because of the conversation she instigated, much as I feel comfortable writing it in this piece because I had opened up to her about it.
That, in essence, is everything InsideOut aims to do. It got us talking openly and honestly about our mental health in a way that broke down a barrier and, I would hope, made us both feel a little better about our own experience.
Essentially, football was the reason why we were both there and the game will always be a reason for people to come together, whether that be sitting alongside each other inside a stadium watching a match, a casual conversation about your club during work or over a pint at the pub. Why shouldn't that conversation be about mental health? Why shouldn't it be acceptable to discuss the difficulties you are experiencing with trusted friends and share those issues with those you trust?
Nobody should suffer alone, nobody should feel they have nowhere to turn, and no matter how dark those clouds above your head may feel, there will always be somebody there willing to listen and support.
For more information on the If U Care Share Foundation click here.