The stunning stats proving Everton are actually much better than you think
Everton have had a bad start to the Premier League season - so why do the numbers suggest that they're playing quite well, and how much can we read into that?
Watch more of our videos on Shots!
and live on Freeview channel 276
Visit Shots! now
They have one point after four games, are sat squarely in the relegation zone, and only Luton Town have scored as few goals – on the face of it, Everton seem to be terrible, and things look pretty bleak on Merseyside.
Which neatly fits the narrative we have for this current Everton side – a mixture of penny-pinching, poor recruitment and deeply questionable managerial choices have culminated in Sean Dyche's lumbering, goal-shy squad that survived only by the skin of their teeth last season. Everton were bad last season, their results have been bad this season… no further questions your honour.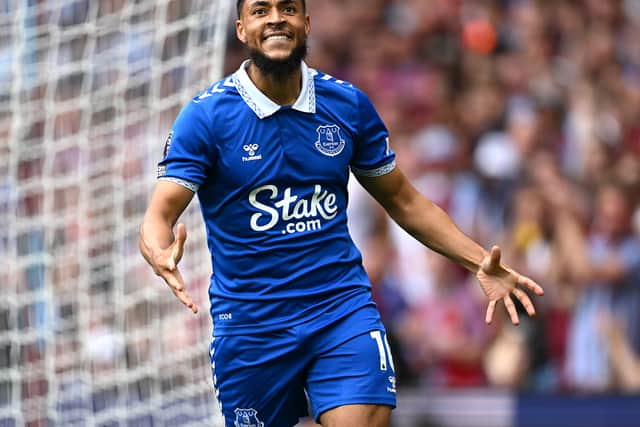 There's just one problem with this picture, however – in defiance of all probability, the underlying numbers behind Everton's disappointing start to the 2022/23 campaign suggest that the Toffees are actually not playing badly at all. In fact, they may even be quite good.
So sure, Everton have only scored two goals in their first four matches. But that doesn't tell the whole story. Their xG from those games is 7.2 – massively higher than their actual output and the tenth best in the division. They're tenth in the total shots table, too, and as high as third in terms of percentage of shots on target, behind only Brighton and Newcastle United.
And when it comes to shot creation, progressive passes, dribbling, all the usual sorts of stats that indicate whether a team is any good at getting the ball downfield and making things happen, Everton are solidly mid-table pretty much across the board. Which begs the obvious question – why have they only got two goals, then?
The obvious assumption would be that their forwards are, frankly, either a bit rubbish or, in the case of Dominic Calvert-Lewin, so persistently injured that they aren't able to show us their true quality. But that isn't fully borne out by the underlying numbers either – so far the only players they have with an xG of 1 or more are Abdoulaye Doucouré and Arnaut Danjuma, both of whom scored at Sheffield United, and Neal Maupay, who has left on loan to Brentford. Statistically, it's not reasonable to expect any other players to have scored for them yet in the Premier League.
What they have had is some quite astonishingly bad luck when it comes to the form they've found opposing goalkeepers in. During the 1-0 home defeats to Fulham and Wolves, Bernd Leno and José Sá were in frankly ridiculous form, pulling off a combined total of 16 saves in two games for a total of exactly 4xG's worth of chances denied. Yes, better strikers might have buried a chance or two, but the issue lay more with the strength of the opposing goalkeepers than the weakness of the Everton forwards for the most part.
And there's further cause for optimism for any Everton fans who watched their League Cup win over Doncaster Rovers. The Toffees were woeful in the first half, going 1-0 down to the team who currently prop up the entire Football League, but won through thanks to an inspiring performance from substitute and new signing Beto, who's proven as a 10-goal striker in Serie A. He won't score all of the goals Dyche's side need by himself, but he looks like a step in the right direction, and Everton are creating more than enough chances that, with a good finisher up top and just a little more luck, they would currently be more on course for a mid-table finish than a relegation scrap.
Of course, there is one very substantial caveat lurking behind the numbers – in playing Fulham, Wolves and Sheffield United, the Merseysiders have come up against three of the teams theoretically most liable to be dragged into the relegation battle themselves and come up short, even if they dominated the two home games involved and were certainly better at Bramall Lane as well. The one time they played a side most people would presume to be a cut above this current Everton side, Aston Villa, they were hammered 4-0 away from home.
Which does suggest that while Everton very much should have won two or three of their games thus far, the statistical suggestion that they should be more of a mid-table team may well fade away as they play tougher fixtures. Arsenal, Brentford and Liverpool all crop up in their next five league matches, and perhaps once the figures from those games are fed into the spreadsheets, a more gloomy truth will be revealed.
On the flip side, Everton also play Luton Town and Bournemouth at Goodison Park before the next international break, two great chances to turn statistical dominance into solid points. Of course, if the same story plays out and Everton lose, they will not only have failed to pick up points while playing well but will also have donated said points to teams they're likely to need to take them off in order to stay up. Losing games when playing good football is the sort of thing relegated sides do, after all.
So it may be a bit premature to suggest that Everton are a genuinely decent side, or that their fans have nothing to worry about. But the numbers suggest that they haven't been bad so far, just unfortunate, and "luck" normally reverts to the mean over time – in other words, they're due a scrappy 1-0 win at the Emirates. Which is the gambler's fallacy writ large, of course, but you can just see it happening somehow…