Let the chaos begin - Lionel Messi has arrived at Inter Miami
The Argentine has scored three goals in his first two appearances for MLS outfit Inter Miami
Watch more of our videos on Shots!
and live on Freeview channel 276
Visit Shots! now
Perhaps it would be a little fairer if he took a lead from the art deco herons emblazoned across his chest and started standing on just the one leg. Then again, where Lionel Messi is concerned, it probably wouldn't make the slightest bit of difference.
When watching the celestial Argentine play for new club Inter Miami, the first thing you notice is the space - the yawning, inviting, fearful space. Nobody is ever anywhere near Messi. Nobody dares to be. It's as if opposition defenders are subject to the constraints of a court-enforced restraining order; they back away, they freeze in purgatorial hesitation, they regret it almost immediately. (This is not necessarily a phenomenon restricted solely to the Chosen One, by the way. Oftentimes Sergio Busquets, Messi's trusted lieutenant and cerebral master of the anticipatory scan, can be spotted peering in near-bafflement for the approach of a defensive press that never arrives, like a pensive child looking for Wally in a copy of the Argos catalogue.)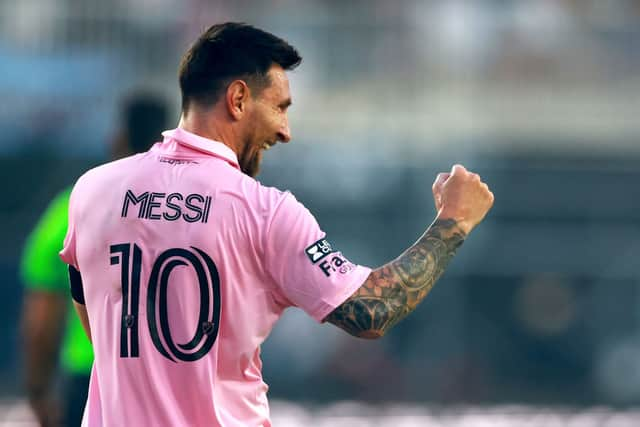 The next thing you notice is that Messi, unequivocally, has still got it. There he glides, in muted shades of pastel pink, delightful and terrifying like a sentient cloud of candy floss with venom-tipped fangs. He coasts - ghostly, surreal, majestic - through the humid wastelands of an abandoned midfield, and when he deems the time be right (not a moment sooner) he drops a nonchalant shoulder or looses an exquisite pass and turns reality itself upside-down and inside-out. In the City of Vice, Messi's mere presence boasts a pseudo-felonious, absurdly hedonistic quality. He has brought with him an effortless flamboyance to this tribe of eager flamingos and it feels so wonderfully, delectably wrong.
In the early hours of Wednesday morning, the little sorcerer scored twice and assisted a third as Inter Miami eased their way to a 4-0 win over Atlanta United. Taken alongside his typically stunning debut free-kick against Cruz Azul, that now makes for four goal contributions in 114 minutes of football. Florida might be in the midst of its hurricane season, but that is quite ludicrous.
As always with Messi, however, the numbers are essentially perfunctory. Instead, to fully comprehend the impact that he has already had on his new club, you need only look at the grins of his enthralled teammates, who beam like radio phone-in competition winners whenever he conjures a shred of divinity. You need only sense the distinct air of a pub league ringer who could have turned professional were it not for a temperamental knee ligament every time he prowls into possession. You need only consider that of the four minutes that ESPN gathered together of the Atlanta mauling for their highlights reel, a solid 40 seconds were dedicated to the ceremonial rites of his substitution - the raising of the board, the removal of his captain's armband, and the adoring, disappointed ovation with which it was greeted. Messi-mania, as they have come to call it, is as real as it is fervent.
And then there is the demeanour of the man of himself. Back in Europe, there is a pervasive melancholy that a talent who is quite evidently still capable of manipulating the very boundaries of time and space with a flick of his left ankle should voluntarily opt to embark on a venture that, to many, is as good as a form of semi-retirement. Perhaps that is a justifiable stance to take; the prospect of a player winning the Ballon d'Or as he lounges around the MLS goes against all kinds of accepted wisdoms we have had drilled and brainwashed into our collective psyche about the global power hierarchy of football as a sport.
But then you see Messi, gleeful and vibrant in a way that he never truly was in Paris, and you have to wonder whether this might not be such an injustice after all. He looks happy, he looks keen - and at the end of the day, if he is content, why shouldn't we be? If anybody has earned the right to do as he pleases, to bask in the pleasant warmth of a lowering career with a figurative pina colada in hand, it is the one they call La Pulga.
And once you reconcile your own internal fissures with this strange new actuality, once you embrace it and make peace with the notion of this heaven-sent savant casually torturing a rotating cast of college draft picks and one-time mid-table Premier League nomads on a weekly basis, the whole caper begins to feel... intriguing. Fun, even.
Hell, this might be pretty okay. At the very least, it is going to be arrestingly entertaining. Lionel Messi has arrived in Miami. Let the chaos begin.