Where have all the nicknames gone? The death of a football tradition
Once upon a time, great players got great nicknames to complete their legend - but it's becoming a lost art.
Watch more of our videos on Shots!
and live on Freeview channel 276
Visit Shots! now
The Black Spider. The Kaiser. The Wizard of Dribble. The history of football is studded with beautifully-chosen nicknames, monikers that elevate their owners from simple names on a teamsheet up towards mythological status. The best resonate down through the generations, fixing players in the minds of fans long after they've hung up their boots and their career statistics have faded into forgotten footnotes in an old Rothmans Football Yearbook.
So where the hell have they all gone?
Somewhere over the years, we've lost the joy of coming up with clever, fitting nicknames, both the elegant and the absurd. Those that do crop up either fall into relative disuse, at least in the Anglosphere – when was the last time you heard Lionel Messi referred to as the 'Atomic Flea'? – or exist largely as exercises in marketing, #CR7 for the socials, or a line of Beast Mode branded sportswear sold by Adebayo Akinfenwa. And that's before you consider that Akinfenwa is one of at least five recent top-level players called 'The Beast', which somehow includes Maxi Rodriguez, all five-foot-nine of him. Originality is yesterday's game. I'm reliably informed that the 3 Added Minutes editor went by the moniker of 'Chicken Legs' while showcasing his willowy pins in the youth leagues of East Lothian during the late 1990s, so perhaps that was the approximate watershed moment in terms of quality.
Of course, we shouldn't be sniffy about Akinfenwa finding a way to turn a profit from an unimaginative nickname that plays worryingly close to the fire of a racist trope – the reduction of a black man to his undeniably impressive physique. In embracing his identity as The Beast, Akinfenwa has provided a perfect example of the power that a nickname can hold – a journeyman lower-league striker transmogrified into a near-household name, familiar to supporters of Premier League teams who wouldn't usually have the faintest idea who played up front for Wycombe Wanderers.
Fans and players across the globe would do well to heed the lesson. Even Brazil, spiritual home of the beautiful nickname, doesn't seem to bother any more. Gone are the days of Garrincha and Socrates – the squad that went to the World Cup in Qatar exclusively featured players who played under either their Christian name or a diminutive of it. Fred isn't Fred because it was his favourite Scooby Doo character as a child - he's Fred because it says Frederico on his birth certificate.
Then there's the Italians – once we had Roberto 'The Divine Ponytail' Baggio, Alessandro 'The Little Painter' Del Piero and Fabrizio 'The White Feather' Ravanelli. The White Feather! Granted, it was largely a joke at the expense of his prematurely greying hair, but a name like that has elevated Ravanelli's legacy way past the status that his combined 85 appearances for Middlesbrough and Derby County would normally allow. It was also during his time in Italy that the great Swedish winger Lennart Skoglund earned the finest nickname of the lot – with his sparse blonde hair and mazy dribbling skills, he became 'The Swaying Cob-Corn'. Now… nothing, really. A desert of wit into which a tiny shred of the game's soul has disappeared.
A bit of research suggests that AC Milan's young midfield maestro, Sandro Tonali, has the option of revelling in the nickname of 'The New Pirlo'. If you ever want to gather evidence to argue that the younger generations of today can't match up to the energy, imagination and talent of their forebears, start with two decades of players getting no better nickname than 'The New Such-And-Such'. Tonali is a central midfielder who can pass and doesn't get forward too much, so The New Pirlo it is. Easy, and lazy. The same fate befell Juan Roman Riquelme, Pablo Aimar, Andres D'Alessandro and a dozen other technically-gifted young Argentinian attackers, who never got anything better than The New Maradona to add to their resumes, at least until Messi showed up and guaranteed us countless years of New Messis.
Few of the players who had that tedious tag applied to them even faintly resembled Maradona in looks or skillset, of course, but apparently it took too much energy to come up with anything better. Terrace wit still produces nicknames as good as those of yesteryear – we didn't get 'One Size' Fitz Hall from nowhere - but they rarely make it as far as the commentary booth, fizzling out after the first few boozy chuckles in the pub. The lowest point of this broader genre of nomenclature can, of course, be found on Football Manager 22, where the exciting young striking prospect Benjamin Sesko enjoyed the AI-generated moniker of 'The Slovenian Christian Benteke'. I doubt he's printed many t-shirts with that on.
Perhaps the blame lies at the door of us journalists. Nicknames born in the stands were once propagated on the printed page as part of the lost art of turning column inches into little slivers of footballing folklore. In an era of minute analysis and xG, there seems to be less room for fanciful swooning over the artistry of the players in front of us.
Perhaps the hacks of the last century would have handled things with more humour – it's certainly a shame that one of the few good modern nicknames, Harry Maguire's 'Slabhead', is relegated to derogatory posts on Twitter rather than held aloft as a physically apt calling card that evokes the uncompromising rigour of the classical English centre-half. It should be printed in The Times, not used as an insulting hashtag by @Keith05470124 when he gives away a penalty against Bournemouth.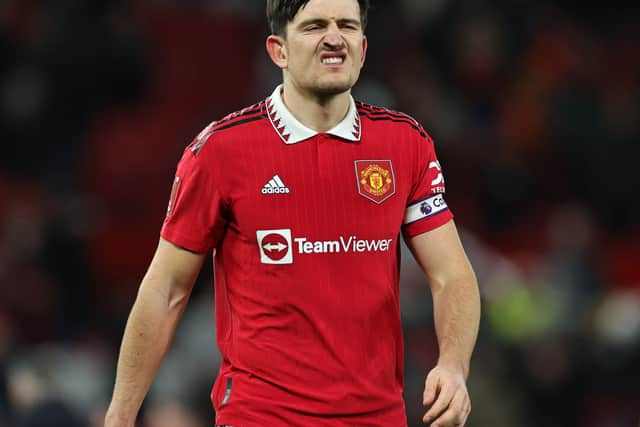 By way of an apology from my profession, then, allow me to offer up a couple of suggestions. Kevin de Bruyne, with his elegant passing and gift for conducting an attack, should maybe be 'The Composer', while team-mate Manuel Akanji's preternatural mathematical skills would make him a fine 'Calculator'. Darwin Nunez should become 'The Racehorse', blessed as he is with roughly the same speed, sleekness, power and finishing ability. And although his fellow Uruguayan Luis Suarez may be reaching the end of his career, there's still time for a rebrand – whirring dangerously around up front while his teeth threaten opponents from all manner of angles, he could easily be rebranded as 'The Chainsaw'.
There's plenty of room for more and better, of course. Suggestions on a postcard – which, now I come to think of it, would have been a pretty good nickname for former Boro and Hearts midfielder Phil Stamp. Didn't we miss a trick there?