As children, we grow up believing that fairytales come true, that Disney-like stories are out there for everyone to experience, while as adults, we're often reminded that the world is rarely that kind. Regular reminders test the belief we forge as children, and some give up on fairytales altogether.
As a young child in Rosario, a young Lionel Messi believed he could have it all, and that belief can only have grown as Barcelona's youth coaches watched in amazement as the young talent reimagined what was possible with the ball at his feet.
Though, even after all he won at club level, Messi too must have questioned whether he would ever do it on the international stage. After all, at 33 years of age he had no international honours to his name, losing four finals before that point - three in the Copa América and one in the World Cup.
For all his success at club level, the lack of honours at international level was always weaponised against Messi. Could he really be compared to Pele or Diego Maradona without winning with his country? Even Messi must have asked those questions of himself after missing out in so many finals.
That should have been it. At 33 years of age, how does one ensure they finish their career having won it all at international level? The path to that fate seems so impossible for most.
But in 2021, Messi and Argentina won the Copa América, and the went on to win the CONMEBOL-UEFA cup earlier this year, beating Euro 2021 champions Italy. The World Cup campaign started with a disaster against Saudi Arabia, with Argentina losing their unbeaten run, which stretched more than 30 games.
But they didn't lose again, and by the time the tournament drew to a close in Qatar, Messi was lifting the World Cup, completing a life-long objective and completing football as a whole. He did so having scored twice in the game, winning Man of the Match and the player of the tournament, coming in as the second top scorer.
At 35 years of age, Messi isn't the same player as he once was, but even without the same level of pace, he took control of the clash in key moments against France, and had it not been for Kylian Mbappe, Argentina would have claimed gold without all the drama and the need for a penalty shootout.
Messi was able to do it because of his undeniable desire. "World Champions! I dreamed about it so many times; I wanted it so much that it hasn't clicked yet, I can't believe it," he said after the game. It showed in a superb performance, and France couldn't deny him.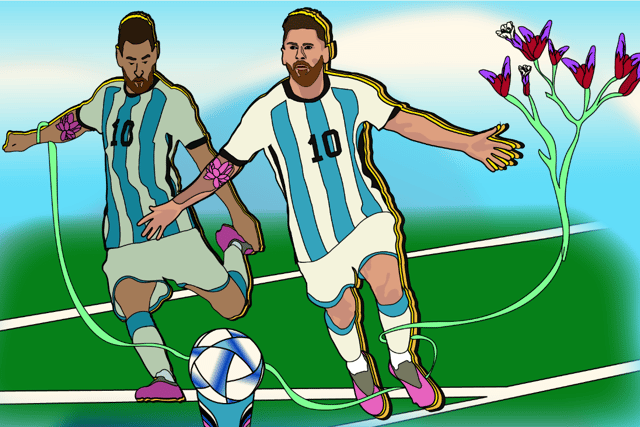 Sometimes, will overpowers all else, and that's what it felt like from the time Messi scored the opening penalty the game to the moment he audaciously rolled in his penalty in the shootout. The fairytale ending followed for Argentina, and even those in France will admit to a degree of content to see Messi finally get his World Cup.
Now there can surely be no argument. How can there be? What is there to possible use against Messi now? What has he not done?
It's a perfect ending, and a fairytale indeed. You can only say thank you to Messi for what he has done for the game, for the entertainment he has provided across so many years, and for giving us the reminder we all need that fairytales do indeed still come true.